My kids would live on macaroni and cheese if I would let them. And well, so would I if I could get away with it and still present myself as a mature adult. So naturally when I asked them what sounded good to eat while we were camping, macaroni and cheese was one of the top suggestions.
I was about to put them down easy about the suggestion but then remembered the cabins we were staying in had a mini fridge and grill so I knew I could keep it cold until dinner time and warm it through on the grill. So why not? We kept everything else pretty basic so it was fun to mix it up a bit.
Although this is a dish intended to eat during a camping trip, you do need to make the macaroni and cheese ahead of time. Those that have been following me for a long time know I'm a big proponent of anything that can be done in advance. It leaves more time to relax and have fun and stop any stress in its tracks. That made the mac and cheese idea even more appealing.
So like I said, make this at home ahead of time and put it in a foil pan (or something that's grill/fire safe). Cover with foil and pack it up in your cooler.
While I was grilling the corn, hamburgers and hot dogs I threw the foil pan of the macaroni and cheese on the grill to get all hot and bubbly. As it cooked, the charcoal from the grill imparted a smoky flavor that was really interesting and unexpected for macaroni and cheese. It makes me want to throw a pan of mac and cheese in the smoker to see what happens. I think that shall go down soon.


I decided to go with my basic macaroni and cheese recipe to keep it simple. I did mix up the cheese to make it a little different and added a touch more milk to ensure it stayed creamy while warming on the grill. Feel free to use whatever cheese you like.
You could even add chopped hot dogs (childhood classic) or diced ham and steamed broccoli to make it a complete meal and give you even less work.
As with any baked pasta recipe, be sure to cook the pasta a couple minutes less than the box directions. It will continue to cook as you are heating it through and nobody like a mushy noodle.


If you don't have a grill available you could use one of those rack things that go over the fire. I know that's very technical of me but you all know my feelings about camping, of course I don't know the lingo.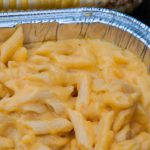 Print
Camp Macaroni and Cheese
Camp Macaroni and Cheese is a fun way to bring the comforts of home to the camp site. Make ahead then cook on the fire for a smoky twist on a favorite.
Ingredients
1

lb.

short cut pasta, cooked 3 minutes less than package directions

4

Tbsp.

butter

1/4

cup

all-purpose flour

1

tsp.

kosher salt

1/2

tsp.

black pepper

2 1/3

cups

whole milk

8

oz.

sharp cheddar, shredded

8

oz.

colby cheese, shredded

4

oz.

Velveeta cheese, cubed
Instructions
Melt butter in a medium saucepan. Add flour to make a roux and cook for 1-2 minutes to cook away the flour taste.

Slowly add the milk to the roux. Cook for several minutes until the mixture has thickened. Stir in salt and pepper.

Remove pan from the heat and add the cheese, stirring until melted.

Mix cooked noodles and cheese sauce in a 13×9 foil pan. Allow to cool on the countertop then cover with foil and refrigerate until ready to cook. When ready to cook, remove from the refrigerator up to an hour before cooking. Heat grill to medium high heat. Remove foil on top and place on the grill. Heat until hot and bubbling, about 20 minutes, stirring often.