Crisp waffle fries, sharp cheddar cheese, crumbled bacon, scallions and sour cream combine to create the best football food in life. These Waffle Fry Nachos will be a major hit at your next football gathering.

It's officially football season people. I kind of have a love hate relationship with the whole thing. I love getting together with friends, eating all the food, chatting and the spirit of our city. I don't care about the game so much. I mean, I want us to win but the watching part I'm meh about.
I also don't like that football season takes my husband away since work gets crazy busy for him. I live a pretty charmed life so I shouldn't complain but these kids of ours are a bit much sometimes.
But the food, oh the glorious food. It comes pretty close to making up for all of the other stuff. Chips and dip is pretty much my favorite food on the planet so I was probably made for watching sports. If only I understood them.
We like the traditional fare of chicken wings, sandwiches, dips and nachos while watching the game every Saturday. I wanted to mix it up a little and combine two of our favorites, fries and nachos, to create the ultimate party food Waffle Fry Nachos.
To say they were a huge hit would be a major understatement. Joel hovered beside me, like literally inches away, watching and impatiently waiting for me to photograph them. The minute I put the camera down he dove in. Friends, that's a good sign for a recipe.

These bad boys are inspired by a favorite appetizer at Granite City. We don't get them often since the portion is HUGE but when we are there with a big group we usually indulge.
The base for these nachos is crispy baked waffle fries. They are topped with lots of shredded cheddar, bacon and green onions with sour cream for dipping. They are pretty basic but in the best way possible. Sometimes it's fun to get fancy and other times you just want a no frills, greasy, cheesy appetizer done right. That's what these Waffle Fry Nachos are friends.
Whether you are a sports fan or just in it for the friends and food, these Waffle Fry Nachos will definitely be the biggest hit at your next watch party.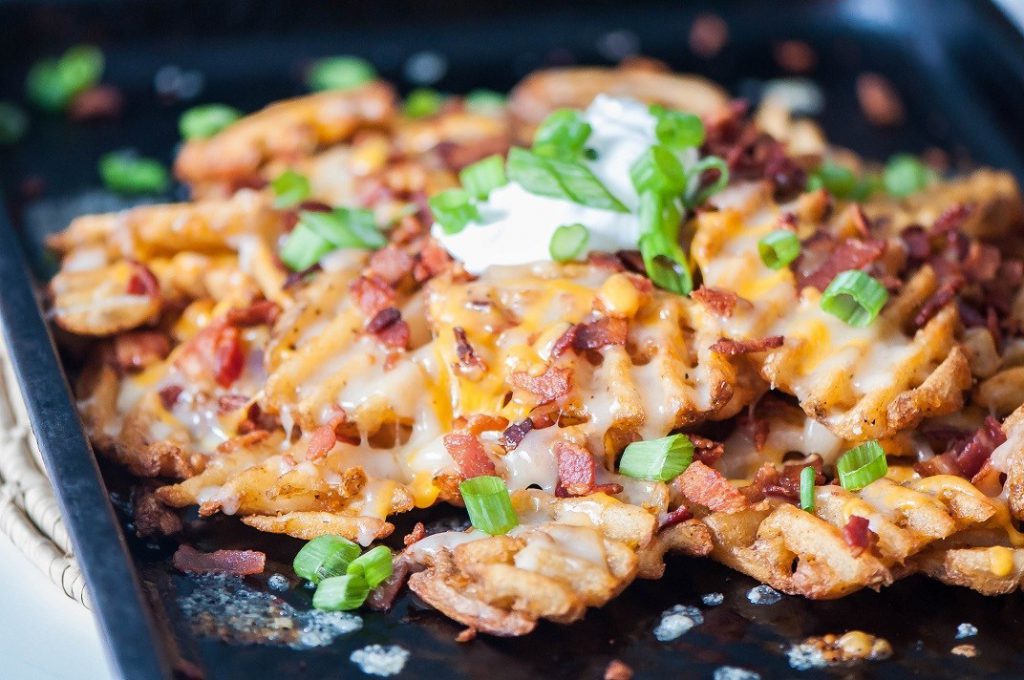 Waffle Fry Nachos
2016-09-02 15:53:10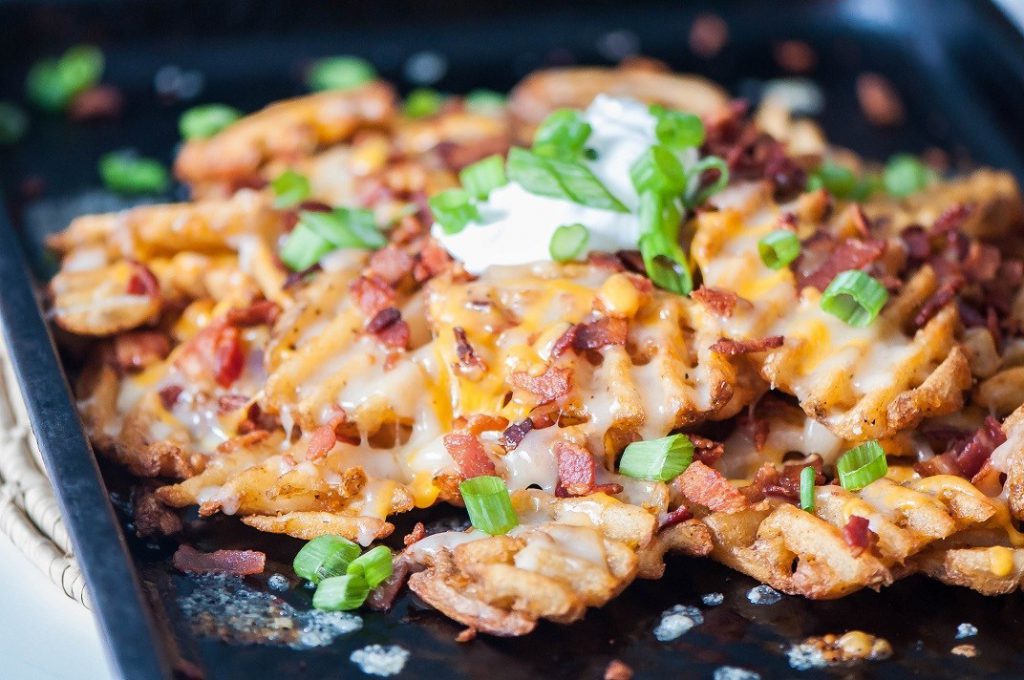 Ingredients
20 oz. bag waffle fries
2 cups shredded sharp cheddar
6 slices bacon
Green onions, for garnish
Sour cream, for dipping
Instructions
Bake waffle fries according to package directions. Meanwhile, dice bacon into small pieces and cook until crisp. Remove from skillet and drain on paper towel lined plate.
Remove fries from the oven; keep oven on. Leave half of the fries on the baking sheet then sprinkle with half the cheese and half the bacon. Carefully place the remaining fries on top (being careful not to burn yourself) and sprinkle with the remaining cheese and bacon. Return to the oven just until the cheese is melted (this took about 4 minutes for mine at 425 degrees F). Remove from the oven and top with green onions. Serve sour cream on the side for dipping.
Meg's Everyday Indulgence https://www.megseverydayindulgence.com/