Bacon wrapped pork chops are glazed in a sweet and savory bourbon sauce while cooked to juicy perfection. These Bacon Wrapped Bourbon Glazed Pork Chops are the best way to celebrate something special at home or just because.
I just realized 3 of the 4 recipes I've shared so far this month have bacon in them. I think I may have a problem. The only way to solve it is more bacon?
And the thing is, I didn't even notice when I was brainstorming and planning out the month. Only after I typed the word bacon for the millionth time did I think, "hey, maybe this is getting excessive, maybe they've had enough of the bacon."
I hope not. Because bacon wrapped pork chops. Glazed in bourbon (among other things). The world is right today.
This all started when I saw bacon wrapped pork chops were on sale at my local grocery store. I had never noticed them in the butcher case before (hello, how do you not notice pork wrapped in pork?).
Needless to say, I picked up a couple to have a random late night date night with Joel. As I wandered the store, I was brainstorming what I could do with them when a lightbulb went off. An amber, boozy lightbulb. Bourbon!
We have a bourbon chicken recipe we love (and I can't believe I haven't shared it before) and I knew a spin on it would translate deliciously to pork chops so I buzzed over to the liquor department (pun intended) and was on my way. All the remaining ingredients are staples so we had them at home already.
And maybe bourbon is a staple at your house so you just may be good to go. No judgements, I would have been set if these were rum or tequila or Southern Comfort glazed pork chops.
The Delicious Glaze
I have to tell you my friends, this is one of my favorite recipes I've made in a long time. The glaze is sweet, savory and spicy and comes together relatively quickly.
The soy sauce, ginger and garlic in the glaze lend an Asian feel to the glaze but brown sugar and ketchup round it out and bring the sweetness. Then there's the bourbon.
The bacon brings a smoky flavor to the dish which goes well with the bourbon. The pork really takes on the flavor of the glaze and makes for a delicious meal.
I roasted some veggies while the pork chops were cooking for a simple, healthy side that still felt a little fancy. I think mashed potatoes would be perfection with these too.

Random but important side note on these pork chops. A thermometer is an absolute must for me when making pork chops (or any meat really). They can dry out so easily but using a thermometer will get you perfect results every time. I seriously cannot recommend using one enough.
So to review. Bacon? Yes. Bourbon? Yes. Do it.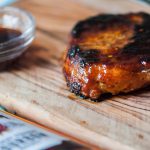 Print
Bacon Wrapped Bourbon Glazed Pork Chops
Bacon Wrapped Bourbon Glazed Pork Chops are a fancy way to celebrate something special at home. Bourbon, brown sugar, soy sauce and more.
Ingredients
1

tsp.

olive oil

1

clove

garlic, finely minced

1/8

tsp.

ground ginger

1/2

tsp.

red pepper flakes

1/4

cup

bourbon

1/4

cup

brown sugar

1/4

cup

soy sauce

1

Tbsp.

apple cider vinegar

3

Tbsp.

ketchup

1

Tbsp.

olive oil

4

bacon wrapped

pork loin chops
Instructions
Add 1 teaspoon olive oil to a small saucepan over medium heat. Stir in garlic, ginger and red pepper flakes. Saute for 2 minutes. Add bourbon, brown sugar, soy sauce, vinegar and ketchup and whisk to combine. Bring to a heavy simmer and cook until thickened, about 10 minutes. It should coat the back of a spoon.

Heat a large skillet over medium heat. Add remaining olive oil and pork chops to the pan. Once browned on the first side, flip then brush with bourbon glaze. Flip again and glaze second side. Because the glaze has brown sugar it in it can burn easily so make sure the heat doesn't get too high in the pan. Cook until internal temperature reaches 145 degrees F. Remove from the pan and allow to rest for 10 minutes before cutting.

Processing…
Success! You're on the list.
Whoops! There was an error and we couldn't process your subscription. Please reload the page and try again.