So, I know it's only a few days until Thanksgiving but I figured you might be a little tired of turkey and stuffing and cranberries. And we have to eat these next few days before so why not share a quick and healthy dinner we can enjoy before the big feast? These Honey Teriyaki Rice Bowls are just what you need.


The honey teriyaki chicken is cooked in the slow cooker along with some fresh broccoli florets (for a shorter time). An hour before the chicken is ready, throw a batch of perfect brown rice in the oven then dinner will come together in a snap.
As much as I love to cook, I absolutely adore when I can dump a bunch of stuff in the slow cooker or oven and have a delicious dinner ready in a few hours. We are in the season of busy weeknights and witching hours with kids, both of which make cooking unpleasant sometimes so I'll take all the help I can get. Plus, this bowl is healthy. Doesn't get much better than that.
I personally love broccoli but I know it's not everybody's favorite so you could switch out the broccoli for something else that suits your taste. Asparagus, green beans or carrots would also be tasty but know that if you use one of these, you may not need to cook the veggies as long.

I know my people would love peas (although they don't really "go") so you could throw in some frozen peas the last few minutes of cooking as they don't need much time at all to warm through. Use your imagination and use what you like, or what you have on hand.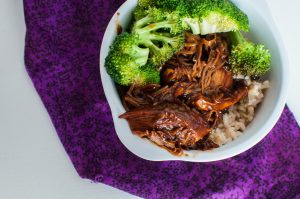 Honey Teriyaki Chicken Rice Bowls
2015-11-23 02:44:44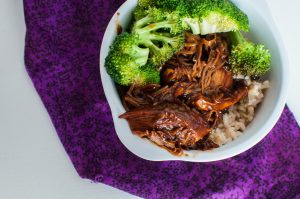 Ingredients
2 lbs. boneless, skinless chicken breasts
2 cloves garlic, minced
1/2 cup chopped white onion
1/2 cup honey
1/2 cup soy sauce (use low-sodium if desired)
1/4 cup rice wine vinegar
1 Tbsp. chopped fresh ginger
1/8 tsp. freshly ground black pepper
1/4 cup cold water
3 Tbsp. cornstarch
12 oz. fresh broccoli florets
1 batch perfect brown rice
Instructions
Layer chicken in the bottom of your slow cooker.
Combine the garlic, onion, honey, soy sauce, rice wine vinegar, ginger and pepper in a bowl then pour over the chicken. Cover and cook on high for 4 to 5 hours, or until chicken shreds easily. Shred the chicken, using 2 forks.
In a small bowl, combine cold water and cornstarch. Pour into the slow cooker and stir thoroughly. Lower slow cooker temperature to low. Top chicken and sauce with the broccoli florets and cover again. Cook for another 30 minutes or until broccoli is tender crisp.
Adapted from Gimme Some Oven
Meg's Everyday Indulgence https://www.megseverydayindulgence.com/