A few weeks ago, I reached out to you all on Facebook asking for any recipe that you would like to see featured during the upcoming holiday season. I got some fun requests and go right to work on them and this Wisconsin Cheese Soup was one of them.

I have to say, I wasn't too sure about a cheese soup . Don't get me wrong, I absolutely adore cheese in most any form but it just didn't seem filling to me. But I fixed that problem with bacon and loads of homemade pretzel croutons. Because, really, what problem isn't fixed by bacon and carbs?
The soup is really rich in texture from the heavy cream, hello holiday calories, and the chicken stock, onions and garlic lend lots of richness in flavor. And my goodness is it creamy. That's thanks to three cheeses, extra sharp white cheddar, smoked gouda and parmesan cheese.
You of course can change up the cheese to suit your tastes but I really liked the combination of sharp, smoky and creamy that these cheeses brought to the soup. The goal is just to have 12 ounces of shredded cheese.
This soup is also perfect for dunking a grilled cheese, preferably made on a pretzel roll in a panini press. Even the boys in my life, who are professed soup haters, loved this one. You can always win them over with cheese people.
And you may be asking, what makes this Wisconsin Cheese Soup Wisconsin-y? Well, I can't really tell you. Besides the fact that, you know, it's loaded with cheesy goodness. And that's good enough for me.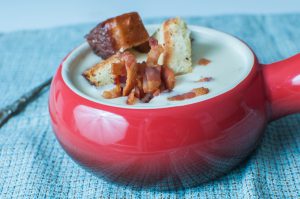 Wisconsin Cheese Soup with Bacon and Pretzel Croutons
2015-11-17 19:56:53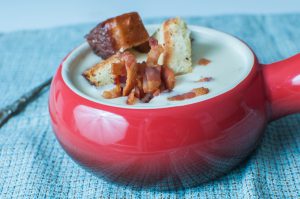 For the croutons
8 oz. pretzel bread, cut into cubes
2 Tbsp. unsalted butter, melted
1 Tbsp. olive oil
1/2 tsp. salt
1/4 tsp. fresh ground black pepper
1/4 tsp. garlic powder
For the soup
6 slices thick cut bacon, cut into small pieces
Butter
1 small onion, finely diced
2 garlic cloves, finely minced
1/4 tsp. salt
1/4 tsp. black pepper
1/4 cup all-purpose flour
2 cups chicken stock
1 1/2 cups whole milk
1 1/2 cups heavy cream
8 oz. sharp white cheddar cheese, shredded
3 oz. smoked gouda, shredded
1 oz. parmesan, shredded
Instructions
For the croutons: In a small bowl, combine melted butter, olive oil, salt, pepper and garlic powder. Drizzle over the bread cubes and toss, with your hands, until completely coated. Bake for 15-20 minutes. Remove from oven and allow to cool. They will continue to crisp as they cool.
Cook bacon in a skillet over medium heat until crisp. Remove with a slotted spoon. Measure how much bacon fat is left in the skillet. We want a total of 4 tablespoons of bacon fat and/or butter. So if you have 2 tablespoons of bacon fat, add 2 tablespoons of butter. Add onions and garlic and cook until softened and slightly browned, about 5 minutes. Stir in salt and pepper. Sprinkle in the flour and cook 1-2 minutes. Slowly whisk in the chicken stock, whole milk and heavy cream. Bring to a low simmer for 20 minutes, until thick.
Add in the shredded cheeses, 1/2 cup at a time, stirring until melted after each addition. Don't allow soup to boil at this point. Ladle into bowls then top with crumbled bacon and pretzel croutons.
Adapted from Emeril Lagasse
Meg's Everyday Indulgence https://www.megseverydayindulgence.com/