These twice baked sweet potatoes are officially my new favorite way to scarf down the oh so good for you vegetable. Never mind that they are smothered in butter and sugar. I'm normally more of a savory person when it comes to my sweet potatoes and usually go for them diced, tossed in olive oil and spices then roasted.


I don't love the traditional marshmallow topped casseroles. But I figured with Thanksgiving right around the corner I would try something on the sweet side since that seems to be what people want around the holidays.
Although I did go with the sweet route, I decided to do something a little different and skipped the marshmallows and went straight for a coconut pecan streusel. Because I will never turn down anything topped with streusel and anyone that would isn't a friend of mine. Just kidding, we can still be friends…I'll just think you're a tad crazy. But who isn't, right?
But seriously, this was one of the best ideas I've had in awhile. The streusel is sweet and buttery and crumbly. The pecans give it the perfect crunchy texture in contrast with the creamy, mashed sweet potato underneath.
I think that's why I've never liked a traditional sweet potato casserole. Between the texture of mashed sweet potatoes and the soft, gooey marshmallows it was just all too mushy. So the crunch of the pecans in the streusel really completes this for me.
And to all my fellow Friends fans out there, I just can't stop thinking about the episode when Rachel is making the sweet potato casserole and Monica asks her "don't you want to put the marshmallows in concentric circles" and Rachel says "no I want to do this" and shoves a marshmallow up her nose. Man, I love Friends and so miss the Thanksgiving episodes. They were the best.
These twice baked sweet potatoes will be perfect for your Thanksgiving table. And if you have any leftover, for breakfast the next morning. Not that I would know.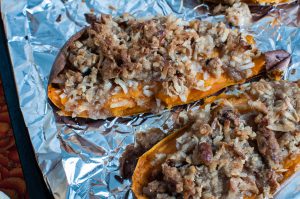 Twice Baked Sweet Potatoes with Coconut Pecan Streusel
2015-11-16 02:10:02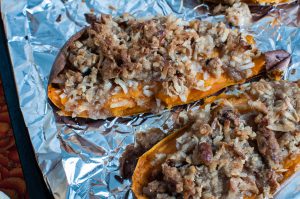 Ingredients
4 sweet potatoes
2 Tbsp. butter
For the streusel
2/3 cup sweetened coconut
2/3 cup chopped pecans
1/2 cup brown sugar
1/4 tsp. sea salt
6 Tbsp. cold butter, cut into cubes
1/4 cup all-purpose flour
Instructions
Preheat oven to 400 degrees. Scrub sweet potatoes and dry then poke holes with a fork all around each one. Place on a foil lined baking sheet and cook for 40-50 minutes or until fork tender.
Remove from oven and allow to cool enough to handle them. Slice them in half, lengthwise, and scoop out the potato leaving a bit around the skin to help hold the shape.
Mash together the sweet potato and 2 tablespoons butter. Fill the sweet potato shells back up with the mashed filling.
To make the streusel, combine all the ingredients and cut together with a pastry cutter or two forks until it resembles wet sad. Evenly sprinkle the streusel over the filled sweet potato shells.
Bake for 15 minutes, or until golden.
Meg's Everyday Indulgence https://www.megseverydayindulgence.com/