Tomorrow is Thanksgiving!! Are you all ready or totally scrambling? I'm at my parent's house today and we'll be prepping whatever we can today to make tomorrow a little less stressful.

And what about Black Friday? Do you guys go out at the crack of dawn to snag the deals? I don't usually but we're considering it this year since our TV has about 30 white dots all over it, with more popping up every week. Womp womp. I'm a little scared at the idea though.
My Black Friday shopping usually consists of going to lunch with my mom then going out to shop. We don't really care about the deals all that much but it's just a fun time to be together all day and get a lot of our shopping done.
I decided to forgo Thanksgiving recipes all week since I'm sure most of you have your menu figured out and your shopping done. Instead, I'm going to share a fun and simple recipe to make once you are tired of all the leftovers. I'm not a leftovers fan so I'm good after a day of reheated turkey and stuffing.
Remember the graham cracker chicken I made a few months ago? Well, I stuck it on a biscuit, slathered it with honey mustard and called it Graham Cracker Chicken Biscuits. Yes I did and I'm not apologizing for it.
We had these for dinner but I totally think you could pass them off for breakfast. I mean, why not? Chick-fil-A does it and if it's ok with them then I'm down.
I truly hope you all have a lovely Thanksgiving surrounded by those you love. I feel so blessed that you all stop by and read this little space of mine. The love and support you show me is something I'll always be grateful for.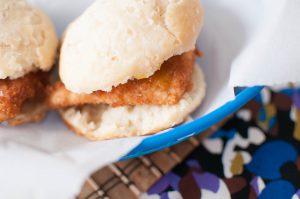 Graham Cracker Chicken Biscuits
2015-11-24 19:34:12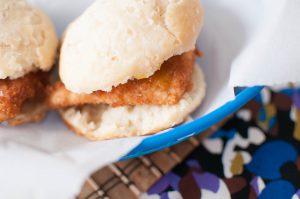 Ingredients
2 large boneless skinless chicken breasts, sliced in half lengthwise and widthwise
2 cups graham cracker crumbs
1/2 cup flour
salt and pepper
2 eggs
1/4 cup olive oil
8 biscuits
1/4 cup honey
1/4 cup yellow mustard
Instructions
Heat a skillet over medium heat. Set up a breading station (I use pie plates for this). Place flour in one dish and season with salt and pepper. Whisk eggs in another dish. Place graham cracker crumbs in the last dish, season with salt and pepper.
Coat chicken in flour, then dip in egg then roll in graham cracker crumbs. Place on a plate until all chicken in coated.
Put olive oil in pan and cook chicken in a single layer. Cook for 2-3 minutes, until golden. Flip and cook another 2-3 minutes until golden and cooked through.
Whisk together the honey and mustard. Slice biscuits in half and top bottom half of biscuit with a piece of chicken. Drizzle with honey mustard and top biscuit.
Meg's Everyday Indulgence https://www.megseverydayindulgence.com/