For the most part, we are pretty simple people. Frills and fancy need not apply here. I've always thought of polenta as fancy and something we wouldn't like so I've never tried it. I also don't like grits and thought the texture would be very similar. Another mark against polenta.

But this beautiful little space of mine on the internet has continued to push me to try things I "think" I won't like and be more adventurous with food. So sausage ragu over polenta it is.
I knew a simple sausage ragu would be perfect to serve over the polenta because first, it's easy and second, everyone would eat it. I'm sure all the parents out there can understand how difficult it is to make a meal that everyone will eat. It's kind of exhausting and makes me want to avoid cooking sometimes, ok a majority of the time.
Well people, I'm happy to report this meal was an almost complete success. Joel, Hannah and I loved every bit of it and Noah loved the ragu but wasn't sure about the polenta. But he tried several bites and I can't really ask for more than that. That boy is incredibly hard to please and considering he doesn't like meat, I'll take it.


The sausage ragu can be made ahead of time (I made it during nap time) and reheated on the stove while the polenta cooks. The polenta comes together quickly then it is mostly inactive cooking while in the oven so this fancy meal is pretty simple to put together.
I'm all about simplifying things these days so this meal was a total win.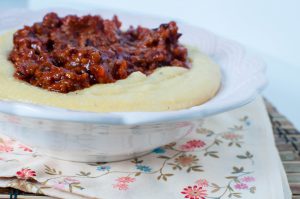 Simple Sausage Ragu over Polenta
2015-11-30 13:17:50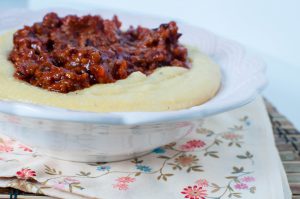 For the Ragu
1 tsp. fennel seed
1 lb. Italian sausage
1 Tbsp. olive oil
1 small onion, finely diced
2 garlic cloves, minced
8 oz. tomato sauce
6 oz. tomato paste
1 Tbsp. sugar
1 1/2 tsp. basil
1/2 tsp. thyme
1/2 tsp. kosher salt
1/4 tsp. fresh ground black pepper
For the Polenta
2 tablespoons olive oil
3/4 cup finely chopped yellow onion
2 cloves garlic, finely minced
1 quart chicken stock or broth
1 cup coarse ground cornmeal
3 tablespoons unsalted butter
1 1/2 teaspoons kosher salt
1/4 teaspoon freshly ground black pepper
2 ounces Parmesan, grated
Instructions
In a dry skillet over medium heat, toast fennel seed until fragrant, being careful not to burn. Remove from pan. Add olive oil to pan and saute onions until translucent, 2 to 3 minutes. Add garlic and cook another minute. Add sausage to pan and cook until no longer pink and crispy.
Pour in tomato sauce, tomato paste, sugar, basil, thyme, salt, pepper, toasted fennel seeds and 3/4 cup water and stir to combine. Lower heat to a simmer and cook for 15 minutes, stirring occasionally.
For the polenta: preheat oven to 350 degrees F. In a large, oven-safe saucepan heat the olive oil over medium heat. Add the red onion and salt and sweat until the onions begin to turn translucent, approximately 4 to 5 minutes. Reduce the heat to low, add the garlic, and saute for 1 to 2 minutes, making sure the garlic does not burn.
Turn the heat up to high, add the chicken stock and bring to a boil. Gradually add the cornmeal while whisking. Once all the cornmeal has been added, cover the pot and place it in the oven. Cook for 35 to 40 minutes, stirring every 10 minutes to prevent lumps. Once the mixture is creamy, remove from the oven and stir in the butter, salt, and pepper. Once they are incorporated, gradually add the Parmesan.
Dish out the polenta then top with sausage ragu.
Adapted from Alton Brown
Meg's Everyday Indulgence https://www.megseverydayindulgence.com/