These Gorgonzola Macaroni and Cheese Bacon Cups could also be known as "why I can't lose weight even though I work out 4 times a week" cups. Ooops. I knew I was doing something wrong. But it's all about moderation right? Because bacon. And macaroni and cheese. Those are two things I would never give up. Combine them into a cute little portable appetizer and it's all over.


The bacon is par cooked then carefully wrapped and baked in muffin tins until crispy and delicious. Then fill those bad boys with unbelievably creamy gorgonzola and sharp white cheddar macaroni and cheese for the ultimate party food.


Gorgonzola pairs so nicely with smoky, salty bacon and when combined with the sharp cheddar it's just gets that much better. Besides the delicious bacon vehicle to get to your mouth, the macaroni and cheese is some of the best I've ever made. It's so sharp and strong and so creamy.
I've trained my kids from a young age to like sharp cheddar (it's all I buy in the cheddar department) and stinky cheese but if your kids are normal and don't dig those flavors, you could tone it down with mild cheddar and less gorgonzola. Or just don't share with them. I like that option better. That's what we did.
Every few weeks, we have a late night date night where we feed the kids leftovers and get them to bed then we cook a fancy dinner together. Joel cooked steaks while I made these. Because there just wasn't enough decadence already.
Make these for the next big game and you will be a rock star in everyone's eyes and win over their hearts. Food is definitely the way to my heart.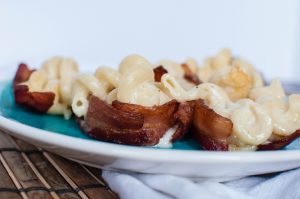 Gorgonzola Macaroni and Cheese Bacon Cups
2015-10-06 15:03:36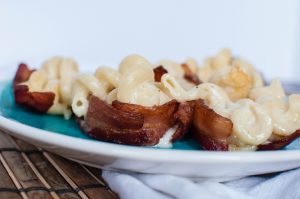 Ingredients
2 lb. bacon (18 slices/lb - if there is a couple less you can make it work)
1 Tbsp. reserved bacon fat
1 Tbsp. butter
2 Tbsp. flour
1/4 tsp. salt
1/4 tsp. fresh ground black pepper
1 1/2 cup whole milk
8 oz. sharp white cheddar, shredded
1/2 cup gorgonzola crumbles
8 oz. cellentani pasta, cooked 2 minutes less than package directions (or other short cut pasta)
Instructions
Preheat oven to 400 degrees F. Slice 12 slices of bacon in half and leave 24 whole. Par cook, 1-2 min per side on medium heat. Allow to cool then wrap a whole piece around each muffin tin (24) then place one half in bottom.
Bake for 12-14 minutes, or until crispy. Carefully tip muffin tin over into a rimmed baking sheet to drain as much bacon grease as possible.
Meanwhile, make the macaroni and cheese. Over medium heat, melt butter and reserved bacon fat in a medium sauce pan. Whisk in flour and stir for 1 minute. Add the milk in two parts, stirring well after each addition. Allow it to thicken, stirring frequently, for about 3 minutes. Remove from heat and stir in cheeses until melted. Mix with cooked pasta and set aside.
Fill each bacon cup with macaroni and cheese. Place back in the oven and bake for 5 minutes.
Run a butter knife around the edges and carefully lift out of the muffin tin. Warning, they might not all stay together but they are still delicious.
Meg's Everyday Indulgence https://www.megseverydayindulgence.com/