I made these Loaded Cookies and Cream Halloween Cookies a few weeks ago and have been dying to share them with you but I figured I should wait until October to break out the Halloween treats. Well, it's time.
I've never been a packaged, store-bought cookie kind of person but Oreos get me. Only when dipped in milk. Or crushed up and mixed into things. Like milkshakes or these glorious, bakery style cookies.
They are loaded with an insane amount of mix-ins which results in a party in your mouth. Halloween Oreos, peanut butter chips, chocolate chips and white chocolate chips are combined into my favorite cookie base then, as if that wasn't decadent and glorious enough, they are topped with sprinkles and a touch of sea salt.
These cookies are thick and chewy and ridiculously large. Perfect for Halloween if you ask me. Because there's not enough sugar going around.

I love topping cookies, especially super sweet ones like these, with chunky sea salt to help balance out and slightly tone down the sugar overload. Plus, name someone who can resist a sweet and salty treat. Yep, nobody.
The dough is frozen for a couple hours then you can bake them all or just a couple when the craving strikes. Kind of perfect and terrible all at the same time. Want a fresh, hot, homemade cookie. Give me 15 minutes, boom.
I mean, how could you resist this?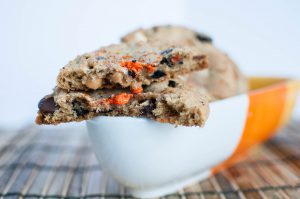 Loaded Cookies and Cream Halloween Cookies
2015-10-05 01:24:20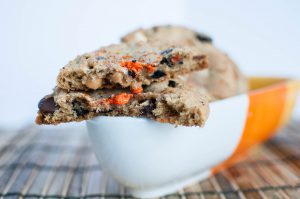 Ingredients
1 cup butter, softened
1/2 c shortening
1 1/2 cup dark brown sugar
1/2 cup granulated sugar
2 large eggs
4 teaspoon vanilla extract
4 1/3 cup all-purpose flour
2 Tbsp. cornstarch
2 tsp. baking soda
1 tsp. salt
1 cup chocolate chips
1/2 cup white chocolate chips
1/2 cup peanut butter chips
8 coarsely crushed Halloween oreos
Halloween sprinkles
Coarse sea salt
Instructions
Cream together the butter, shortening and sugars until they are light and fluffy.
Add eggs, one at a time, to the sugar mixture. Add vanilla.
Combine flour, cornstarch, baking soda and salt in a large mixing bowl. Add dry ingredients to the creamed mixture until fully incorporated. Stir in chocolate chips, white chocolate chips, peanut butter chips and oreos.
Line two cookie sheets with parchment paper. Using a 1/4 cup measuring cup, scoop out dough and form into balls then slightly flatten the top. Place on prepared cookie sheets. Top with sprinkles and a generous sprinkle of sea salt. Place in freezer for 2 hours. At this point, you can either bake the cookies or place them in a freezer bag then throw them in the freezer for future use (up to 3 months).
To bake the cookies, preheat the oven to 350 degrees F. Bake on a greased or parchment covered cookie sheet for about 15 minutes (mine took about 17).
Meg's Everyday Indulgence https://www.megseverydayindulgence.com/