The combination of flavors in these Banana Biscoff Muffins will totally blow your mind. Sweet bananas and cinnamon cookie vibes will quickly become a new favorite.
This post may contain affiliate links. For more information, please read my disclosure policy.
Update: This post has been updated since its original post date in 2013. Text as well as photos have been updated. Recipe has been improved to provide an even better muffin result.
If you always have spotty bananas hanging around the house (it's me), this recipe is perfect for you.
The muffins mix up quickly and are a fun twist on the classic banana muffin.
With a mix of warm cinnamon biscoff spread and sweet, ripe bananas I'm pretty certain these muffins will become a fast favorite.
What is Biscoff Spread?
Have you heard of biscoff cookies? They are a crunchy cookie, similar to shortbread but with tons of warm spices and an almost caramely taste.
They are super popular in Europe and have become quite a trend here in the US in the past several years.
Biscoff spread is basically like a peanut butter made with biscoff cookies. I mean, how amazing is that?!
It's also known as cookie butter so if you can't find biscoff spread, look for cookie butter. It comes in both smooth or crunchy so choose what you prefer. Either will work in this recipe.
It's literally tastes like a cinnamon cookie in spreadable form. There's just nothing wrong about that.
Ingredients for Banana Biscoff Muffins
The ingredients are pretty simple to make these Banana Biscoff Muffins. Here's what you need:
Use Super Ripe Bananas
For the best banana flavor in your Biscoff Banana Muffins, make sure you use brown spseckled bananas. They are so sweet and will provide the best banana flavor.
If you have bananas that aren't quite ripe enough, there are a few methods you can use to speed up the process. If you have a day or two, put them in a paper bag to ripen faster.
You can even roast them in the oven to bring the sweetness.
Excess Ripe Bananas?
If you have the opposite problem and have too many ripe bananas, you can freeze them for future Banana Biscoff Muffins, smoothies and breads.
Peel the bananas and place them on a rimmed baking sheet. Make sure they aren't touching.
If you're going to use them for breads and muffins, you can leave them whole. If you want to use them for smoothies, cut into chunks for easier blending.
Place the baking sheet in the freezer for an hour or two. This will flash freeze them. At this point, place them in a freezer safe container or bag and freeze until ready to use.
The flash freezing process is important. If you were to just throw all the bananas in a bag and freeze, they would stick together and make it nearly impossible to just grab out one or two for your recipe.
How to Make Banana Biscoff Muffins
In reworking this recipe, I switched up the ingredients a bit to result in a more tender muffin. I also changed the process of mixing to make it even easier and quicker to whip up.
Grab two mixing bowls. In the first, add the bananas and mash them until smooth. Stir in the vegetable oil, biscoff spread, granulated sugar, sour cream, eggs and vanilla extract.
In the second bowl, mix together the flour, baking powder, baking soda and salt. Pour into the wet ingredients and mix until the batter juuuuust comes together.
Overmixing will result in a tough, dense muffin. No thanks.
Portion out into a greased or lined muffin tin. I like to use an ice cream scoop to ensure all the muffins are the same size. You'll get 12 muffins out of this recipe.
Top each muffin with a dried banana chip to make them extra fancy.
Bake for 15 to 20 minutes. Check them at 15 minutes with a toothpick. No overbaking here.
More Muffin Recipes You Need in Your Life: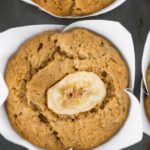 Print
Banana Biscoff Muffins
The combination of flavors in these Banana Biscoff Muffins will totally blow your mind. Sweet bananas and cinnamon cookie vibes will quickly become a new favorite.
Ingredients
1

cup

mashed bananas, about 2

3/4

cup

biscoff spread (also known as cookie butter)

2/3

cup

granulated sugar

2

large

eggs

1/2

cup

vegetable oil

2

Tbsp.

sour cream

2

tsp.

vanilla extract

2

tsp.

baking powder

1

tsp.

baking soda

1/4

tsp.

kosher salt

2 1/2

cups

all-purpose flour

dried banana chips, optional
Instructions
Preheat oven to 350 degrees F. Line a muffin pan with liners or spray with nonstick spray. Set aside.

In a large bowl, combine mashed banana, biscoff spread, sugar, eggs, vegetable oil, sour cream and vanilla extract. Whisk until combined. In another bowl, whisk together baking powder, baking soda, salt and flour. Add dry ingredients to wet ingredients and gently fold together, until just combined.

Using an ice cream scoop, evenly divide the batter among the muffin cups. Top each with a banana chip if desired. Bake for 15 to 20 minutes, until a toothpick comes out clean.
Processing…
Success! You're on the list.
Whoops! There was an error and we couldn't process your subscription. Please reload the page and try again.