This Steak and Potato Burrito is stuffed with tender seared steak, crispy tater tots, blue cheese dressing and a drizzle of steak sauce. The perfect meal any time of the day.
This post may contain affiliate links. This helps support this website at no cost to you. For more information, please read my disclosure policy.
Is there anything better than the classic steakhouse combination of steak, blue cheese and potatoes? I'm pretty sure it's hard to improve upon.
Except for maybe making it handheld by throwing it all in a flour tortilla. And that's what today's recipe is all about.
Ingredients for a Steak and Potato Burrito
The ingredient list is simple, short and sweet for this recipe.
All About the Steak
You have two options for your steak. Either you can buy the precut steak bites at your grocery store or you can grab a 1 pound steak of your choosing and dice it into small bite-size pieces.
When it comes to choosing the cut, you can use whatever you like. Ribeye, New York strip, filet or even flank steak would be great options. Just make sure they are boneless to help you out when prepping.
I'm personally a ribeye kind of girl so that's probably what I would choose.
Before adding the steak to the skillet, make sure you dry it as well as you can. This will help achieve the perfect sear. If meat is wet when added to a skillet it kind of boils or steams. No thanks.
After drying, sprinkle the steak bites with your favorite steak seasoning.
Assemblying the Burritos
First, you need to get the tater tots cooking. You can bake or fry them according to the package directions. I used my air fryer to get them super crispy.
While the tots are cooking, season and sear the steak. Preheat a skillet (preferably a cast iron skillet) over medium-high heat.
It will only take 1 minute per side to cook the steak since the temperature is high and the steak is already in small pieces.
Once the steak and tater tos are cooked, pile them in a large flour tortilla and drizzle them with blue cheese dressing and steak sauce. Roll that glorious medley together and enjoy.
Be careful when rolling. The tots are super crispy and will easily rip through the tortilla.
Enjoy Right Away
This Steak and Potato Burrito is best enjoyed right away for a few reasons. First, the tots are cooked super crispy and you want them to stay that way. The longer the sit, the soggier they will get.
The steak is seared which adds a nice crust on the exterior yet keeps it juicy inside. Just like the tator tots, if not eaten right away you'll lose that beautiful sear you achieved.
That would all be no good.
Change it Up
If you happen to not like blue cheese, you can change up the sauces to make it to your tastes. Instead of blue cheese and steak sauce, use your favorite barbecue sauce.
Using mini tater tots, if you can find them, gives the perfect bite since the steak and tots will be about the same size.
If you can't find the mini version, standard tater tots will be just fine. That's what I used. You could also substitute in different types of potatoes if tater tots aren't your thing.
Southern style hash browns cooked crispy or even french fries would be a delicious addition.
As long as you have that seared, tender steak along with the crispy potato and creamy, sharp dressing you will be golden. It's just the best meal on the go.
More Favorite Ways to Use Tortillas: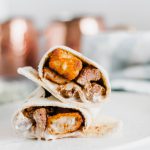 Print
Steak and Potato Burrito
This Steak and Potato Burrito is stuffed with tender seared steak, crispy tater tots, blue cheese dressing and a drizzle of steak sauce. The perfect meal any time of the day.
Ingredients
2

cups

frozen tater tots

1

lb.

steak tips (or steak diced into bite-size pieces)

1

Tbsp.

steak seasoning

1

Tbsp.

olive oil

4

large

burrito-size flour tortillas

Blue cheese dressing

Steak sauce
Instructions
Bake, fry or air fry tater tots according to package directions. Meanwhile, heat a large skillet over medium-high heat. Using paper towels, completely dry the steak tips then sprinkle with steak seasoning.

Add olive oil to hot skillet. Add steak tips to skillet and sear 1 minute per side. Remove from the skillet.

Lay out 4 large flour tortillas. Evenly divide the tater tots and steak among the tortillas. Drizzle with desired amount of blue cheese dressing and steak sauce. Fold up short sides then roll to close tortilla. Don't roll to tightly as the tots may tear the tortilla.
Processing…
Success! You're on the list.
Whoops! There was an error and we couldn't process your subscription. Please reload the page and try again.