Start your week off right with this Salad Meal Prep. Simple preparation and crazy flavor go into this Caesar salad with mini chicken meatballs.
This post may contain affiliate links. For more information, please read my disclosure policy.
Happy New Year friends! I know in the new year many people will set the goal of eating healthier and I've found an important method to sticking to those habits is meal prepping.
When you have something prepared and ready for your lunches throughout the week it's so much easier to keep on track. My Korean Meatball Meal Prep was one of my most popular recipes last year so I'm bringing you another recipe this January I think you will love.
This Salad Meal Prep is packed full of crunchy romaine, Caesar dressing, homemade croutons and the tastiest mini chicken meatballs EVER. And it all takes less than 1 hour to prep for a whole work week of lunches.
Required Ingredients
You only need a handful of ingredients to get started on this salad meal prep situation. For the chicken meatballs you will need:
The olive oil is an important ingredient in making these meatballs. So often ground chicken can dry out and produce less than satisfactory results. But adding olive oil to the meatballs is a total game changer. You end up with a great tender texture.
Mix up all the ingredients with your hands, portion out into 1 tablespoon meatballs and place on a parchment lined baking sheet. Into the oven they go for 10 to 12 minutes and they are salad ready.
You'll need a handful of ingredients for the croutons including:
Toss everything together and bake them on a sheet pan at the same time the chicken meatballs are cooking.
How to Assemble Salad Meal Prep
While the meatballs and croutons are baking, prepare the lettuce for the salads. You'll need two hearts of romaine. Wash, dry and chop it finely. Give it another dry after it's chopped then divide evenly among your meal prep containers.
Speaking of containers, these meal prep containers are my favorite. They wash up nicely and stack in the refrigerator to reduce the amount of space they take up. I like that they divided areas just in case you have things you don't want touching. I am that person.
Pour your desired amount of dressing into small containers to keep separately from the salad. Mix right before you are ready to eat.
Once the chicken meatballs are cooled, divide them among your containers. You should end up with 32 meatballs in total so you will have 8 meatballs per container if you are prepping 4 salads.
I like to keep the croutons in an airtight container on the counter to prevent them from possibly getting soggy in the refrigerator. When you are leaving for the morning, pop a handful of croutons into your empty space in your container and you're good to go.
Once you are ready to eat, toss everything together and enjoy.
Make Healthy Eating Easy
From start to finish, this salad meal prep only takes about 45 minutes. That's pretty awesome for four days of lunches.
Prepping ahead of time is a huge way to start and stay successful on your healthy eating journey and something I find so helpful.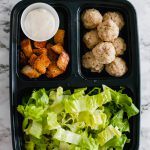 Print
Salad Meal Prep: Caesar Salad with Mini Chicken Meatballs
Salad Meal Prep is the perfect way to start out your New Year healthy. 45 minutes of prep results in a weeks worth of healthy and delicious lunches. Caesar dressing, homemade croutons and mini chicken meatballs add lots of flavor to the mix.
Ingredients
For the Mini Chicken Meatballs:
1

lb.

ground chicken

1

large

egg

1

Tbsp.

olive oil

1

Tbsp.

minced garlic

3/4

cup

shredded Parmesan

3/4

cup

bread crumbs

1/2

tsp.

kosher salt

1

tsp.

pepper
For the Croutons:
2

cups

cubed French bread, 1/2-inch chunks

1

Tbsp.

olive oil

1/4

tsp.

kosher salt

1/4

tsp.

pepper

1/4

tsp.

garlic powder
For the Salad:
2

hearts of romaine, washed, chopped and dried

Prepared Caesar dressing
Instructions
For the meatballs: preheat the oven to 400 degrees. Line a rimmed baking sheet with parchment paper and set aside. In a large bowl, mix together ground chicken, egg, olive oil, garlic, Parmesan, bread crumbs, salt and pepper. Using a tablespoon, scoop meatball mixture and roll into a ball. Place on prepared baking sheet. Continue until you have used all the mixture. You should end up with approximately 32 meatballs.

In another bowl, toss together the crouton ingredients. Spread in a single layer on a rimmed baking sheet. Bake meatballs for 10-12 minutes. Bake croutons for 8-10 minutes.

Meanwhile, divide lettuce between 4 containers. Add desired amount of dressing into a small container.

Once meatballs are cooled, divide evenly among the meal prep containers. Keep croutons in an airtight container at room temperature. Add to the meal prep container the day you are eating it. Store salads in the refrigerator.
Processing…
Success! You're on the list.
Whoops! There was an error and we couldn't process your subscription. Please reload the page and try again.