Burgers don't have to be just for warm weather. These Sheet Pan Burgers and Fries are made on one sheet pan in the oven for an easy, delicious weeknight meal.
This post may contain affiliate links. For more information, please read my disclosure policy.
Hands up if you love a sheet pan recipe! They are the perfect solution to busy weeknights. And also days you really don't want to do the dishes.
Wait, who ever wants to do the dishes?!
So Many Reasons to Love Sheet Pan Burgers and Fries
This recipe is great on so many levels. First off, it's all cooked on one sheet pan making for easy clean up. Like I said earlier, I'm all for less dishes.
The ingredient list is simple and minimal. We're talking 8 ingredients for the whole meal, and that's counting the salt and pepper.
On days that it is too cold to fire up the grill, you can still have a juicy, flavorful burger. Because let's face it, any day is a good day for a cheeseburger.
The Ingredient List
Here's what you are going to need for these delicious sheet pan burgers and fries:
See how simple? You could of course add more seasonings and spices to your fries or burgers but I personally think simple salt and pepper is best.
How to Prepare
Ok so now that you have your ingredients lined up, let's get to work.
We're going to start with the fries because they take the longest. If you like your potatoes peeled, go ahead and do that first. I like the peel on my fries so I just simply scrub them and slice.
While we're on the topic of slicing the potatoes I need to introduce you to something that totally changed my fry game.
This fry cutter makes me outrageously happy. Like, it may seem kind of silly and unnecessary but EVERY fry ends up the same size, it's so much faster and they cook evenly.
My husband purchased it for me years ago sort of as a gag gift but I seriously love it. If you make fries occasionally at home, I definitely recommend it.
Once the fries are sliced, toss them with olive oil, salt and pepper and spread evenly on a rimmed baking sheet. They are baked for 30 minutes before the burgers go on the sheet pan so get them in the oven then start on the burger patties.
To form the patties, evenly divide the ground beef into 4 portions and then roll into balls. At this point, we're adding a little secret ingredient that adds lots of flavor and juiciness.
Butter my friends. A little pat of butter is added to each portion of ground beef. Press it into the center then roll again and flatten into 1/2-inch thick patties. Set them aside on a plate and season them with salt and pepper.
After the fries have cooked for 30 minutes, remove the sheet pan from the oven. Because the burgers will release a lot of juice, you're going to want to make a little foil barrier to keep the fries from becoming soggy.
Grab a piece of foil a little larger than the area for your burgers. Roll up the sides a bit to ensure any juice that runs out of the burgers is caught and kept there.
Place the foil on the sheet pan and put the burgers on top. Back into the oven the pan goes for the burgers to cook. During the last few minutes of cooking, add cheese if desired.
All in all, these sheet pan burgers and fries will take you 45 minutes to cook. The resulting burger is super tender and flavorful while the fries are crispy and delicious.
An all around delicious meal all in one.
More Sheet Pan Favorites: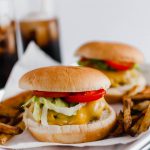 Print
Sheet Pan Burgers and Fries
You don't need warm weather to enjoy a burger at home. These Sheet Pan Burgers and Fries are super simple to make all on one pan. A great, simple weeknight meal.
Ingredients
For the fries:
1 1/2

lbs.

russet potatoes, sliced into 1/4-inch thick fries

2

Tbsp.

olive oil

1

tsp.

kosher salt

1/2

tsp.

black pepper
For the burgers:
1

lb.

ground beef (80/20)

1

Tbsp.

butter, cut into 4 pieces

1

tsp.

kosher salt

1/2

tsp.

black pepper

4

slices

cheese

shredded lettuce, tomato, pickles, onion, mayo, ketchup
Instructions
Preheat oven to 425 degrees F. Dry the potatoes well. Place on a large baking sheet with enough space for the fries and 4 burgers. Spread out the fries and drizzle with olive oil. Sprinkle with 1 teaspoon salt and 1/2 teaspoon pepper. Toss with hands. Bake for 30 minutes, flipping halfway through.

Meanwhile, divide the beef into fourths and roll each into a ball. Press butter into the center of each ball and roll again. Flatten each ball into 1/2-inch patties. Season evenly with 1 teaspoon kosher salt and 1/2 teaspoon pepper.

Once fries have cooked for 30 minutes, remove from oven. Take piece of foil slightly larger than the space on the sheet pan for the burgers. Roll the edges up to make a square bowl shape. Place on sheet pan. Place burgers on foil and bake 13 minutes. Add cheese to burgers and cook another 2 minutes.

Assemble burgers on buns with your favorite toppings.
Processing…
Success! You're on the list.
Whoops! There was an error and we couldn't process your subscription. Please reload the page and try again.