This Pistachio Cheesecake is the perfect holiday dessert. Thick, creamy and studded with pistachio flavor throughout the filling and crust. Top with cherries to make it extra festive.
This post contains affiliate links. That means I may make a small commission of the sales of recommended items at no cost to you. For more information, please read my disclosure policy here.


Doesn't cheesecake just scream holidays?! I totally think so and thought it was necessary to share a new recipe in time for Thanksgiving and Christmas. And does it get any more festive than creamy green cheesecake with shiny red cherries on top?
I don't think so.
The Best Pistachio Cheesecake
Let's break down this glorious cheesecake. The filling gets all its delicious pistachio flavor and pale green color from a package of instant pistachio pudding mix. You don't need to actually make the pudding, but just mix in the powder to the cream cheese filling.


A touch of almond extract brings out the pistachio flavor and adds another dimension to the cheesecake.
The buttery graham cracker crust also contains ground pistachios to add more flavor and texture. Grind 1/2 cup of pistachios in a food processor and add them to the graham cracker crumbs. If you don't have a food processor you can add them to a ziplock bag and crush them with a meat mallet or rolling pin.
When making cheesecake it's best to use a stand mixer or a hand mixer. If you don't have either of these you can do it by hand but you need to ensure the cream cheese is extra soft and that you cream it really well.

Room Temperature Ingredients
When making cheesecake it's super important that all your ingredients are at room temperature. That means the cream cheese, heavy cream and eggs.
For the cream cheese, I like to take it out of the fridge 4 hours before baking. The rest of the cold ingredients will come to room temperature in about an hour.
Doing this will ensure the filling is super smooth. Nobody wants a chunky cheesecake.

Time Management
Another important temperature element in cheesecake is ensuring it has the time to cool on the countertop before refrigerating overnight before serving. If the cheesecake doesn't have the time to cool properly, the texture will be affected.
Although it takes some time and planning, this pistachio cheesecake is totally worth the effort.
I always plan on making this the day before so it's perfect for my event. And plus, it gives you less to do the day of the holiday.

Serving Pistachio Cheesecake
When it comes time to serve the cheesecake, you have a few options. First, it's so delicious and flavorful on its own.
If you prefer to embellish the cheesecake I definitely would recommend cherries on top. Cherries pair so beautifully with pistachio and almond. And like I said earlier, they make the pistachio cheesecake extra festive.
You can either put the cherries on the whole cheesecake then slice or top individually for whoever wants them.


No matter how your choose to serve it, this pistachio cheesecake is sure to be a hit.
More Holiday Worthy Dessert: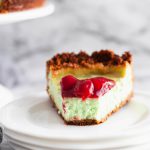 Print
Pistachio Cheesecake
This Pistachio Cheesecake is a delightful holiday dessert. Thick, creamy cheesecake studded with pistachio flavor throughout the filling and crust. Top with cherries to make it extra festive.
Ingredients
For the Crust:
1/2

cup

shelled pistachios

1 1/2

cups

graham cracker crumbs

2

Tbsp.

granulated sugar

8

Tbsp.

butter, melted
For the Cheesecake Filling:
24

oz.

cream cheese, room temperature

1/2

cup

granulated sugar

1

3.4 oz.

package instant pistachio pudding mix

2

large

eggs, room temperature

2

tsp.

vanilla extract

1/4

tsp.

almond extract

1/3

cup

heavy cream, room temperature
Instructions
Preheat oven to 325 degrees F. For the crust, remove the bottom of the 9-inch springform pan and wrap tightly in aluminum foil. Assemble springform pan and set aside. Add pistachios to a food processor and pulse until you have fine crumbs. Add to a large bowl. Add graham cracker crumbs, sugar and melted butter to the bowl and mix well. Add to springform pan and press evenely on the bottom and up the sides. Using a drinking glass to press down the crumbs will help make it even. Place in the freezer for 15 minutes while you are preparing the filling.

Add cream cheese to the bowl of a stand mixer. Cream until smooth. Add sugar and pistachio pudding mix powder to the cream cheese and mix until well combined. Scrape down the sides of the bowl. Add eggs, one at a time, mixing well inbetween additions. Scrape sides again and add vanilla extract, almond extract and heavy cream. Mix until just combined.

Remove crust from freezer and pour in the filling. Carefully spread evenly in the crust. Bake for an hour and 15 minutes. Check at an hour and cover lightly with foil if it's starting to get golden. Remove from the oven and cool to room temperature on the countertop. Cover and refrigerate overnight.
Check out Julia's Simply Southern for more recipe inspiration.