Get ready for the most indulgent, creamy and totally addicting macaroni and cheese around. This Italian Mac and Cheese features 4 different cheeses and Italian seasoning which bring all the flavor.
This post may contain affiliate links. For more information, please read my disclosure policy here.


This Italian Mac and Cheese is one of my favorite recipes of 2019. I'm sure you're completely shocked seeing that it involves pasta and 4 kinds of cheese (insert sarcasm here). The creamy factor is basically off the charts.
Pasta Time
Authentic Italian pasta makes it even better if you can get your hands on it. When I came across Garofalo pasta at Costco awhile back I gave it a try and I'm officially never buying another brand again. I keep it constantly stocked in my pantry. Like I said, I grab it at Costco but you can get it on Amazon too.
Cooking the pasta 1 minute less than the package directions provides that nice al dente bite to the pasta.
All the Cheeses
I picked some of my favorite cheeses that just happened to be Italian for this mac and cheese. It was hard to narrow down the list because let's face it, all cheese is good cheese. In the end I went with a mix of cheeses that all had something important to contribute to the dish.


Mascarpone adds an unbelievabe creaminess to the sauce. If you've never had it before, it's basically Italy's version of cream cheese just less tangy. So, if you can't get your hands on mascarpone cream cheese would be a good substitute.
Next up, mozzarella. It's mild in flavor leaving room for the other cheeses to shine but it adds that perfect stringy, cheese pull to the sauce.
The king of cheese, Parmesan is of course part of the mix. It adds a nutty richness and depth to the sauce.
Last but definitely not least, the gorgonzola. This is where lots of the flavor comes from in the sauce. It adds a nice tanginess without completely taking over the sauce. I have two in my house that don't like gorgonzola but loved this Italian mac and cheese. So basically, it adds just enough funk to have some flavor but not so much that it overpowers the dish.
Once the cheese sauce comes together, Italian seasoning is mixed in to add all that herby goodness. You can use whatever Italian blend seasoning is your favorite or mix up your own. If you are making your own, I recommend a blend of basil, oregano, thyme, parsley and garlic powder.

Serving Italian Mac and Cheese
I love mixing this up and serving it in a big cast iron enameled dutch oven. Serving it family style makes it feel even more homey. I've raved about this super reasonably priced dutch oven before and I'll do it again. So perfect for this dish. I'm also obsessed with (and constantly using) this casserole style enamel dutch oven for all of the warm, cozy fall foods.
Sometimes mac and cheese can separate and get weird when reheated but because this pasta is so creamy and it isn't baked, it reheats really well. And this is coming from a self-proclaimed leftovers hater.
If you're a macaroni and cheese on the holidays kind of person (hello, it me) this is just what your Thanksgiving table needs. Less than 30 minutes to make on the stove top, super creamy and totally crowd pleasing.
More Mac and Cheese Favorites: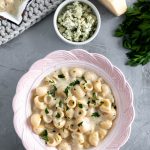 Print
Italian Mac and Cheese
This Italian Mac and Cheese is the creamiest, cheesiest pasta around. Perfectly al dente pasta tossed in a sauce packed with several Italian cheeses and Italian seasonings.
Ingredients
1

lb.

short cut pasta

4

Tbsp.

butter

4

Tbsp.

flour

1

tsp.

kosher salt

1/2

tsp.

black pepper

2

cups

whole milk

8

oz.

mascarpone cheese

8

oz.

mozzarella cheese, shredded

1/3

cup

gorgonzola crumbles

1/3

cup

shredded parmesan

1

Tbsp.

Italian seasoning
Instructions
Bring water to a boil and cook pasta one minute less than package directions.

Meanwhile, make the sauce. Heat a large saucepan over medium heat. Once hot, add the butter. Whisk in flour and cook for 2 minutes, until the colors starts to darken just a bit. Whisk in half of the milk and whisk constantly until slightly thickened. Add remaining milk and whisk again until thickened enough to coat the back of a spoon. Add mascarpone and whisk until melted. Remove pan from heat and stir in remaining cheeses until melted and incorporated. Stir in Italian seasoning.

Add the pasta into the cheese sauce and serve.
Check out Julia's Simply Southern for more recipe inspiration.