Soft, tender pumpkin oatmeal cookies sandwiched with a fluffy marshmallow creme filling make up these Pumpkin Oatmeal Creme Pies. And they'll quickly become your new favorite fall treat.
This post may contain affiliate links. For more information, please read my disclosure policy here.

Are you team chewy or crispy cookie? I'm all in for chewy cookies, all day every day. But I mean, I wouldn't say no to a crispy cookie.
This recipe is all about the soft, tender, chewy cookie so I hope you're here for it.
These pumpkin oatmeal cookies are adapted from one of my very favorite cookie recipes. I made them a little sturdier here to hold up to the sandwiching situation. The chewiness of the cookie is perfection when paired with the fluffy filling.

Speaking of the filling, it consists of marshmallow fluff, powdered sugar and shortening. You could even make your own marshmallow creme if you're feeling extra.
And yes, I said shortening and I'm not sorry. It really makes the perfect consistency for the filling which can't be replicated with butter. Just use the shortening and live on the edge my friends.
When you combine the chewy pumpkin oatmeal cookies with the fluffy, glorious marshmallow filling it's pretty much like all the stars have aligned leaving you with fall dessert perfection.
I quickly gave all of the cookies away to friends and Joel's co-workers to ensure I didn't inhale them all.
How to Make Pumpkin Oatmeal Creme Pies
To make these pumpkin oatmeal creme pies, we start by whipping up the cookies. It's important to make sure you plan for time to bake and completely cool the cookies in addition to the assembly. If you don't wait for the cookies to cool, the filling will melt and become an oozy mess. We don't want any of that.

The cookies start with a basic creaming of butter and sugar (granulated and brown sugar in this case). I use my KitchenAid stand mixer but you can use a electric hand mixer or do it the old-fashioned way too. Next, the wet ingredients are added then the dry and it's baking time.
So as you can see, the cookies are super simple to put together. Once they are baked, cool them completely then it's time for the filling. I like to use my mixer for the filling too so that it can get whipped up to a very fluffy consistency.
Assembling the Cookies
And my favorite part, assembly. Lay the cookies flat side up into a few even rows. You are going to pipe the filling onto half the cookies. I pipe every other row then pop the non-filled cookies onto the piped ones and sandwich heaven is served.

To ensure the filling is evenly distributed and looks pretty when sandwiched, I place the filling into a piping bag or large ziplock bag. If you're going the ziplock bag route, once it's filled cut off one of the corners so you have about a 1/4-inch opening.
Gently pipe about three tablespoons of filling onto half of the cookies. You can pipe it in the middle of the upturned cookie because when you press the top cookie down it will spread to the edges. Assemble and get ready to enjoy 24 delicious cookie sandwiches. Who says we need to share?!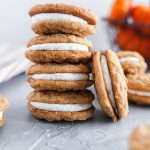 Print
Pumpkin Oatmeal Creme Pies
These Pumpkin Oatmeal Creme Pies will immediately become your new favorite fall dessert. Pumpkin oatmeal cookies with a fluffy marshmallow filling.
Yield:
24
cookie sandwiches
Ingredients
1

cup

butter, room temperature

1

cup

brown sugar

1

cup

granulated sugar

1

large

egg

1

tsp.

vanilla extract

1

cup

pumpkin puree (not pumpkin pie mix)

1

cup

old-fashioned oats

1

tsp.

baking soda

1

tsp.

kosher salt

1

tsp.

ground cinnamon

3

cups

all-purpose flour
For filling:
7

oz.

jar marshmallow creme

1/2

cup

vegetable shortening

1/3

cup

powdered sugar
Instructions
Preheat oven to 350 degrees F. In the bowl of a stand mixer cream together the butter, brown sugar and granulated sugar until light and fluffy, about 2 to 3 minutes. Add egg and vanilla and mix until incorporated.

In a large bowl, mix together oats, baking soda, salt, cinnamon and flour. Add dry ingredients to the creamed mixture alternately with the pumpkin puree. Mix until just combined. Spray cookie sheets with nonstick spray. Using a cookie scoop, drop cookie dough 2 inches apart on the prepare cookie sheets. Bake for 10-15 minutes, until lightly golden around edges. Allow to sit on cookie sheet for 3 minutes then remove to cooling rack to cool completely.

For the filling: whip together marshmallow creme, shortening and powdered sugar together in a stand mixer until very light and fluffy, 3 to 4 minutes. Place in a piping bag or ziplock bag with one corner snipped. Flip cookies upside down and place them in a few even rows. Pipe about 3 tablespoons of filling onto half of the cookies. Top with unfilled cookies and gently press until the filling reaches the edges. Store in an airtight container.