This Ultimate Cheesy Garlic Bread will completely blow your mind. Fresh French bread slathered with lots of garlic butter, broiled to crispy then topped a trio of cheeses and melted to perfection. It's just what your dinner needs tonight.


This post contains affiliate links. That means I recommend things I LOVE and may make a small commission at no cost to you. For more information, please read my disclosure policy here.
Is there a more glorious carb than bread? Nope nope nope.
Especially when it's covered in garlicky butter, three varieties of cheeses and Italian seasoning. It's perfect for pairing with spaghetti or any of your other favorite pasta. Carbs on carbs. Our motto in life.


My version of the ulitmate cheesy garlic bread starts with a few basic ingredients that combine into something crazy delicious.
First, you're going to need a super soft loaf of French bread. I always go to the bakery section of my favorite grocery store. The rest of the ingredients are almost always in my refrigerator or pantry. Butter, garlic, parmesan cheese, cheddar, mozzarella and your favorite Italian seasoning.
Let's get down to this delicious carb creation. Slice the bread in half lengthwise. In a small bowl, mix together the softened butter, minced garlic and shredded parmesan then slather the bread with the butter mixture.


At this point, the bread gets broiled so that the bread gets browned and crispy. I like to have that texture underneath so that there's some crunch to the bread.
Once it's golden, remove the bread from the oven and sprinkle it evenly with the shredded cheddar, mozzarella and Italian seasoning. Back to the oven it goes until it turns to gooey goodness.
If you have any leftovers, which most likey will NOT happen, turn it into French bread pizza the next day. Top with pepperoni and reheat it in the oven. Dip that bad boy in some pizza sauce and you have a bomb lunch situation.


Cheesy, garlicky, carby goodness all in a bite.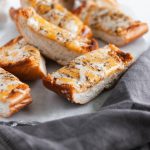 Print
Ultimate Cheesy Garlic Bread
This Ultimate Cheesy Garlic Bread is the perfect addition to dinner tonight. Buttery garlic bread smothered in three cheeses and Italian seasoning.
Ingredients
1

loaf

French bread

1

stick

softened butter

1 1/2

tsp.

minced garlic

1/2

cup

grated Parmesan cheese

1 1/2

cups

shredded cheddar

1 1/2

cups

shredded mozzarella

1

Tbsp.

Italian seasoning
Instructions
Preheat broiler. Slice bread in half lengthwise and place on broiler pan or baking sheet. In a small bowl, stir together butter, garlic and parmesan cheese. Spread evenly over the sliced bread.

Place under broiler and cook until golden brown and crispy, about 3 minutes. Keep a close eye on it so it doesn't burn.

Remove from oven. Sprinkle evenly with cheddar, mozzarella and Italian seasoning. Place back under the broiler and cook until cheese is melted and bubbly, 2 to 3 minutes.