Skip eating out tonight and make this Copycat Chick-fil-A Superfoods Salad at home. Healthier than the original and so simple to make.
**The photos, text and recipe have been updated since the original posting in 2016.
This post may contain affiliate links. For more information, please read my disclosure policy.
A delicious copycat recipe
Have you had the Chick-fil-a superfoods salad yet? We live close to Chick-fil-a and I have a certain little one that loves the play place so we go semi-regularly for a fun lunch date or to meet friends.
Although I love a crispy chicken sandwich and waffle fries, I also love their superfoods salad. I get it as a side to grilled nuggets and it makes for a really healthy option for a fast food restaurant.
The only problem? It's a little pricey for the size of the salad you receive. So I decided it was time to make my own version at home and it's been a favorite ever since.
Like I said above, I originally created this recipe in May 2016 and it has since become one of my most popular recipes so I thought it deserved a little freshening up.
It took me awhile to get on the kale trend but this salad totally turned me. Especially when it's this easy and most of my family enjoys it. I swear I can throw craisins on anything and my kids will eat it.
Delicious, healthy ingredients
Let's talk about the ingredients in this superfoods salad. They are healthy, clean and add lots of flavor and texture.
If you haven't had it before, this salad consists of kale, sweet and tart dried cranberries (or cherries), broccolini, toasted pecans and slivered almonds (or whatever nuts you prefer).
The dressing is a simple maple vinaigrette that takes just a few minutes to mix up. Literally throw all the ingredients in a mason jar and shake it up like crazy.
Some tips on kale
If you've never made a kale salad, there are a few things you should know.
I take the time to remove the ribs since they are stringy and hard. Once all the stems are removed, rip it into small bite-size pieces and place them all in a big bowl.
And now I'm going to get a little weird and insist that you massage your kale. Yep, you heard that right.

Drizzle your kale with a small amount of olive oil (up to 1 tablespoon) and massage it for about 5 minutes until it shrinks and gets dark green and softens.
The texture of the kale is SO much better when you massage it and makes it so much tastier. The process also breaks down the kale and gets rid of the bitterness.Take the time, I promise it's worth it.
Mixing up the salad
I mix in the dressing over the whole batch of kale and broccolini but we never end up eating the whole thing in one night so I but it stays crisp and tasty at lunch the next day.
If we're not eating the whole thing though I do reserve the nuts and sprinkle them on the individual servings and store the remaining nuts in an airtight container on the counter until we eat the rest of it.
A few changes to the original
I made a couple small changes to the salad due to personal preference and to make it a tad healthier. The salad at the restaurant uses candied walnuts and peanuts. I chose to use pecans and slivered almonds because that's what I personally prefer and what we always have on hand.
I also chose not to candy them to keep the sugar down. If we're being honest, it's better with candied nuts but it's still good when they are toasted. If you want a candied nut, these pecans would be ridiculously good in this salad.

Since the dressing is sweetened with pure maple syrup, it will still have some sweetness and you probably won't miss the candied nuts too much.
Use whatever nuts you have on hand or prefer here. The point is to add some good fat and crunch. Go wild.
This is officially my go-to spring and summer salad and I hope you guys love it just as much!
More Salads You'll Love: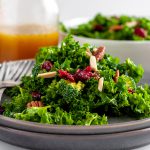 Print
Copycat Chick-Fil-A Superfoods Salad
Make your own copycat chick-fil-a superfoods salad at home. It's healthier and you know exactly what's inside.
Ingredients
For the Salad:
1

bunch

kale, ribs removed and torn into bite size pieces

1

bunch

broccolini, chopped into bite size pieces

If you can't find broccolini, use 1 broccoli crown instead

1/2

Tbsp.

olive oil

1/3

cup

craisins

1/2

cup

toasted nuts
For the Maple Vinaigrette:
1/2

cup

olive oil

1/4

cup

pure maple syrup

1/4

cup

apple cider vinegar

1/2

Tbsp.

soy sauce

1/4

tsp.

onion powder

1/2

tsp.

kosher salt

1/4

tsp.

black pepper
Instructions
For the dressing: combine all ingredients in a bowl and whisk well. Store in an airtight container and shake well before using.

Place kale and 1/2 tablespoon olive oil in a large bowl. Massage with both hands, rubbing together, for 5 minutes to break down the kale and get rid of the bitterness.

Add broccolini, dried cranberries and nuts then stir to combine. Drizzle with half the dressing and toss to coat. Taste and add more dressing as desired. Reserve remaining dressing for later use.
Processing…
Success! You're on the list.
Whoops! There was an error and we couldn't process your subscription. Please reload the page and try again.