This copycat Taco Bell Quesadilla Sauce is just like the real deal and so simple to make at home. Spice up your favorite quesadilla with this yummy sauce.
This post may contain affiliate links. For more information, please read my disclosure policy.

We love a good sauce or dip around here. Don't get me wrong, good 'ole sour cream or guacamole is great for a quesadilla but sometimes you just need a change, a boost, a kick.
And this Taco Bell Quesadilla Sauce has all those things.
A College Creation
When a few of my friends and I were living together during our senior year of college, we would occasionally stop by Taco Bell for a quick and cheap dinner. Quesadillas were always my poison because of that yummy sauce.
And also because everyone knows that's the best item on the menu. I haven't been in years thanks to pregnancy aversion but it was always the quesadilla for me.

Anyway, one day we decided we should try to make the quesadilla sauce at home. We found a copycat recipe online and played around with it until it was just right for us.
I should have known I was destined to have a food blog even when cooking in a tiny, linoleum covered, laminate topped apartment kitchen that I shared with two friends.
This was back before blogging was a thing. And now I'm showing my age…
So Many Ways to Enjoy
At the restaurant, the quesadilla sauce is slathered onto the quesadilla before it's cooked. That's the way Joel likes his but for me, I prefer to dunk and dip.
I like to choose exactly how much I get in each bite. Control freak much?

The sauce is spicy, smoky and slightly sweet just like the real deal. It's the perfect compliment to our favorite chicken, bacon and black bean quesadillas but it's good on any crispy, tortilla creation.
At first the ingredient list may seem a little weird but trust me, it comes together into the perfect copycat taco bell quesadilla sauce.
Here's what you're going to need:
The first major bonus of this recipe for me is that I always have those ingredients on hand. Score.
The ingredients come together to create this super creamy, slightly smoky and spicy sauce.
The jalapeno juice is just the liquid from a jar of pickled jalapenos. Not only does this add delicious flavor and a little acidity to the sauce but it also helps thin it out.
You could even chop up some jalapenos finely and stir them in for an extra kick and some texture.
Whether you're slathering like Taco Bell or dipping like a kid at heart, I'm pretty sure you're going to love this copycat recipe.
More Delicious Condiments: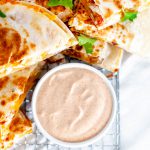 Print
Taco Bell Quesadilla Sauce
This copycat Taco Bell Quesadilla Sauce is just like the real deal and so simple to make at home. Spice up your favorite quesadilla with this yummy sauce.
Ingredients
1/4

cup

mayo (I use the olive oil kind)

1/4

cup

sour cream

1

Tbsp.

jalapeno juice (from the jar)

1 1/2

tsp.

granulated sugar

1

tsp.

cumin

1

tsp.

paprika

1/8-1/4

tsp.

cayenne pepper

1/8

tsp.

garlic powder
Instructions
Mix all ingredients together. Slather on inside on tortilla before topping with filling ingredients or use as a dip for cooked quesadillas.

Store leftovers in an airtight container in the refrigerator for up to 5 days.
Processing…
Success! You're on the list.
Whoops! There was an error and we couldn't process your subscription. Please reload the page and try again.