St. Patrick's Day is right around the corner and this rich, delicious Bangers and Mash Casserole is just what you need for dinner. Simple preparation and simple ingredients make this a slam dunk.
*This post may contain affiliate links. For more information, please read my full disclosure here.

Joel and I visited Ireland a few years ago and it was a complete dream. If you ever get the chance to go, do not pass it up. It's definitely bucket list worthy.
The only thing I didn't adore about Ireland was the food. Sorry to my Irish friends but it just lacked variety and was really heavy. I mean, it was good but it got kind of boring after a few days. The one dish I loved though was Bangers and Mash.
I've been dying to make a version at home but bangers, Irish sausages, are not easy to come by here. So a little brainstorming later and it was a simple homemade ground sausage to the rescue along with a rich, stout gravy and creamy, buttery mashed potatoes.

You guyyyys. It's one of my favorite recipes I've created in a really long time. I know it's not a pretty dish but don't let the looks fool you because it's packed with so much deep, delicious flavor.
I did a little research about what goes into Irish sausage and basically picked my favorite spices and added them to some ground pork along with bread crumbs and an egg. Once everything is combined well, the meat mixture is added to a skillet and cooked and crumbled until browned.
The gravy is super simple to make as well. Sprinkle some flour over the pork in the skillet then let it cook for a few minutes to cook out the flour taste.The gravy consists of two ingredients, beef stock for a super rich, deep flavor and a dark stout, preferably Guinness if we're keeping things legit.

Then there's the mashed potatoes. I always prefer using yukon gold potatoes for mashed potatoes. They are so unbelievably creamy and buttery. I would definitely recommend using them in this recipe.
You can peel the potatoes if you want the finished product perfectly creamy or leave the peels on for a little texture.
Once the gravy is thickened up, spread it in a baking dish then top with the creamy mashed potatoes. Then it bakes away in the oven. As you can see in the photos, the gravy may bubble up through the mashed potato layer.

The mashed potatoes get a little texture on top which is nice with the creamy potatoes and tender sausage gravy situation.
And this delicious little casserole tastes just like the real thing. I may just deem it even yummier than the original version.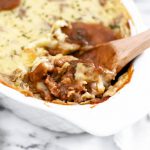 Print
Bangers and Mash Casserole
This rich and hearty Bangers and Mash Casserole would be perfect for St. Patrick's Day. All the classic flavors and ingredients of Bangers and Mash combined into a hearty casserole.
Ingredients
1 1/2

lbs.

yukon gold potatoes, washed and cut into 1-inch chunks

4

Tbsp.

butter, softened

1/2

cup

whole milk

3/4

tsp.

kosher salt

1

Tbsp.

olive oil

1

lb.

ground pork

1

large

egg

3/4

cup

panko bread crumbs

1

tsp.

kosher salt

1/4

tsp.

black pepper

1/4

tsp.

allspice

1/4

tsp.

dried thyme

1/4

tsp.

rubbed sage

1/2

tsp.

garlic powder

3

Tbsp.

all-purpose flour

1

cup

dark beer (preferably Guinness)

1

cup

beef stock

1

Tbsp.

Dijon mustard
Instructions
Preheat oven to 400 degrees F. Add potatoes to a pot of cold water. Place over high heat and bring to a boil. Cook for 10 to 15 minutes, until potatoes are tender.

Meanwhile, heat a large skillet over medium heat. In a large bowl, combine ground pork, egg, panko bread crumbs, 1 tsp. salt, pepper, allspice, thyme, rubbed sage and garlic powder. I use my hands for this step. Add olive oil to skillet then the ground pork mixture. Break up with a wooden spoon and cook until no longer pink.

Sprinkle pork with flour and stir until coated. Cook another minute to cook out the flour taste. Add beer to the skillet and cook until it thickens. Add beef stock and Dijon and cook again, stirring often, until thickened to a gravy consistency. Pour into an 8×8 pan and spread evenly. Set aside.

Once potatoes are tender, drain well. Return them to the dry pot and mash. Add butter and allow to melt. Stir in milk and 3/4 cup kosher salt. Drop mashed potatoes in blobs over the ground pork mixture. Using a spatula, smooth the potatoes until the pork is covered. Bake for 20 to 25 minutes, until bubbly and potatoes start to turn golden.
Subscribe to our mailing list