With the Super Bowl quickly approaching, football food is on the mind. These French Bread Pizza Bites take just minutes to put together and make a delicious party snack.

Who watched the championship games on Sunday?! I'm not a crazy football fan but that guy I married is a die hard, born and raised Chiefs game so we made a night of it with takeout Chinese food and parked ourselves in front of the TV. To say he was a bit devastated would be an understatement.
We were really hoping they would make it to the Super Bowl. So now we're hardcore cheering for the Rams. And with all this football talk comes all the football food.
Pizza is of course quintessential when it comes to football watching. I wanted to turn pizza into more of an appetizer situation so in comes these French Bread Pizza Bites.


They start with a hollowed out French baguette which is then filled with pizza sauce, your favorite pizza toppings and of course a good amount of shredded mozzarella cheese.
Hollowing out the bread makes extra room to stuff it with all the toppings. I went with Italian sausage and those adorable mini pepperoni because that's our go to toppings that make everyone happy.
The recipe states the amounts for these toppings but feel free to change things up and add whatever you like. Because there's not much space you won't need a huge amount of whatever you choose.

Because we're using a French baguette instead of a traditional loaf of French bread, the bread gets crispier and are finger food size making them perfect for an appetizer or if you're doing a small bite spread for the game.
I used my favorite pizza sauce in these little bites. It's ridiculously simple to make with just a handful of ingredients and tastes so much better than the store-bought stuff. Whenever I make it I do a double or triple batch and portion it out in freezer bags and freeze them for future use. Then when you want pizza all you have to do is quickly thaw out a bag. If you freeze them flat they will take just minutes to thaw and be ready to use.
All that being said, no shame in the store-bought game. It's a necessity at times and with a recipe this simple, I totally get using stuff from the store.

So with just a few simple ingredients, you can totally be the star of your football watch party. Because is it really football if there isn't pizza?!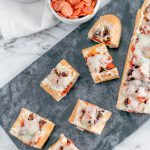 Print
French Bread Pizza Bites
These French Bread Pizza Bites are a great option for the Super Bowl this year. French baguette is hollowed out & stuffed with your favorite pizza toppings.
Ingredients
1

French

baguette

1/4

cup

pizza sauce

1/2

lb.

ground Italian sausage

Mini or diced pepperoni

1/2

cup

shredded mozzarella
Instructions
Preheat oven to 400 degrees F. Heat a skillet over medium heat. Add Italian sausage to skillet and break up with a wooden spoon. Cook until no longer pink.

Slice about 1/4-inch of the top of the baguette off.

Hollow out insides of the baguette. Place on a large baking sheet.

Spread pizza sauce inside the baguette. Layer in Italian sausage, desired amount of pepperoni and cheese.

Bake for 5 to 7 minutes, until cheese is melted.

Slice into bite-size slices and serve.
Subscribe to our mailing list