For an epic holiday dessert, break out the ice cream maker and whip up this Triple Mint Ice Cream. Creamy vanilla ice cream with three mint mix ins.


There are two types of people in the world. Those that will eat ice cream no matter the weather and those that think ice cream is out once the temperature drops to a certain degree.
I'm guessing you all know me well enough by now to know what camp I'm in. Ice cream forever. The end. I don't understand the others.
So it should be of no surprise to you that I'm sharing an ice cream recipe in the middle of December.


How can you not celebrate the season of peppermint without Triple Mint Ice Cream. It's the holiday dessert you never knew you needed in your life. Spoiler: you SO need it.
Let's start with the disclaimer that this recipe needs an ice cream maker. Buuut, if you don't own one don't click away quite yet because there's a store-bought shortcut for you in the recipe.
My ice cream maker is one of my most prized kitchen possessions and I use it often throughout the year. Store-bought ice cream is great (I don't discriminate) but the homemade stuff is so unreal.


The base of this ice cream is a simple, pure, creamy vanilla ice cream. It's my go-to when I want to mix in all the things. Which is most of the time because who doesn't love ice cream packed with other sugary things?!
The mint comes in thrice in this ice cream through tasty, crumbled minty mix-ins. Crumbled grasshopper cookies (or Thin Mints if you hoarded some in your freezer from Girl Scout season), chopped Andes candies and peppermint patties all join the creamy vanilla ice cream.
Because there is so much goodness packed into this ice cream, it's best to stir in the cookies and candy by hand so your ice cream maker doesn't get overworked with all the chunks.


This is equally delicious in a bowl or on a cone, eaten while cuddled up on the couch in your comfiest sweats watching a holiday movie.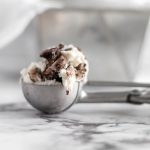 Print
Triple Mint Ice Cream
For an epic holiday dessert, break out the ice cream maker and whip up this Triple Mint Ice Cream. Creamy vanilla ice cream with three mint mix ins, grasshopper cookies, Andes mint candies and York Peppermint Patties.
Ingredients
2/3

cup

granulated sugar

2

large

eggs

2

Tbsp.

all-purpose flour

1/4

tsp.

kosher salt

1 2/3

cups

whole milk

1

cup

heavy cream

2

tsp.

vanilla extract

1/2

cup

chopped Andes Mints

1/3

cup

chopped peppermint patties

1/2

cup

roughly chopped grasshopper cookies (or Thin Mints)
Instructions
In a large bowl, whisk together the sugar, eggs, flour and salt until the mixture is pale and thickened. Set aside.

In a medium sized saucepan, warm the milk until bubbles start to form around the edges (but don't boil). Remove the milk from the heat and slowly drizzle it into the egg mixture while whisking. Once it's incorporated, pour the mixture back into the saucepan and place over low heat. Whisk mixture constantly until is has thickened to the point that it can coat the back of a spoon. Be very careful not to allow the mixture to boil as that could scramble the eggs.

Place a fine mesh sieve over a large, clean bowl. Pour the egg/milk mixture through the sieve to strain out any chunks that may have formed during cooking. Cover the mixture with plastic wrap, placing the plastic right on the mixture so that a crust doesn't form. Refrigerate 2 hours then stir in the heavy cream and vanilla. Refrigerate until cold, preferably overnight.

Churn ice cream according to your ice cream maker directions. Remove from the ice cream mixture and quickly and gently stir in the candies and cookie crumbles. Freeze in a freezer safe container until ready to eat.
**This post may contain affiliate links. For more information on my disclosure agreement, click here.**
Subscribe to our mailing list