Loaded Mini Hasselback Potatoes are just the delicious and adorable party appetizer your holiday party needs. Serve with a simple, fresh and flavorful dill sour cream for dipping.


Have you ever had or heard of a hasselback potato? It's basically a baked potato that has tiny slits cut down it but not all the way through. Then it gets doused in melted butter or olive oil and baked to crispy perfection.
What is not to like about that?!
Hasselbacks can seem intimidating because they look a little fancy and time consuming but that couldn't be farther than the truth. Sure, they take a little longer than a traditional baked potato but I timed it and it was only an additional 5 minutes for these mini guys.


That's not bad to make something look a little more fun and a lot more crispy. Crispy always wins.
You know it's going to be good when the recipe title has two of the best food words in it, loaded and mini. Let's break this down. If something is loaded, you know it's going to be good. Because loaded means cheese and bacon. THE END.
And who doesn't love a mini party food or dessert?! Nobody. That's who. Do you end up eating the same amount that you would if they were regular sized? Sure you do. But they are so cute that you don't even notice and they always seem to taste better. You can't argue with science.


I just love these little pop-able bites for all your holiday parties. Christmas Eve and New Years Eve apps, I'm looking at you.
Now let's talk about the sour cream dill dip. It's kind of ranch-like but so fresh and bright due to the fresh dill (the best fresh herb in my opinion). You could use dried dill if you can't find fresh but the fresh stuff makes such a difference.
There's also garlic salt and onion powder in this simple dip to bring more flavor.


The ingredient list for the dip is simple but it's so delicious and perfect with these potatoes. You'll get all the bacon, cheddar, ranch vibes with this one.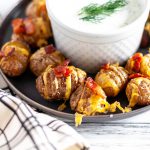 Print
Loaded Mini Hasselback Potatoes with Dill Sour Cream
Loaded Mini Hasselback Potatoes are a delicious and adorable party appetizer your holiday needs. Serve with this simple, fresh dill sour cream.

Ingredients
1 1/2

lbs.

baby red potatoes

2

Tbsp.

olive oil

1

tsp.

kosher salt

1/2

tsp.

coarse black pepper

4

thick-cut slices

bacon

1

cup

shredded sharp cheddar cheese
For Dill Sour Cream Dip:
1

cup

sour cream

1 1/2

Tbsp.

fresh dill, minced finely

1

tsp.

garlic salt

1/4

tsp.

onion powder
Instructions
Preheat oven to 425 degrees F. On a cutting board, cut slits 1/4-inch apart, 3/4 of the way down each potato. Make sure not to cut all the way through the potato. Place in a medium bowl as they are cut. Once all potatoes are sliced, drizzle with olive oil, salt and pepper and stir to coat. Place on a baking sheet and bake for 30 minutes.

Meanwhile, slice bacon into small pieces. Heat a skillet over medium heat and cook bacon until crispy. Drain and set aside.

After 30 minutes of baking, remove potatoes from the oven and sprinkle with shredded cheese and bacon. Return to the oven for 3 minutes.

For the dill sour cream dip: mix together all ingredients and serve with the potatoes.