BBQ Spiced Popcorn is sweet and spicy and utterly addicting. Great for game day, parties or gifting your friends and neighbors.


With all the sweet treats that surround the holidays it's sometimes nice, especially for this salty snacker, to have something more savory around to munch on. Who is with me on this one?
If there are cookies around, I can usually pass on them and feel ok about it. But chips or buttery, salty popcorn?! I'm not able to walk away from that situation.
It's very obvious if you've been following for some time that I love popcorn. You can see the evidence here, here and here. So, of course I needed to share a new popcorn recipe just in time for the holidays.


This BBQ Spiced Popcorn is the perfect addition to your holiday lineup. It's a little spicy, a little sweet and super crunchy.
It starts with a simple homemade barbecue spice rub that uses spices you probably already have in your pantry. And if you also keep your pantry stocked with popcorn kernels like I do, you can whip up this popcorn anytime you like.
The spice rub get a hit of heat from chili powder, black pepper and cayenne pepper. The sweet comes from a little brown sugar. The rest of the spice blend flavor is rounded out with onion powder and garlic powder and paprika for the necessary smoky factor.


Once the rub is mixed up it's combined with a good helping of melted butter before completely coating the popcorn.
To ensure the popcorn become (and remains) crisp and crunchy, it's baked on a low temperature for 20 minutes. The low temperature is important so that the brown sugar in the rub doesn't burn. I would know from the first trial run of the recipe.
Munch of this sweet and spicy popcorn for movie night or game day. Oooor, package it up in pretty cellophane bags and gift it to your friends and neighbors. It will be a nice change to the cookies, fudge and bars that most people hand out for the holidays.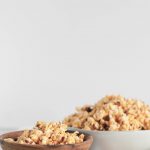 Print
BBQ Spiced Popcorn
BBQ Spiced Popcorn is sweet and spicy and addicting. Perfect for game day, parties or gifting to friends and neighbors.
Ingredients
2

Tbsp.

brown sugar

1

Tbsp.

paprika

1/2

tsp.

black pepper

1

tsp.

kosher salt

3/4

tsp.

chili powder

3/4

tsp.

garlic powder

3/4

tsp.

onion powder

1/4

tsp.

cayenne pepper

1/3

cup

butter, melted

10

cups

popped popcorn
Instructions
Preheat oven to 275 degrees F. In a small bowl, combine brown sugar, paprika, pepper, salt, chili powder, garlic powder, onion powder and cayenne pepper. Stir in melted butter.

With the popcorn in a large bowl, preferably with a lid, drizzle the butter mixture over top. Stir until well combined. Or place lid on top and gently shake until well coated. Pour onto a large rimmed baking sheet.

Bake for 10 minutes then give it a good stir. Bake another 10 minutes. Allow to cool and enjoy. Store in an airtight container.