A classic dish updated with sweet roasted garlic and nutty brown butter, this Roasted Garlic Alfredo is sure to become a family favorite. Done in less than 30 minutes for the perfect weeknight meal.


Pasta has always been and always will be one of our most common go to dinner options on a busy night. It's so easy to throw some pasta in a pot of water and whip up a quick sauce or pop open a jar and dinner is basically served.
And this Roasted Garlic Alfredo sauce couldn't get easier or more delicious.
I love a simple, classic alfredo sauce but I love this version even more for its more complex, delicious flavors.


The ingredients in a classic alfredo sauce and this version are the same but I made two changes to how the ingredients are used to totally upgrade the sauce.
First, the garlic is roasted instead of being gently sautéed in the butter. If you've never had roasted garlic before you are in for a complete awakening. The simple process of roasting garlic in a little olive oil all wrapped up in foil brings out a nutty, sweetness from the garlic and it's kind of life changing.
Sometimes garlic can have a harsh, overpowering flavor but roasting it brings out all the smoothness.


The second change I made was browning the butter instead of simply melting it. This is another life changing ingredient if you've never experienced it. Browning butter gives off such a deep and delicious nutty flavor. The little browned bits have so much flavor and you can see them speckled throughout the sauce.
The process only takes a few minutes over medium heat but you do have to keep a close eye on it. Brown butter = delicious. Burned butter = blech. And it can burn quite quickly so almost constant stirring is important.
After the butter initially melts it will start to foam and as you stir it you will be able to see the butter solids start to turn golden and eventually golden brown. The foam will start to dissipate, and this is the sign that it's about ready.


It's not as intimidating as it might seem. Just err on the side of not quite brown enough rather than pushing it a little too far.
And I think the best thing of all is that these glorious little changes don't add any time to the actual preparation of this meal. The garlic only takes about 15 minutes to roast which is the time it will take to bring your water to a boil and cook your pasta.
You can start the brown butter after you dump the pasta into the water and it will be ready for the remaining sauce ingredients in just a few short minutes.


It's great with grilled chicken but my very favorite addition is roasted broccoli.
Growing up, chicken alfredo with broccoli was often my birthday dinner request so this brings back all the warm, fuzzy memories.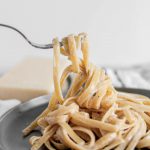 Print
Roasted Garlic Alfredo
Roasted Garlic Alfredo will quickly become your go to weeknight meal. Garlicky, cheesy, nutty and done in less than 30 minutes.

Ingredients
3

large

garlic cloves, peeled and sliced in half

1/2

tsp.

olive oil

1/8

tsp.

kosher salt

3/4 to 1

lb.

fettuccine pasta

1

stick

unsalted butter

1

cup

heavy cream

1

cup

freshly shredded parmesan

1/4

tsp.

kosher salt

1/4

tsp.

fresh cracked pepper
Instructions
Preheat oven to 425 degrees F. Meanwhile, place garlic on a small square of aluminum foil. Drizzle with olive oil and sprinkle with 1/8 teaspoon salt. Seal foil. Bake in oven for 20 minutes.

Meanwhile, bring a pot of water to a boil and cook pasta according to package directions.

While pasta is cooking, heat a large skillet over medium-low heat. Melt butter in skillet. Cook for 5 minutes, until it gets very bubbly and starts to brown. Keep a close eye on it as it can burn quickly. After browned, stir in the cream. Smash the roasted garlic then stir into the butter and cream mixture. Remove from the heat and stir in the parmesan, salt and pepper. Toss the pasta with the sauce and serve.
Subscribe to our mailing list