This copycat Cracker Barrel Chicken and Dumplings recipe takes some time to prepare but is super simple and so perfect for fall.
**Recipe Update: this recipe was originally shared in 2011. Photos and text have been updated to better reflect the direction of this blog.


If you need some comfort food in a bowl, THIS IS IT. Because honestly, is there anything better on a chilly night than Chicken and Dumplings?! I really don't think so, especially when it's a copycat version of Cracker Barrel chicken and dumplings.
Tender chicken, soft, carb-filled dumplings and a creamy chicken gravy all from scratch. This says love and cozy comfort.
You know the only hard thing about chicken and dumplings though? Photographing them. No matter what you do, they just don't look that appetizing. So you're just going to have to trust me on this one.
This bowl will make all your Southern dreams come true.


The process for these is longer than most recipes I share with you but I promise the extra time and effort will be so worth it. And it makes a big batch so you'll have dinner for two nights done.
Let's talk through the steps for this glorious bowl of comfort. The stock that makes up the gravy is completely from scratch and provides crazy good chicken flavor to the dish.
We start with whole chicken cut into pieces. You can either do that yourself or buy it at the grocery store already cut up. I prefer it to be ready to go because ew, raw chicken.


The chicken is simmered for a couple hours in water along with onion, garlic, parsley and bay leaves. FRIENDS. Listen up. This is takes extra time but making your own stock is just so good and you need to do it.
Once the stock is done and the chicken is removed and pulled apart into big chunks. Then it's time to make the dumplings. Don't be scared at this prospect.
They involve common pantry ingredients and only take a few minutes to mix up and roll out. I use a pizza cutter to quickly cut them into squares. Then the dumplings get added to the chicken stock and cook away for about 30 minutes. They'll swell up a bit then deflate.


The flour in the dumplings thickens up the stock to make somewhat of a gravy. It's something you're going to need in your life. NOW.
With cool fall nights quickly approaching this is going to become our go-to meal and I hope it will be yours too.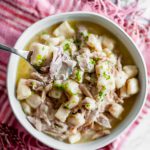 Print
Cracker Barrel Chicken and Dumplings
Ingredients
12

cups

water

1

3 to 4

lb. whole chicken, cut into pieces

1 1/2

tsp.

kosher salt

1

small

white or yellow onion, peeled and cut in half

1

bay leaf

1

clove

garlic, peeled and cut in half

4

stems

parsley

1

tsp.

coarse ground pepper

1

Tbsp.

lemon juice
For the Dumplings:
2

cups

all-purpose flour

1

Tbsp.

baking powder

1 1/4

tsp.

kosher salt

1 cup + 2 Tbsp.

whole

milk
Instructions
Bring the water to a boil in a large pot. Add the chicken, 1 teaspoon salt, onion, celery, garlic, bay leaf and parsley to the pot. Reduce heat to simmer and cook the chicken, uncovered, for 2 hours. The liquid will reduce by about one third.

When the chicken has cooked, remove it from the pot and set it aside. Strain the stock to remove all the vegetables and floating scum. You only want the stock and the chicken, so toss everything else out.


Pour 1 1/2 quarts (6 cups) of the stock back into the pot (keep the leftover stock, if any, for another recipe--it can be frozen). You may also want to use a smaller pot or a large saucepan for this. Add coarsely ground pepper, the remaining 1/2 teaspoon salt and the lemon juice, then reheat the stock over medium heat while preparing the dumplings.

For dumplings, combine flour, baking powder, salt and milk in a medium bowl. Stir well until smooth, then let the dough rest for 5 to 10 minutes. Roll the dough out onto a floured surface to about a 1/2-inch thickness.


Cut the dough into 1/2-inch squares and drop each square into the simmering stock. Use all of the dough. The dumplings will first swell and then slowly shrink as they partially dissolve to thicken the stock into a white gravy. Simmer 20 to 30 minutes until thick. Stir often.


While the stock is thickening, the chicken will have become cool enough to handle. Tear all the meat from the bones and remove the skin. Cut the chicken meat into bite-size or a little bigger than bite-size pieces and drop them into the pot. Discard the skin and bones. Continue to simmer the chicken and dumplings for another 5 to 10 minutes, but don't stir too vigorously or the chicken will shred and fall apart. You want big chunks of chicken in the end.


When the gravy has reached the desired consistency, ladle four portions into bowls and serve hot.