Football season is in full swing and with that all the football food needs to be shared. This Slow Cooker Cheesy Bean Dip is ridiculously simple to make and so dang tasty.

Isn't football food just grand? The appetizers, the wings, the cheese covered things, the dips. It's my favorite part of football forever and always.
And this cheesy bean dip (that you mix up and cook in the slow cooker!!) is no exception. I know bean dip doesn't sound very glamorous but this one is sure to be a winner at your next party.
There's a little hole in the wall Mexican restaurant in my hometown that my whole family adores and that's where the inspiration for this bean dip originated. They have the best salsa (hello spicy) and bean dip on earth but we just don't get there as often as we'd like, because kids.

So we figured it was time to make my own version at home. Their version is super creamy and thin, cheesy and dippable so I set off to work with those requirements. And I had some major success.
You only need 4 ingredients for this friends. A can of refried beans (or a couple cups of homemade which would be SOOO good), enchilada sauce, sour cream and Monterey jack cheese. They all get mixed up in the slow cooker and in a few hours you are ready to snack.
The sour cream and enchilada sauce thin out the refried beans and add a little tangy, spicy flavor. Then the cheese of course. Some gets mixed in when it's cooking so you get that cheese pull action. Then the rest is sprinkled on top during the last 30 or so minutes of cooking for well, more cheese pull. What else do you need in life?

And here's the kicker. The bean dip is served with homemade flour tortilla chips. Are they necessary? No. But also YES. For sure yes.
The restaurant that inspired this dip serves theirs with hot, crispy flour tortilla chips that they fry in house and I just can't imagine bean dip without them.
I tried the dip with corn tortilla chips so I could tell you with good conscience that it was also good. But the flour tortilla chips make it for me friends. And it doesn't take much time or effort to make them so I totally think you should.
Just a little note when making the chips. Try to wait until as late as you can to make them. When I tested the recipe, I made them during the day while my kids were at school then stored it for later that night when my friends were coming over.

They got soggy in the meantime which is super sad considering how crisp and delicious these get. I was able to crisp them back up in the oven but they weren't as good as when they are fresh out of the oil. So if you can, fry them right before serving. Or keep them in a warm oven after frying to try to keep them as crispy as possible.
So, the moral of this story is make the dip, fry the chips. Watch the football in full appetizer glory.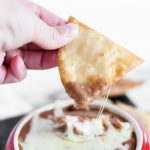 Print
Slow Cooker Cheesy Bean Dip
Football season is in full swing and with that all the football food needs to be shared. This Slow Cooker Cheesy Bean Dip is ridiculously simple to make and so dang tasty.
Ingredients
2

16 oz. cans

refried beans

1/2

cup

sour cream

1/4

cup

red enchilada sauce

3

cups

Monterey Jack cheese, divided
For the flour tortilla chips:
Canola oil, for frying

10-12

fajita size

flour tortillas, cut into 6 wedges each
Instructions
Mix together refried beans, sour cream, enchilada sauce and 1 cup cheese in a slow cooker. Cook on high for 1 to 2 hours or low for 3 to 4 hours stirring occasionally. During the last 30 minutes, sprinkle remaining cheese over the bean dip and allow to melt.

For the tortilla chips: fill a high-sided skillet with an inch of oil. Heat over medium heat. Once hot, add flour tortillas, about 6 at a time, and fry on each side until golden and crispy. They fry quickly and can burn fast so keep a close eye on them. Remove to a paper towel lined plate and sprinkle with flaky kosher salt immediately. Serve with dip right away.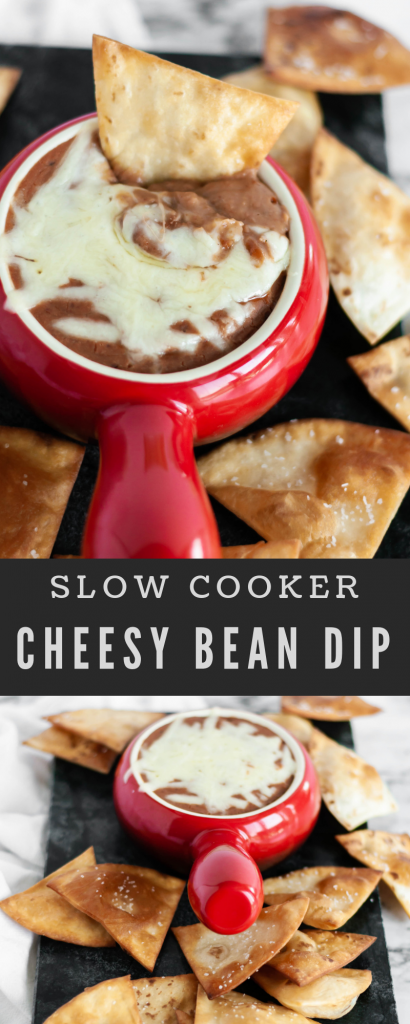 Subscribe to our mailing list