This Instant Pot Breakfast Casserole is perfect for Easter morning or Mother's Day brunch. Simple ingredients and just a little effort and time yield big, tasty results.
It seems like people grow up with a traditional breakfast for holidays and stick with them throughout their lives. At least, most people I know. Is that you or do you like to switch it up every year?
I live in a house divided. Joel is a traditionalist and likes the same thing over and over. I get bored easily and like variety.
Today I'm hoping you're in the switch it up category because the recipe I'm sharing is definitely perfect for busy holiday mornings. Or lazy brunches. You do you.
And maybe this will turn into your new go-to breakfast recipe.
And you don't even need to save it for special occasions because this Instant Pot Breakfast Casserole is just as great for the weekend or even a weeknight meal. We roll with breakfast for dinner (brinner) often around here.
This Instant Pot Breakfast Casserole is stuffed with all the delicious breakfast things:
•Breakfast Sausage
•Southern-Style Hash Browns
•Eggs
•And cheese (duh)

There's no way this is going to be bad, am I right?!
The casserole starts with a little saute action of the sausage and hash browns in the Instant Pot. I love that feature of the Instant Pot so much. After the sausage is cooked through the remaining ingredients get added in and it's done in 25 minutes. Boom.
An Easy Breakfast for Busy Days
So basically while you shower or get ready for the day your breakfast is cooking itself.
With all the cooking you'll be doing for Easter dinner, you're going to really appreciate this super simple breakfast to start your day.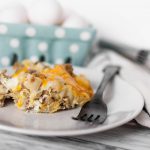 Print
Instant Pot Breakfast Casserole
Ingredients
1

Tbsp.

olive oil

1

lb.

breakfast sausage

2

cups

southern style hash browns

8

large

eggs

1/2

cup

milk

1/4

tsp.

salt

1/4

tsp.

pepper

1 1/2

cups

shredded cheddar

Nonstick cooking spray
Instructions
Turn Instant Pot to saute setting. Once warm, add olive oil and breakfast sausage. Break up sausage with a wooden spoon and cook until no longer pink.

Meanwhile, whisk eggs, milk, salt and pepper. Set aside.

Add potatoes to the Instant Pot and cook for 2 minutes. Turn off saute setting. Dump everything out of the pot into a large bowl and spray the instant pot well with nonstick spray. At this point you have two options in cooking style. The first instructions have resulted in some burn results for some people. This method has worked for my Instant Pot but it seems like newer version are more sensitive. If you have a new version or want to be extra safe, follow the second method of cooking (still in the Instant Pot).


OPTION 1: Put sausage and potatoes back into the instant pot then pour egg mixture over the sausage and potatoes. Press down to make sure all the potatoes are covered. Top with the shredded cheese. Turn Instant Pot to manual high pressure and set for 25 minutes. Once done cooking, use the quick release method to release the steam.


OPTION 2: Spray a bowl or oven safe pan that will fit into the Instant Pot with nonstick spray. Add potatoes and sausage into the bowl. Pour the egg mixture over top of them. Top with shredded cheese. Add one cup of water to the Instant Pot and place the rack inside the pot. Place the prepared casserole on top of the rack. Put lid on Instant Pot and make sure the pressure valve is sealed. Cook on manual, high pressure for 25 minutes then quick release.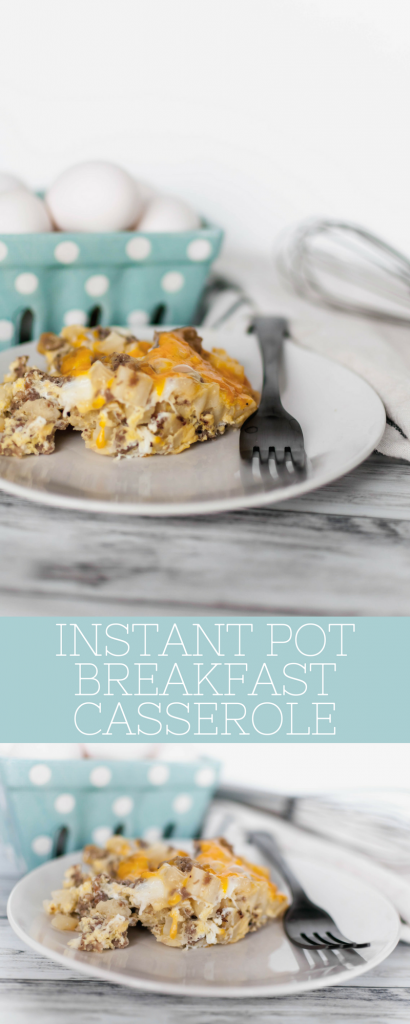 Subscribe to our mailing list