Whether you are meal prepping or looking for a quick, delicious dinner, these General Tso's Chicken Rice Bowls will satisfy all your belly filling needs.
Are you guys into the whole Sunday meal prep thing? I've been trying so hard to get into a regular routine with meal prepping lunches because I obviously make much better choices when my food is right there waiting for me rather than having to figure something out on the fly. But I also get bored eating the same thing too many days in a row. Major first world problems over here.
I've found if I make something Hannah and I both like we can eat it every other day throughout the weekdays to stretch it out then have simple, healthy options like salads, wraps or lunch meat roll ups for the other days. It's working well for us so far (as long as I plan accordingly and get to the store Friday or Saturday for our ingredients).
Our favorite new addition to the rotation is these General Tso's Chicken Rice Bowls. They are simple to make and are so much healthier than the takeout version.
Let me start by saying, we use ground chicken in this recipe so it won't have that crispy, crunchy texture that you normally see on General Tso's chicken. But the sauce is what brings the flavor.
The recipe starts with cooked brown rice. Make it ahead of time to have it ready to go. You could even do it days in advance if you are making some earlier in the week. Make it on the stove top, grab a bag from the freezer section or use my favorite method in the Instant Pot.
The rice gets tossed with browned ground chicken and super fine broccoli before getting a bath in the delicious General Tso's sauce (that just has to be whisked together in a bowl).
Just a side note on the broccoli. I used riced broccoli from Trader Joe's in this recipe. It's super convenient to have on hand for recipes but if you don't live close to a TJ's, can't find it at your grocery store or want to do it yourself, simply chop broccoli super fine (stem included) or throw some large florets in a food processor and pulse until small. Either way will do just fine.
It's super easy, super flavorful and reheats like a dream. And that's saying something from this self-professed leftover hater.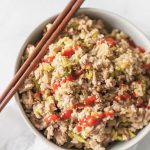 Print
General Tso's Chicken Rice Bowls
General Tso's Chicken Rice Bowls is the perfect recipe to whip up for meal prep Sunday to eat throughout the week. Super healthy and simple.
Ingredients
1

cup

cooked brown rice

1

Tbsp.

olive oil

1

lb.

ground chicken

2

cups

riced or finely chopped broccoli
For the sauce:
2

Tbsp.

soy sauce

2

Tbsp.

rice vinegar

1

Tbsp.

hoisin sauce

1

tsp.

sesame oil

1

Tbsp.

brown sugar

2

Tbsp.

water

1

tsp.

red pepper flakes

1

tsp.

cornstarch
Instructions
Heat a large skillet over medium heat. Add olive oil to the skillet. Add ground chicken and break it up with a wooden spoon. While chicken is cooking, whisk together all the sauce ingredients in a small bowl.

Once chicken is cooked through, stir in the rice, broccoli and sauce. Stir together and cook for 2 to 3 minutes, until sauce is thickened and broccoli softens a bit. Portion out into 5 servings for the week or serve. Serve with sesame seeds ans sriracha if desired.