Instant Pot Broccoli Macaroni and Cheese will quickly become a family favorite. All you need is 20 minutes and just a little effort to make this ooey, gooey main dish.
We're finally moving into our new home tomorrow! It has been a loooong time coming and I'm so ready to get in there. We stopped by over the weekend and the tile guys were working on the kitchen back splash (insert one million heart eye emojis here). It's so so good, I cannot wait to show you.

And I can't wait to cook in my new kitchen. I'm already dreaming up all the things to share with you all.
Should our first meal be:
•Lasagna
•Carbonara
•Spaghetti
Basically, give me all the pasta and carbs. It soothes me, ok?!
So naturally I needed to create a pasta recipe in the Instant Pot because my obsession is still going strong. If you have one, I hope you're loving the recipes. I plan on sharing one recipe a month using it and I'm going to try to also include slow cooker and/or stove top instructions when I can for those that don't own a pressure cooker. If you're on the fence about buying a pressure cooker, I couldn't recommend one more. It has replaced my slow cooker as my favorite go-to gadget on busy weeknight.
But back to the macaroni and cheese. This is done in 20 minutes. The actual cook time for the pasta is only 3 minutes but I factored in a little time for the prep work and the time that it takes for the Instant Pot to heat up and pressurize. It couldn't be easier, I promise.
My plan of attack when making it is to get the pasta, broccoli and liquid in the Instant Pot and cooking. While it's doing its thing, shred the cheeses. Then once the pasta is cooked, all you have to do is stir in the milk and shredded cheeses and dinner is ready.
And that stringy cheese?! It's the provolone and it's a total must if you want that glorious cheese pull. It also adds a nice smoky flavor along with the sharpness of the cheddar. I love the combination of these two cheeses but feel free to use what you love or have on hand. Just make sure to use the same amount of cheese that is called for in the recipe.
In an attempt to up the health factor of this dish, I used whole wheat pasta and loaded it with broccoli to hopefully counter balance all that delicious cheese. Don't tell your kids about the pasta switch and they won't know the difference.
Speaking of kids, mine don't love broccoli so I wasn't sure how this was going to go over with them. They didn't even mention the broccoli. Because the pressure cooker cooks so quickly, the broccoli gets pretty soft and when you stir in the cheeses it breaks up into little bits throughout the macaroni and cheese. I think since there weren't big hunks throughout they didn't notice. You can obviously still taste it so I'm thinking they just don't like it plain in big florets. The proof is in the macaroni. I'll be back, gonna put little bits of broccoli in all the things.
This cheesy, gooey, whole wheat packed pasta is just the thing you need when comfort food is calling.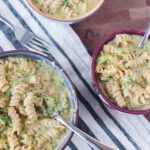 Print
Instant Pot Broccoli Macaroni and Cheese
Ingredients
1

lb.

whole wheat rotini (or other short cut pasta)

3/4

lb.

broccoli, cut into large florets

4

cups

water

2

Tbsp.

unsalted butter

1

tsp.

kosher salt

1 1/2

cups

whole milk

8

oz.

sharp cheddar, shredded

8

oz.

provolone, shredded
Instructions
Place pasta, broccoli, water, butter and salt into the Instant Pot. Stir to combine. Secure lid and pressure valve then set to cook on manual mode for 3 minutes. Quick release the pressure.

Remove lid and stir in the milk. Once incorporated, sprinkle in both cheeses and stir until melted and thickened.