Sparkling Blood Orange Margaritas are just what this hump day needs. Grab a bag of blood oranges and some tequila and turn today into a party.
So I walked into Trader Joe's last week and these beautiful blood oranges were staring at me right at the entrance. I never seem to remember that it's blood orange season until they are there in the store, ready to be consumed. So obviously I grabbed a bag without any ideas or intentions of what to do with them, just that they needed to come home with me.
As I walked through the store all I could think of was dessert or margaritas. You know how this story ends. I continued to the beverage aisle and snagged a little secret ingredient and away I went.
I've never been a huge margarita fan but I loved the idea of switching up the citrus to add a bit more sweetness and it totally did the trick. And that secret ingredient? Sparkling limeade (or lemon lime soda if you can't find any). It adds a little of that lime flavor back to the margarita and the best part, a little effervescence. I'm a sucker for something sparkling.


The blood orange juice lends an intense orange flavor as well as a hint of berries to the margarita. The second dose of orange flavor comes from the orange liquor. You can use Triple Sec or Cointreau. I'm not a liquor connoisseur so I certainly can't tell the difference so use what you prefer or what you have on hand.
I had Triple Sec that was probably about 4 years old and things were all good.
Can we take a minute to talk about the color?! These margs are completely gorgeous and I love the extra touch of the orange slice in the glass to bring even more vibrancy.


They were so pretty I alllmost didn't want to drink one. But kids.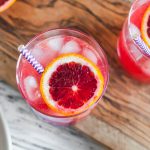 Print
Sparkling Blood Orange Margaritas
Ingredients
1

oz.

blood orange juice

2

oz.

tequila blanco

3/4

oz.

orange liqour

1 to 2

oz.

sparkling limeade (or lemon lime soda)

Blood orange slice for garnish, optional
Instructions
Place some ice cubes in a shaker. Add blood orange juice, tequila and orange liquor. Shake together. Pour into a glass filled with ice. Top with sparkling limeade.