These sweet and simple Strawberry Malt Cookies are just the treat to make for your Valentine this year. Freeze dried strawberries and malted milk powder revamp a childhood classic into cookie form.

T-minus 17 days until moving day. It's been a long process and we're almost there! My first floor basically looks like a storage facility since my type-A personality must get as much done as possible as soon as possible. Everything that isn't essential is already packed and I'm feeling good my friends.
Since I'm trying to focus on getting ready for the move, I have been cooking up a storm and photographing like crazy the past two weeks so that all I have to do this month is edit photos and write posts. I packed away all my pretty props (insert sad emoji here) and I'm trying my best not to buy extra groceries so I don't have as much to pack. We're about to be on the "empty the pantry and refrigerator" menu.
But don't you worry, I've got you covered in the Valentine's department with a sweet and simple cookie that will bring you all the feels.
Do you like holiday themed food? I'm all about them but things can get tacky and complicated real fast. These cookies totally say Valentine's Day without shoving it in your face or taking three million hours to complete. Plus, they taste just like a strawberry malt in cookie form. Cute AND delicious, winning combination.
Let me start by telling you, I don't especially love malt flavored things. I mean, I don't hate malt but I don't crave or seek it out either. And white chocolate? I'm a total no-go. But I knew in theory it would be lovely with this combination of flavors so I went ahead with it in hopes I could get past it and just focus on the cookie part.
But let me tell you, these Strawberry Malt Cookies are LIFE changing. No dramatics here. I'm all about that malt now. And white chocolate chips have been welcomed again to my kitchen. Maybe only for these cookies but they can have a tiny space I suppose.
The cookie itself is light and soft, the only way a cookie should be in my opinion. The white chocolate is creamy and creates that delicious strawberries and cream vibe. The malt powder lends a caramelized flavor and balances out the sweet strawberries well.
Speaking of the strawberries, these cookies call for freeze-dried strawberries rather than an extract or jello mix that most strawberry flavored treats use. The freeze-dried strawberries bring a super sweet, pure flavor that is unbeatable. You can find them in the dried fruit section of your grocery store or Target.
When you get them home you get to pulverize them into delicious strawberry dust before stirring them into the cookie dough. Use a food processor, blender or a rolling pin if you have some pent up rage. No judgement. Been there, done that.
You get a big batch out of these so whip them up to share with your Valentine and anyone else in your life you want to show a little love.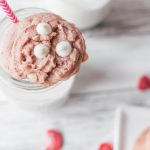 Print
Strawberry Malt Cookies
Ingredients
1

cup

unsalted butter, room temperature

1

cup

melted coconut oil

3/4

cup

granulated sugar

1

cup

powdered sugar

2

large

eggs, at room temperature

2

tsp.

vanilla extract

2

(0.8 oz) bags

freeze-dried strawberries, pulverized into super fine crumbs

1

tsp.

baking soda

1

tsp.

cream of tarter

1/2

tsp.

salt

3/4

cup

malted milk powder

4

cups

all-purpose flour

2

cups

white chocolate chips
Instructions
Cream together the butter and coconut oil. Add sugars and mix until incorporated (it may look lumpy at this point and that's ok, it'll smooth out). Add eggs, 1 at a time, beating well between each addition.

In a separate bowl, combine the crushed strawberries, baking soda, cream of tarter, salt, malted milk powder and flour. Slowly add to the creamed mixture, mixing until just incorporated. Stir in white chocolate chips. Refrigerate dough for at least 1 hour, or up to overnight.

Preheat oven to 350 degrees F. Scoop cookie dough onto parchment lined cookie sheets (or spray with nonstick spray). Bake for 10 to 12 minutes.