Bring the class to your Super Bowl party this weekend with Blueberry BBQ Wings. These guys are baked and refined sugar-free to reduce guilt and make extra room for snackage.
When it comes to the Super Bowl, are you a wings or pizza person? Or both. That is also totally valid and condoned.
I married a guy that would literally eat pizza every day of his life and never complain and I am more of a wing person so generally we are a both kind of household. And it happens like this, order the pizza, make the wings.
I'm all about that homemade pizza when it's just our family but when there's a crowd I want to spend time with others rather than popping pizzas in the oven every 10 minutes. And I can never make pizza as delicious as our local favorite. Let the experts do their thing.
But today isn't about the pizza my friends, it's all about the wings. If we're going hard, these are hands down our favorite wings. Buuut, I've been doing well on my New Years resolutions (and hope you all are too) so I wanted to create a lightened up, refined sugar-free but still crazy delicious wing for game day.
I promise you can't even tell that they are good for you. Because of the blueberries and some honey, the barbecue sauce has a nice sweetness that, in my opinion, is a must for barbecue sauce (Kansas City-style barbecue lover for life). The sauce takes 30 minutes and little effort and can be made ahead of time so all you have to do is bake the wings on game day.
Instead of frying the wings they are baked then crisped up under the broiler. Are they as crispy as their deep-fried counterparts? No, but they still have a crunch that satisfies that crispy craving.
Trust, these will be a total crowd pleaser.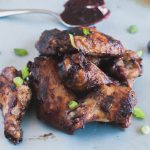 Print
Blueberry BBQ Wings
Ingredients
For the Blueberry BBQ Sauce:
2

cups

blueberries (fresh or frozen)

8

oz.

tomato sauce

1/3

cup

balsamic vinegar

1/4

cup

honey

1

Tbsp.

Worchestershire sauce

1

Tbsp.

yellow mustard

1

tsp.

chili powder

1

tsp.

paprika

1/2

tsp.

onion powder

1/4

tsp.

ground ginger

1

tsp.

kosher salt
For the wings:
2 1/2

lbs.

chicken wings

coconut oil
Instructions
To make the blueberry bbq sauce: add all ingredients to a saucepan over medium-low heat. Bring to a simmer and allow it to cook for 30 minutes, stirring and mashing often. After the 30 minutes, use a potato masher to smooth out the sauce. If you want it completely smooth, puree it in a blender or food processor.

Preheat oven to 400 degrees F. Line a rimmed baking sheet with foil and place a rack on top of the baking sheet. Rub rack with coconut oil so the wings don't stick.

Dry the chicken wings thoroughly on paper towels. Add to a large bowl and rub with a tablespoon of coconut oil. Place wings on prepared rack. Bake for 20 minutes, flip and bake another 20 to 25 minutes. Remove wings from oven and toss with the sauce. Turn oven to the broiler setting. Place the wings back on the rack and broil a few minutes per side, until browned. Watch closely so they don't burn.