I turned one of my favorite sandwiches into a big, delicious salad. This Chicken Club Salad is packed with juicy chicken, crispy bacon, tomatoes, avocados and homemade croutons. Drizzle it with homemade buttermilk dill dressing for the perfect meal.
I am a lover of sandwiches. I would eat one each and every day if I could get away with it. Do you feel the same way? But alas, I can't consume carbs all day. Major bummer.
So instead, I took inspiration from the delicious chicken club sandwich and lightened it up so that you can feel better about what you're eating. And I present to you the Chicken Club Salad. It's filled with everything the sandwich has to offer and more.
It starts with a bed of romaine lettuce and is topped with seared chicken, crispy bacon, creamy avocado (that's the more I was telling you about), tomatoes, chunks of cheddar and croutons. Then homemade buttermilk dill dressing. Oh the dressing you guys.
FYI, I totally made homemade croutons for this salad. Do you see them in the photos? I realized when I went to eat it after taking photographs and tearing down my setup that I forgot to put them on the salad. Gah! I really debated setting everything back up, rearranging the salad and reshooting but I was REALLY hungry. And lazy apparently. So can you use your imagination pretty please?
The croutons are technically optional but if you really want that sandwich feeling (and honestly, who doesn't?) then you need to use them. Just a sprinkle will do the trick.
Let's talk about the dressing. I have a confession to make. You know those ranch packets? I have always adored them and found it impossible to make a homemade ranch dressing that tasted better. Until now. I'm telling you, this buttermilk dill dressing is life. And it doesn't take much longer than the packet variety.
It's packed full of fresh dill because it's basically the best herb ever and provides all the ranch-y goodness. Can you use dried dill? Sure, but it won't pack as much of a punch. The recipes I've tested in the past used dried dill and I think switching it up with fresh this time is what put it over the top.
With all this goodness packed into a bowl, you almost don't miss your sandwich. Almost.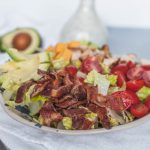 Print
Chicken Club Salad
Ingredients
For the Buttermilk Dill Dressing:
1/2

cup

mayo

1/2

cup

plain Greek yogurt

3/4

cup

buttermilk

2

cloves

garlic, grated on microplane

3

Tbsp.

fresh dill, minced

3/4

tsp.

kosher salt

1/4

tsp.

black pepper

1/2

tsp.

onion powder
For the Salad:
3

romaine hearts, chopped into bite-size pieces

1/4

tsp.

kosher salt

1/4

tsp.

pepper

1/4

tsp.

garlic powder

1/4

tsp.

onion powder

1/4

tsp.

paprika

2

large

boneless skinless chicken breasts

8

strips

bacon

1

pint

grape tomatoes, halved

1

large

avocado, sliced

1

cup

cubed cheddar

Homemade croutons, optional
Instructions
For the dressing: whisk together all the ingredients and place in airtight container. Refrigerate until ready to eat.


Heat a skillet over medium heat. Mix together the garlic powder, onion powder, paprika, salt and pepper in a small bowl. Sprinkle each side of the chicken with the spice mixture. Add olive oil to the skillet and cook chicken, 6 minutes per side or until cooked through. Remove from skillet and allow to rest on cutting board. Add the bacon to the skillet and cook until crisp. Remove to a paper towel lined plate. Dice chicken into bite-size pieces.


Divide the lettuce equally among 4 bowls. Divide chicken, bacon, tomatoes, avocado, and cheese evenly over the lettuce. Top with desired amount of croutons. Drizzle with desired amount of dressing and enjoy.