I'm bringing more fall flavors to the table with these Maple Dijon Pork Chops. Done in 30 minutes with pantry staples, these are sure to be a cool weather favorite.
This post contains an affiliate link. That means if you click on it and purchase I may receive a small commission at no cost to you. I only recommend products I love and use often. For more information, read my disclosure policy here.
What comes to mind when you think of maple syrup? I always think fall. I don't know if it's because it goes so well with warm spices or because of our several trips in the fall to Minnesota's north shore where we would be sure to pick up the biggest jug of pure maple syrup available but that's always where my mind goes. That or pancakes.
I have to admit though that I prefer maple on the savory side rather than sweet. Blame my weak sweet tooth or my lack of love for sweet breakfast items but I like maple in savory dishes better. Especially this salad. I never got on the maple bacon bandwagon though. Maybe because it's always in combination with a donut or dessert. Basically, give me all the savory with a touch of sweet.
Because of my love of savory and sweet, I paired the maple syrup with Dijon mustard. It balances out the sweetness of the maple syrup and adds a nice tang to the sauce. Originally, I started with equal parts of the two main ingredients but it was way too mustardy for my taste so I kept experimenting and adding ingredients until I got it just right.


Worcestershire sauce and apple cider vinegar lend another rich dimension to the sauce and help balance out the sweetness of the maple syrup.
And don't thick cut chops just seem fancier? Luckily, they can be cooked in less than 30 minutes too. I have to tell you a few tricks with these guys though.
First, the maple syrup in the glaze will burn really easily so you don't want the heat of your pan too high. It's also important to get a nice sear on the pork chops before starting to glaze them so they are already cooked quite a bit before which leads to less chance of burning them.
My biggest tip when cooking pork, or any meat for that matter, is a meat thermometer. I'll admit I don't always use one for beef or chicken since I cook it often and can usually gauge when it's done but pork is different story. It can dry out so quickly and nobody wants a dry pork chop.
I use this meat thermometer that can be set to beep when the correct temperature has been reached. It's a like saver friends and I haven't had dry pork since I started using it. You can even stick it in a pork roast in the oven and leave it in there while it's cooking. One of my best kitchen investments (and it's less than $20).
Combine those two tips and you'll have the perfect weeknight dinner. They paired deliciously with the sweet potatoes I shared last week so make sure to check that recipe out too.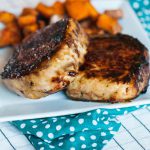 Print
Maple Dijon Pork Chops
Ingredients
4

boneless

thick-cut pork chops

2

Tbsp.

olive oil, divided

1/2 cup

+ 2 Tbsp.

pure maple sryup

1/2

cup

Dijon mustard

1

Tbsp.

apple cider vinegar

1

Tbsp.

Worcestershire sauce

1

clove

garlic, finely minced

1/2

tsp.

kosher salt
Instructions
Preheat skillet to medium heat. Remove pork chops from the refrigerator to take the chill off of them. Meanwhile, whisk together 1 tablespoon olive oil and remaining ingredients. Set aside.

Drizzle skillet with a remaining 1 tablespoon of olive oil. Season pork chops lightly with salt and pepper. Sear each side, 3 to 4 minutes, until golden brown. Brush pork chops with maple Dijon glaze and flip often, every minute or two, to avoid burning. Cook until internal temperature has reached 145 degrees F. Remove from skillet and let rest for 5 minutes before cutting.