Sheet Pan Lemon Butter Shrimp is a simple dinner that requires minimal time and effort. Great for busy weeknights or days you don't feel like cooking.
It's been a minute since I last checked in, huh? I know I said I would post while we were on vacation but the wifi was so spotty and I couldn't manage a solid hour before it would go back out. Also, I was having way too much fun not worry about real life stuff so I just didn't stress about it. But man did I miss you all.
I promise we'll be back to the regular schedule next week and I'll hopefully have all the vacation photos edited to share next Friday.

It's been hard getting back to real life, especially coming home to an empty fridge and no dinner plans. I love cooking and miss it when we're out of town, but it's kind of the worst to have to grocery shop and figure out meals as soon as we get home.
That's why I keep recipes like this Sheet Pan Lemon Butter Shrimp in my back pocket. It's super simple to whip up with just a few ingredients and it only dirties one pan. Aren't sheet pan dinners the best?
I've been trying to cook more seafood lately since my whole gang loves it and will eat it without complaints. How could I not, right? Shrimp is their favorite so that's usually the seafood I reach for when developing recipes.

I wanted something simple and classic so I went with the lemon, butter, garlic combination for this sheet pan dinner. The brightness of the lemon cuts through the richness of the butter and the garlic adds a sweet, nutty flavor.
I think the best part of this recipe is the fact that you only need about 15 minutes from start to finish. To keep it simple and quick, complete the meal with a simple green salad, steamed veggies or buttered parmesan pasta. I'm sure you'll never guess which one was my family's side of choice.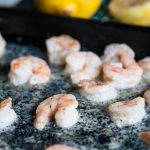 Print
Sheet Pan Lemon Butter Shrimp
Ingredients
4

Tbsp.

unsalted butter, melted

2

cloves

garlic, finely minced

1

lemon, zested and juiced, divided

1

lb.

large shrimp, peeled and deveined

1/2

tsp.

kosher salt

1/4

tsp.

black pepper
Instructions
Preheat oven to 400 degrees F. In a small bowl, combine the melted butter, minced garlic, juice of half the lemon and lemon zest.

Spread shrimp on a sheet pan in an even layer. Sprinkle with salt and pepper. Drizzle with lemon butter and toss gently until evenly coated. Bake for 8 to 10 minutes, or until pink and cooked through.

Remove from oven and squeeze remaining lemon half over shrimp.