Today I'm sharing Noah's epic chocolate overload layer cake that I created for his 7th birthday party. Chocolate cake, chocolate frosting and mounds of chocolate candy come together to create this Chocolate Overload Layer Cake masterpiece.
I have a 7 year old guys. I shared photos of his birthday as well as what we did to celebrate in last week's Photo Friday. Because he was celebrating his birthday at basically a warehouse filled with trampolines and games he originally requested a trampoline cake.
While I love to bake, I don't have the talent of cake decorating and well, I figured if I attempted any of the trampoline cakes I found on Pinterest it would just end up looking like a black box with lines coming from it. So I did what any self-respecting parent would do and planted a different idea in his head.

This kid loves chocolate more than any person I've ever known so I knew a cake with chocolate inside and out would totally make him forget about that trampoline business. The key to manipulation is knowing your audience friends.
Added bonus: tell them they can pick out whatever they want for the top. Then they will be completely sold.
I started this bad boy with my go to simple and delicious cake recipe from Something Swanky. Don't get scared off but it starts with a box cake mix then gets jazzed up with some additional ingredients that make it extra moist and flavorful. Trust me, your people will never know it started with a cake mix and it makes it so much easier for you.

I wanted the cake to make a statement so I went big with 4 thick layers of cake.
When it came to the chocolate frosting I scoured my cookbooks to find the right recipe. I am not a fan of chocolate frosting so it was hard for me to choose. In the end I knew it would be a safe bet to go with Joy the Baker since she'll never steer your wrong. Plus, her recipe includes Ovaltine which is a real treat for Noah so he got super excited when I mentioned I found a frosting that included it.
The frosting was silky and rich and not too terribly sweet which is always a plus with chocolate. It has a whipped, airy texture which makes it perfectly spreadable and a little lighter than a typical chocolate buttercream. It's definitely our new go to chocolate frosting.

The frosting can get soft if it's out too long and I'm sure it didn't help that it was over 100 degrees most of the week. If you run into this problem, place the cake in the refrigerator for about 30 minutes after frosting it but before decorating.
Now comes the best part, all the candy. Noah wanted a lot of variety so we started with a variety pack of fun size candy bars, a few giant candy bars, caramel M&Ms and chocolate chips. We also hit up Trader Joe's because they have the best chocolate candy around. We picked up mini peanut butter cups, their version of giant sno caps and dark chocolate covered pretzels. Look at this pile of chocolate.

You might be wondering where the M&M's are and sadly I only have a poorly lit phone photo but I did a surprise inside cake. It wasn't as dramatic since I cut small pieces (because hello richness) and they didn't all roll out at once but it was still a hit.

So there you have it. Chocolate on chocolate on chocolate. And because I love you and wanted to ensure it was delicious, I took a couple bites so I could report back. You guys, it was so rich and chocolatey. If you have a chocoholic in your life this is the chocolate overload layer cake for them.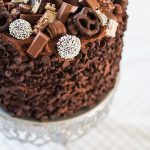 Print
Chocolate Overload Layer Cake
Chocolate Overload Layer Cake is the perfect way to celebrate a birthday or any day. Chocolate cake, chocolate frosting and mounds of chocolate candy.
Ingredients
2

batches

Doctored Up Chocolate Cake

2

batches

Best Chocolate Buttercream Frosting

2

12 oz. bags

semi-sweet chocolate chips (I did one regular and one mini chocolate chips)

2

cups

assorted chocolate and candy for top of cake

chopped if necessary

1

medium bag

M&M's, optional for surprise inside
Instructions
Bake cakes according to directions on Something Swanky (link above in text). Let cool completely.

Place chocolate chips in a bowl and mix together if you chose two different sizes of chips. Set aside.

Make the buttercream frosting according to Joy the Baker's site (link in text above).

If you are doing a surprise inside, use a round cookie or biscuit cutter to cut a hole in the middle of three of the cakes, leaving the last one whole. Place first layer on cake plate or stand you will be serving on. Place strips of parchment or wax paper under the edges of the cake. This is done so frosting doesn't get all over the plate and will be removed when you are done decorating. Frost top of the layer generously. Place the second layer on top (with a hole) and frost. Top with the third cut out layer then pour M&M's into the hole. Frost the top of the third layer covering the hole. Top with the last layer. If it is domed a bit, level it off with a large serated knife. Brush away crumbs. Completely frost the top and sides of the cake.

Take handfuls of the chocolate chips and press them into the sides of the cake until it is covered. Place the cake in the refrigerator for 30 minutes for it to set up and to ensure the chocolate chips harden into the frosting and stay put.

Meanwhile, prepare the chocolate. For the candy bars, chop them into bite-size chunks. I cut the fun size bars on the bias to make the presentation more dynamic. Chop the giant candy bars into rough, uneven sizes for texture. I left the rolos, mini peanut butter cups, sno caps and chocolate covered pretzels whole.

Remove cake from refrigerator and top with the prepared candy. Take your time randomly placing the candy to ensure you don't have all the same candy in one area. If you have different kinds of chocolate (white, dark, milk) ensure it gets placed around the cake evenly so you don't have big color blocks. Refrigerate until ready to serve and keep leftovers (if you have any) refrigerated because of the heavy cream in the frosting.