Change up your hot dog game with these Chili Cheese Dog Sliders. Homemade hot dog chili, chopped hot dogs and tons of melted cheddar all on soft slider buns.
Today is my favorite little dude's 7th birthday. SEVEN. Why do you keep doing this to me? Make it stop. He has a big day planned with all his favorite foods, donuts, pizza and hot dogs (food blogger kid problems) and lots of swimming in between all the eating.
Speaking of hot dogs, it also happens to be National Hot Dog Day. Yep, it's a thing and Noah was pretty excited when we realized it fell on his birthday this year.


Instead of a traditional hot dog, I'm sharing something fun and different today. It still contains hot dogs and is messy to eat so don't get worried.
My favorite variety of hot dogs is the chili cheese dog (or this one). I figured everyone's been there, done that so I changed up the classic and turned it into a slider.


Imagine a sloppy joe and a hot dog had a baby and you get these Chili Cheese Dog Sliders. Messy, meaty and melty perfection.
The sliders start off with a quick and simple homemade hot dog chili. It's thicker, less spiced and contains finer ground meat than a traditional chili you eat with a spoon.


I wasn't sure how to get the meat really fine like most hot dog chili's and I didn't want to use the canned stuff so I went on the interwebs in search of the answer. It's not glamorous people but it did the trick and only slightly grossed me out. Stay with me.
Put your ground beef in an 8×8 pan or something you can spread it out in then cover it with water. Squish the beef around in it and break it apart. Lastly, squeeze all the water out of it and transfer it to your skillet. I really hate touching raw meat so I took one for the team to see if this method works. It does and the end results were worth the disgust.


The chili has just the right amount of sweetness and spices and should come together in a snap with common pantry items.


Chopped hot dogs get added to the chili at the end before being piled up on some slider buns and covered with cheese. The tops of the buns are brushed with melted butter and mustard to crisp and spice them up. Bake them until golden brown and the cheese is melted and you'll have the ultimate little sandwiches to celebrate National Hot Dog Day.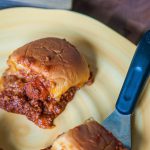 Print
Chili Cheese Dog Sliders
Chili Cheese Dog Sliders are the perfect way to celebrate National Hot Dog Day. Homemade hot dog chili and hot dogs on slider buns.
Ingredients
1

Tbsp.

olive oil

1/2

white

onion, very finely diced

2

cloves

garlic, grated or finely diced

1

lb.

ground beef

1

tsp.

salt

1/4

tsp.

pepper

2 1/2

Tbsp.

chili powder

1 1/2

Tbsp.

yellow mustard

1 1/2

Tbsp.

Worchestershire sauce

1

Tbsp.

brown sugar

8

oz.

tomato sauce

6

oz.

tomato paste

1

cup

water

8

beef

hot dogs, diced into 1 inch rounds

1

pkg.

Hawaiian slider rolls

2

cups

shredded cheddar cheese
For the Topping:
1/4

cup

butter, melted

1

Tbsp.

yellow mustard

1

tsp.

Worchestershire sauce
Instructions
Preheat oven to 350 degrees F. Heat a large skillet over medium heat. Add olive oil and saute onion and garlic until soft and translucent. Meanwhile, add ground beef to a wide bottomed baking dish or container. Cover with water and break apart the ground beef in the water. Let sit for 3 minutes. Squeeze out the water and add ground beef to the skillet. Cook through.

Add the salt, pepper, chili powder, mustard, Worchestershire, brown sugar, tomato sauce, tomato paste and water. Stir well and bring to a simmer for 5 minutes. Add chopped hot dogs and cook another 5 minutes.

Keeping the rolls together, slice across width wise. Place the bottom buns in a 9x9 pan. Spread the hot dog chili over the buns then sprinkle with cheese. Place the sheet of top buns over the cheese.

Combine the topping ingredients and brush over the top buns. Bake for 10-15 minutes.