I'm taking a summertime favorite and turning it into a delicious dip. Toasted S'mores Dip combines all the classic s'mores ingredients, marshmallows, chocolate chips and graham crackers to create the new must-have dessert at all your summer bashes.
When I think of summer desserts, s'mores are always at the top of my list. Whenever we have a cookout at our house we light up the fire pit for some marshmallow roasting and s'mores assembling. They are simple to make and always a big crowd pleaser.


And look at these face. How can you deny that joy? You can't.


Side note, those photos are from 2 years ago and where did my babies go guys? They are like grown up kids now and I don't like it one bit.
I decided to keep our Memorial Day barbecue simple this year since Joel was leaving for San Francisco that night and I was also hosting girls night at my house. Also because I'm a more pleasant host when I'm not stressed and everybody has more fun. Huge entertaining tip I've learned the hard way over the years.


So when I was thinking up dessert ideas I automatically went to s'mores but wanted to make a fun spin instead of the traditional stack.
I love a dessert dip, it feels a little bit wrong in all the right ways doesn't it? Since my family has a thing for dips I knew it would be the perfect form for a new, creative s'mores treat.


The base starts with cream cheese and marshmallow creme. Because the marshmallow portion of s'mores are toasted I didn't want to just mix in the marshmallow creme. I wanted that toasty, slightly burnt taste that you get when you make a traditional s'more over flames. So I cranked on the broiler and spread the marshmallow creme over a foil covered baking sheet and charred it up. Keep a super close eye on it because it can burn in a flash.
I decided to char some mini marshmallows as well to add more toasty flavor and texture throughout the dip.


Mini chocolate chips add that chocolate hit of a s'more. I think using mini chocolate chips is important here since you want an equal amount of marshmallow to chocolate to dipper to get that true s'more experience. If you can't find mini's regular chips will work but you might want to give them a rough chop just so you have that uniformity.
And what better vehicle for dipping that the necessary graham cracker? I love those graham cracker sticks but I literally went to three different stores and nobody had them. Whomp whomp. So traditional we went. Strawberries were also amazing and made me feel a liiiitle less guilty.
I have to tell you, I'm not a huge marshmallow fan but this stuff is my jam. It's the new official dessert of summer.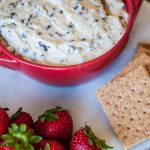 Print
Toasted S'mores Dip
Ingredients
8

oz.

cream cheese, room temperature

1

Tbsp.

vanilla extract

2

Tbsp.

powdered sugar

7

oz.

marshmallow creme

1

cup

mini marshmallows

1

cup

mini chocolate chips
Instructions
Preheat broiler. Meanwhile, cream together cream cheese, vanilla and powdered sugar.

Line a rimmed baking sheet with foil and spray with nonstick spray. Spread marshmallow creme on one side and the mini marshmallows on the other. Place under broiler and watch extremely carefully. Broil until brown and toasty. This will take less than a minute so don't take your eyes off it. Remove from oven and allow to cool.

Stir marshmallow creme, mini marshmallows and chocolate chips into the cream cheese mixture. Refrigerate for at least an hour. Serve with graham crackers and fruit.