This 3 ingredient Grilled Lemon Pesto Chicken will leave you happy and healthy with time to spare. Bright herbs and citrus combine to create the tastiest marinade you'll try this summer.
Summer hit us hard this weekend guys. Noah had his first baseball game yesterday and the heat was miserable. I guess I should be careful what I wish for, huh?
But that means we are hitting the pool this week which makes the kids and mama happy. Noah is really close to being able to swim and Hannah has a puddle jumper so that makes it relatively easy to take them on my own.
Plus, the pool we go to has a big sand pit for the kids to play at during the life guard break so I get some reading in while the kids dig and build sand castles. Ahh, those are my favorite kind of summer days.
Another summertime favorite is pesto. Basil goes crazy in these warm months and I take full advantage and make all the pesto. It's so fresh and herby. I love it right now.
Sadly, my basil plant wasn't quite big enough yet when I made this recipe but I had a little jar of pesto I had picked up at the store for an easy dinner. Most of the time I like making what I can from scratch and pesto is something super simple to do but sometimes it's nice to just pop open the jar.

You can find great pesto on the shelves of any grocery store these days without any weird additives so go with the shortcuts when you can.
Instead of the traditional throw it over pasta routine I decided to use it as a marinade with some lemon juice and zest to brighten it up and let me tell you, it was a good move. This grilled lemon pesto chicken is my new favorite thing to grill.
It's incredibly easy to prepare and only requires 3 ingredients. Simply dump the jarred pesto into a zipper bag along with the zest and juice of a lemon then squish it together, add the chicken and squish again until it's coated and let it marinate.
You can marinate it for as little as an hour or up to 6 hours. If you leave it in the marinate any longer the acid of the lemon might start to cook the chicken creating a weird texture.


All in all, it only takes about 20 minutes get this chicken on the table (not counting the marinating time).
The lemon adds a great brightness to the chicken and creates another layer of flavor in this super simple, healthy chicken.
I made a big batch for just the 4 of us so I chopped up all the leftovers along with salad ingredients so that I have easy lunches prepped and ready to eat throughout the week.
Between the quick prep and cook time and leftovers for easy lunches you'll have so much more time for swimming. Priorities people.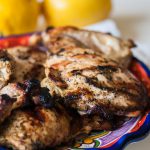 Print
Grilled Lemon Pesto Chicken
Ingredients
3.5

oz.

(1/4 cup + 2 Tbsp.) prepared pesto

1

lemon, zested and juiced

3

lbs.

boneless skinless chicken thighs or breasts
Instructions
In a large ziplock bag, dump the pesto, lemon zest and lemon juice. Seal the bag and squish it around until well combined. Add chicken to bag, seal and squish around until the chicken is coated. Place in the refrigerator and marinate for 1 to 6 hours.

Heat grill to medium high heat. Grill chicken for about 6 minutes per side or until cooked through to 165 degrees F.