Simple barbecue chicken topped with melted cheddar cheese and avocado slices makes for a delicious and simple dinner. Fire up the grill and get this Avocado BBQ Chicken Cheddar Melt on the table in less than 30 minutes.

So I've decided instead of breaking the year apart through the seasons we should totally define it around food. For example, "grilling" season, "braising" season, "hearty food" season, "I'm so tired of heavy food give me a salad" season.
You catch my drift right? When going by my new seasonal calendar, my far and away favorite is grilling season.
During the summer we usually grill at least 3 times a week. It's so simple and usually quick and healthy. Plus, the kids can run some steam off while I keep an eye on dinner outside.
When we fire up the grill I usually try to cook all of dinner out there to keep the dishes to a minimum. This grilled veggie salad is one of my favorite grilled side dish ever and it goes with everything in my opinion. To keep it even easier, grilled zucchini is a great side option too.
This Avocado BBQ Chicken Cheddar Melt takes less than 30 minutes to put together. Just the time it takes to heat up your grill and cook the chicken. And it's relatively healthy too.
It starts with grilled chicken breasts that get slathered with barbecue sauce while on the grill. Throw a slice of sharp cheddar on top and let it melt then top with a few slices of avocado.
I do have to admit, I don't love avocados. Please love me still. Unless they are combined with lots of lime and salt and smashed. Ok, so I like guacamole. But otherwise I really struggle with enjoying them.
I really want to be all trendy and put the avocado on all the things so I keep at it. I've found that if I combine it with different flavors and mash it slightly I'm totally down. I think a big part is the texture weirds me out. I'm a big freak about texture.
For the sake of pretty pictures I left them in slices but when it came to eating time I smashed the avocado with my fork all over my chicken.
The combination of creamy, fatty avocado with the chicken, sweet barbecue and sharp cheddar was kind of perfection and I want to eat it all the live long day.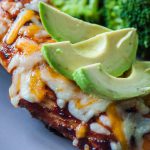 Print
Avocado BBQ Chicken Cheddar Melt
Ingredients
4

boneless skinless chicken breasts

Kosher salt and pepper

1

cup

barbecue sauce

1/2

cup

shredded sharp cheddar (or 4 slices)

1

ripe

avocado, sliced
Instructions
Preheat grill to medium high heat. Season chicken with salt and pepper. Grill chicken for 6 minutes. Flip and brush with barbecue sauce. Grill 4 to 5 minutes then flip and brush with barbecue sauce.

Top each chicken breast with 2 tablespoons shredded cheddar or 1 slice of cheddar. Close lid and allow cheese to melt. Remove chicken from grill. Top each chicken breast with a few avocado slices.