It's biscuit time. Peppered Bacon Pepper Jack Biscuits to be exact. Great as a side for dinner or the star of breakfast, these biscuits are light, flaky, golden perfection. Along with the recipe, I'll be sharing all my favorite tips for successful biscuit making.
Biscuits Fix Everything
Having a bad day with the kids? Eat a biscuit. Stuck in meetings all day? Eat a biscuit. Step in a mud puddle? Eat a biscuit. You see, biscuits make everything in life better. And what makes biscuits better? Flaky layers, peppery bacon and cheese. No brainer.

Biscuit Techniques
After many years of struggling with finding a delicious homemade biscuit, I finally found it guys. There are a lot of techniques in making the perfect biscuit and I'm sharing them all with you. Don't worry, they aren't difficult but need to be followed to get that light, flaky interior and crispy exterior.
My number one favorite biscuit trick is one I learned watching The Chew when they were making pie dough. Freeze the butter and grate it into the dry mixture rather than cutting it into cubes and incorporating. Because you want to be super careful not to overwork the dough, grating it creates much smaller pieces making it way easier to incorporate into the dough.

Why do you want to work the dough as little as possible you ask? All that extra kneading will be the death of the tender, flaky biscuit you're working so hard to create.
After the mixture resembles coarse crumbs, you work in the liquids until it is just incorporated. It's okay if the dough looks raggedy and you can see flecks of butter throughout. That's what creates the magic. That's the beginning of light layers and buttery pockets of goodness right there.


And because I can't leave well enough alone, I dumped in hunks of thick-cut peppered bacon and spicy pepper jack as I incorporated the liquids to really amp up these biscuits.
Use your hands to gently spread the dough on your floured surface instead of a rolling pin. It helps keep them light and fluffy. We'll flatten the dough into a rectangle then fold in 1/3 then the other 1/3 to create a smaller rectangle then flatten again, fold again and flatten again (gently with your fingertips). This process creates those amazing, flaky layers.
I'm a big fan of baking biscuits in a well-seasoned cast iron skillet. It produces an extra crispy, golden brown bottom. Make sure the biscuits are touching slightly in the skillet. This helps them rise and helps keep the sides a little softer that the tops and bottoms.
Brush the tops with a little buttermilk to help with the browning process and make them a little crisper on top.


There you have it, all my biscuit tips to make the best Peppered Bacon Pepper Jack Biscuits. It may seem like a lot to remember but they are all quite simple techniques that truly yield a biscuit with amazing texture. Perfect to accompany dinner or make a killer egg sandwich in the morning. With more bacon and cheese of course.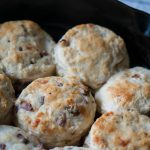 Print
Peppered Bacon Pepper Jack Biscuits
Ingredients
4

cups

all-purpose flour

1 1/2

Tbsp.

baking powder

1

tsp.

kosher salt

1/2

cup

butter, frozen

2

oz.

pepper jack cheese, shredded

4

slices

thick-cut peppered bacon, cooked and crumbled

1 cup + 2

Tbsp.

buttermilk, divided

1/2

cup

club soda
Instructions
Preheat oven to 425 degrees F. In a large mixing bowl, combine flour, baking powder and salt. Grate in frozen butter and using your hands, pinch and mix until mixture resembles coarse crumbs.

Add cheese and bacon and fold once or twice to combine throughout. Drizzle in 1 cup buttermilk and club soda. Carefully mix with your hands until just combined.

Dump mixture onto a floured surface and pat into a 1-inch thick rectangle with your hands. Fold in 1/3 of the dough then the other third to make a smaller, thicker rectangle. Pat out to a 1-inch thick rectangle again. Using a floured biscuit cutter, cut dough into circles by pressing straight down and pulling up. Place biscuits in a greased cast iron skillet, allowing them to touch. Brush tops with remaining 2 tablespoons buttermilk.

Bake for 15 to 20 minutes, until golden brown.