Get that sweet fix with this Vanilla Cupcake Frappuccino. I'm sharing two ways to make this delicious treat, with or without coffee, so everyone in the family can enjoy. Forget the unicorn and get on the cake train.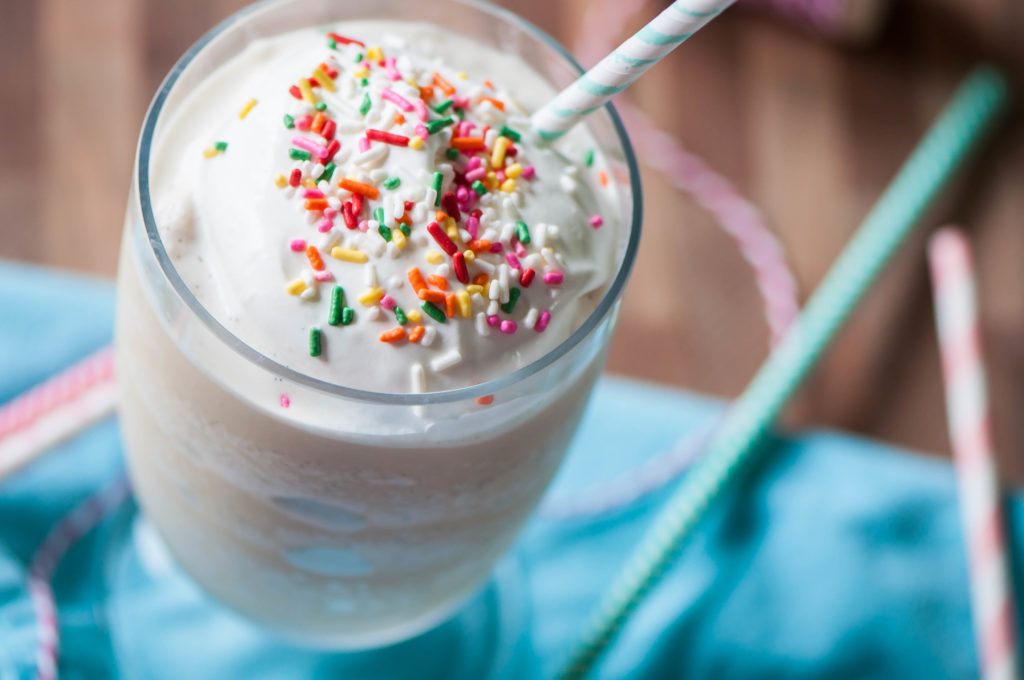 Have you guys been following the unicorn frappuccino frenzy? Have you tried one? I haven't but they have been all over my social media feeds. If it wasn't for my hatred of mango I would probably try one just to see if they live up to the hype. My kids adore mango and anything sugar-laden so I'm sure they would love them. Luckily they aren't old enough to be in the know.
I used to love frappuccino's in my high school and college days back before I liked actual coffee and I don't think I've had one since. The vanilla bean variety was always my favorite and I crave them from time to time but whenever I get to Starbucks the need for a caffeine hit is usually stronger than the craving for a smooth, creamy vanilla packed frappe.
I found a way to fill both needs (yes NEEDS) with this vanilla cupcake frappuccino. And if coffee isn't your thing, stay with me because I'm sharing a non-caffeinated version too.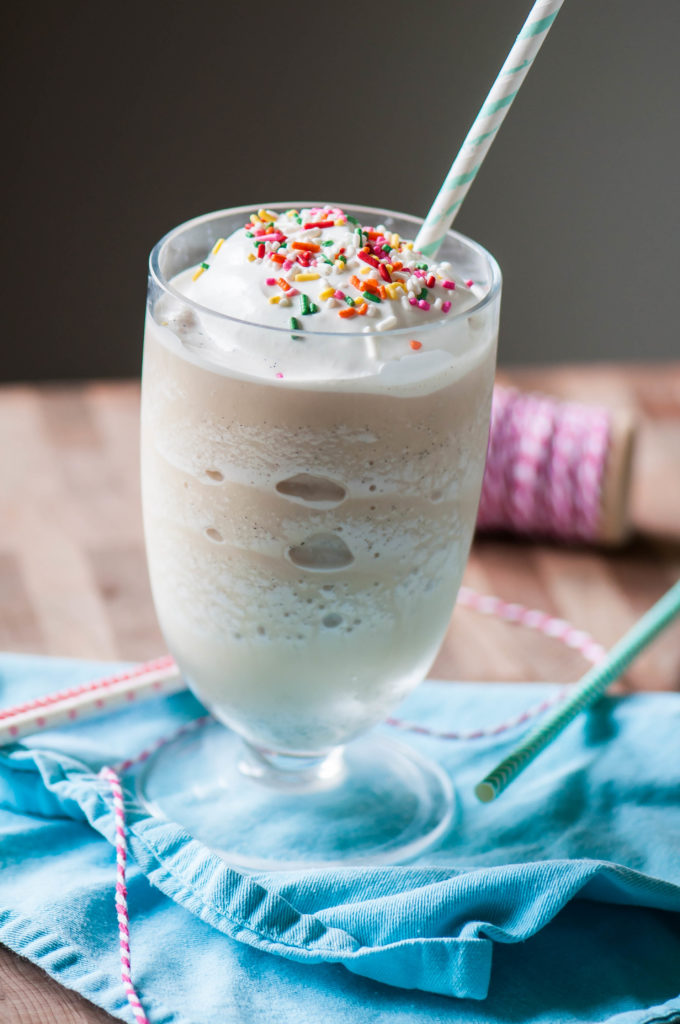 Remember those homemade coffee syrups I shared a few weeks ago? I alluded to a fun recipe I was sharing to use the vanilla cupcake variety and the day has finally arrived.
Instead of adding the coffee in liquid form it is frozen into ice cubes removing the need to add ice which would water down and dilute your drink as it melted. If you don't drink coffee or want to share with your kids, you can freeze the same amount of milk instead and proceed with the recipe as stated.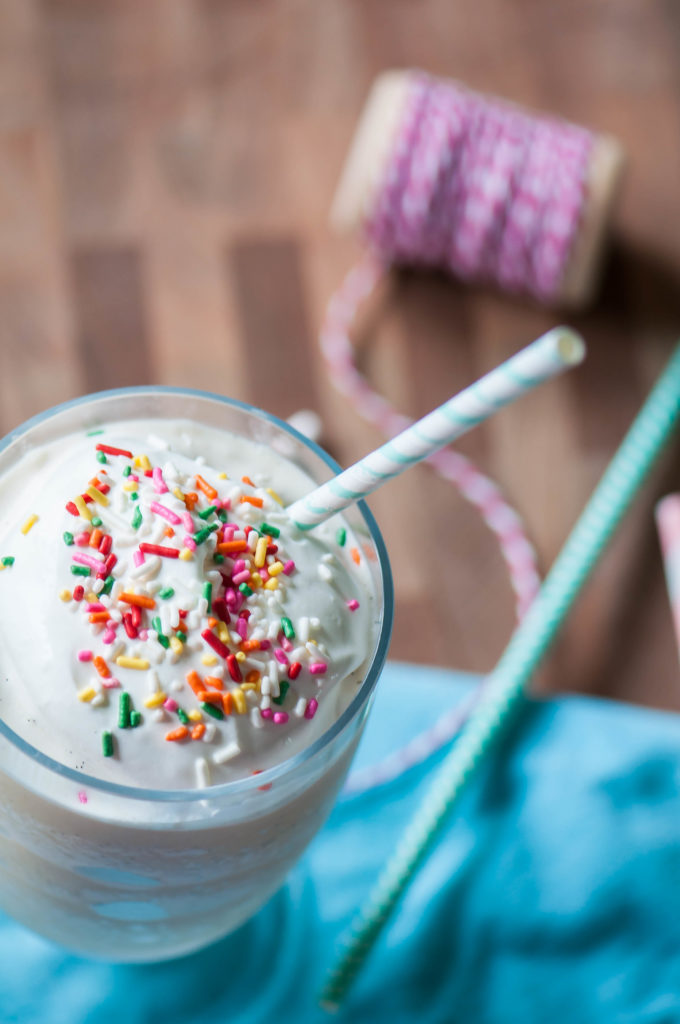 When it comes to the type of coffee to use in this frappe, I chose a light roast so that the coffee flavor doesn't completely overwhelm the vanilla cupcake goodness.
I always cold brew my coffee as it produces a less acidic, smoother flavor that doesn't upset my stomach the way traditionally brewed coffee does. This isn't a necessary step but I definitely recommend it if you have the time.
Vanilla cupcake coffee syrup, vanilla bean paste and a couple tablespoons of vanilla bean ice cream (I love to use Halo Top since it's super low in calories – not sponsored, just love it) combine to bring that vanilla flavor home. The ice cream also lends some creaminess to the drink.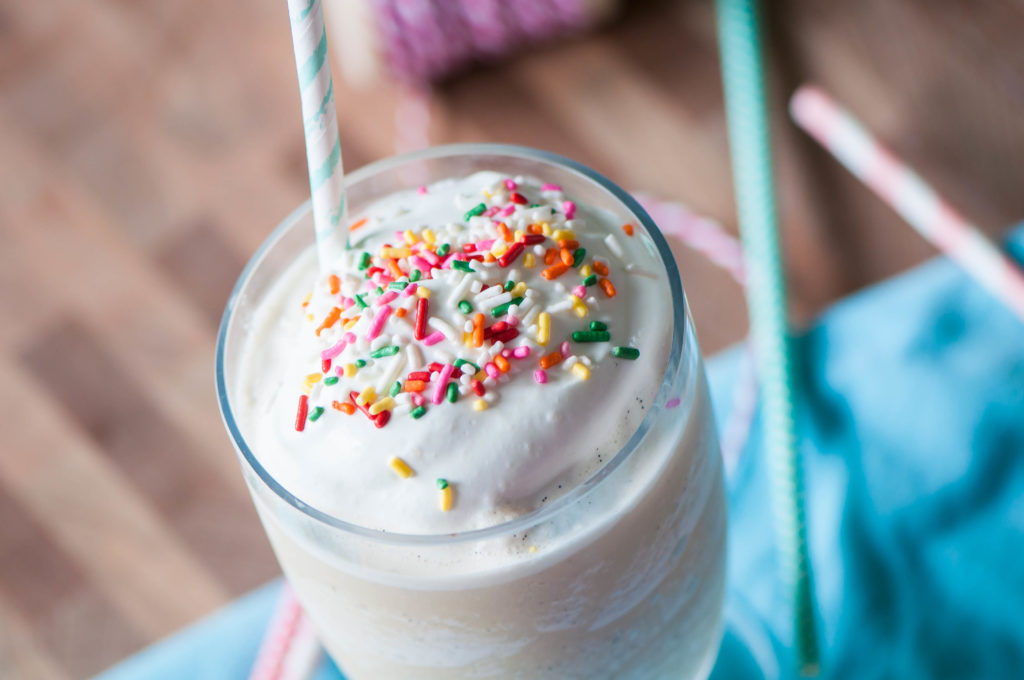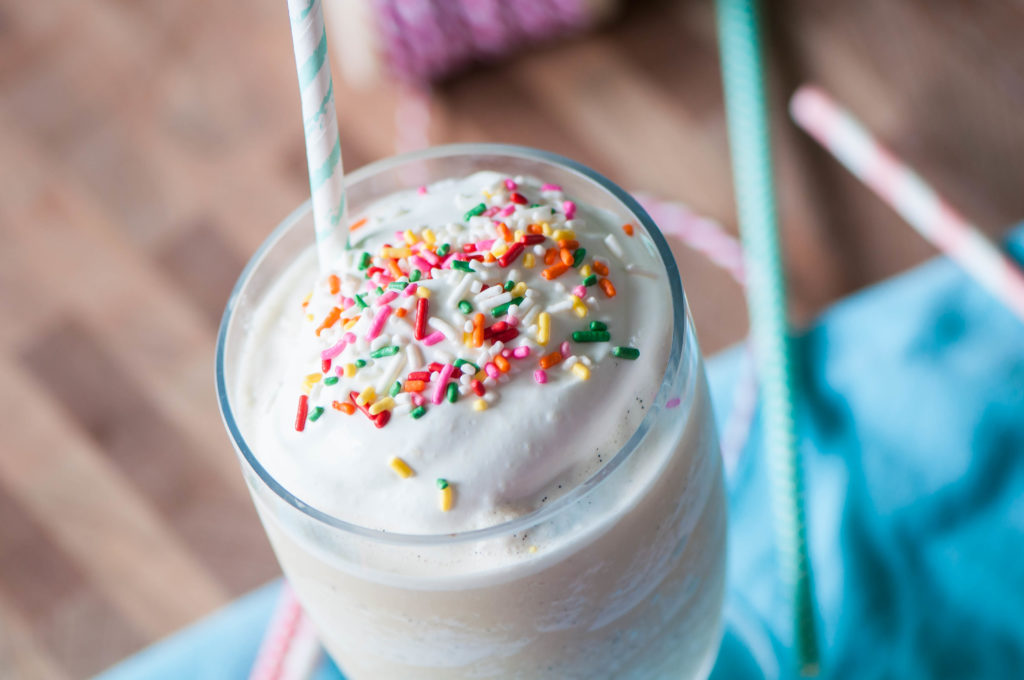 Whether you are looking for a caffeine boost or just a fun drink to cool off with in the upcoming warm months, this Vanilla Cupcake Frappuccino has got you covered.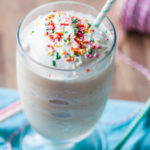 Print
Vanilla Cupcake Frappuccino
Ingredients
2

cups

coffee, frozen into ice cubes*

or use milk to keep it decaf

1 1/2

cups

milk (any kind, I used skim with great results)

2

Tbsp.

white chocolate chips

1 1/2

Tbsp.

vanilla bean paste

1/2

cup

vanilla cupcake coffee syrup**

recipe link in text above

2

Tbsp.

vanilla bean ice cream

Whipped cream

Sprinkles
Instructions
Add coffee ice cubes, milk, white chocolate chips, vanilla bean paste, coffee syrup and ice cream in a blender. Blend. Pour into two glasses and top with whipped cream and sprinkles.