Everybody loves a baked pasta but this Baked Gnocchi takes it to a whole new level. Store bought gnocchi, homemade meaty spaghetti sauce and melty mozzarella all combine to create a simple yet delicious dinner.
Who is ready for Spring? This girl. We had a little preview on Friday with a high of 64 degrees. It was a little windy but completely and utterly glorious all the same. Let's keep this train rolling Nebraska.
And speaking of the weather and skies, did you guys see the eclipse Friday night? Noah had movie night at school so I missed it but I decided to get up at 3 in the morning to see the comet. My dad and I have always shared an interest in the moon and stars and all the amazing things that happen in the sky. One of my fondest memories is getting up in the middle of the night and standing at the end of our driveway in Georgia to see the Hale-Bopp Comet. I've always found it amazing that people saw it thousands of years ago and here I was getting that chance too. And thousands of years from now someone else will see it.
Maybe I just showed a little of my nerd side but space has always fascinated me. If I was a billionaire I would totally be one of those people to pay a ridiculous amount of money to go into space. Yep, that'll go on my fantasy bucket list.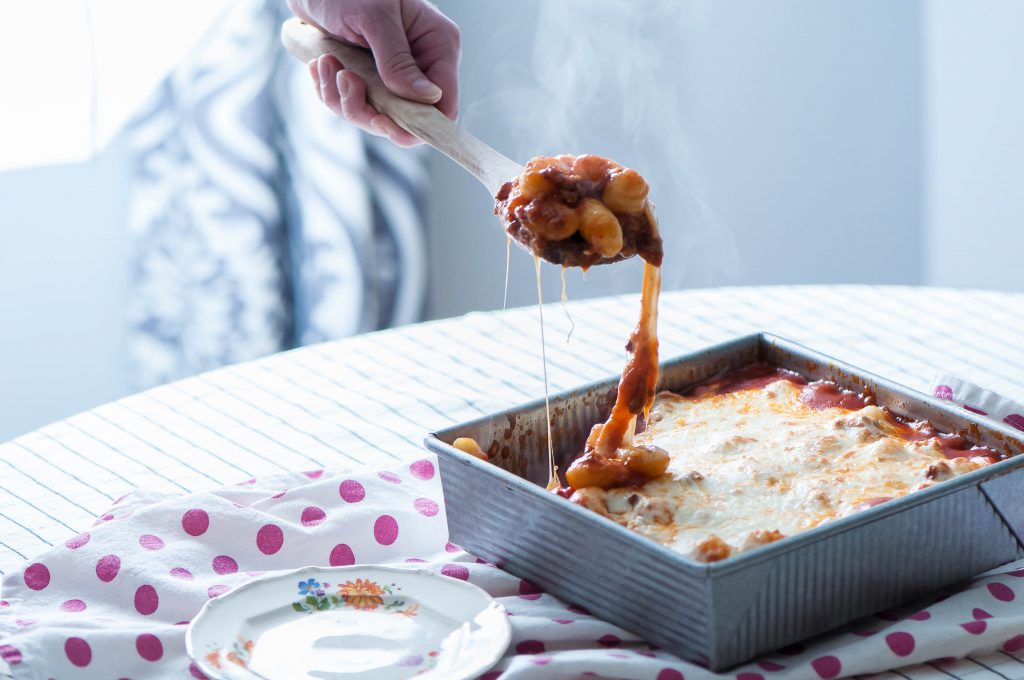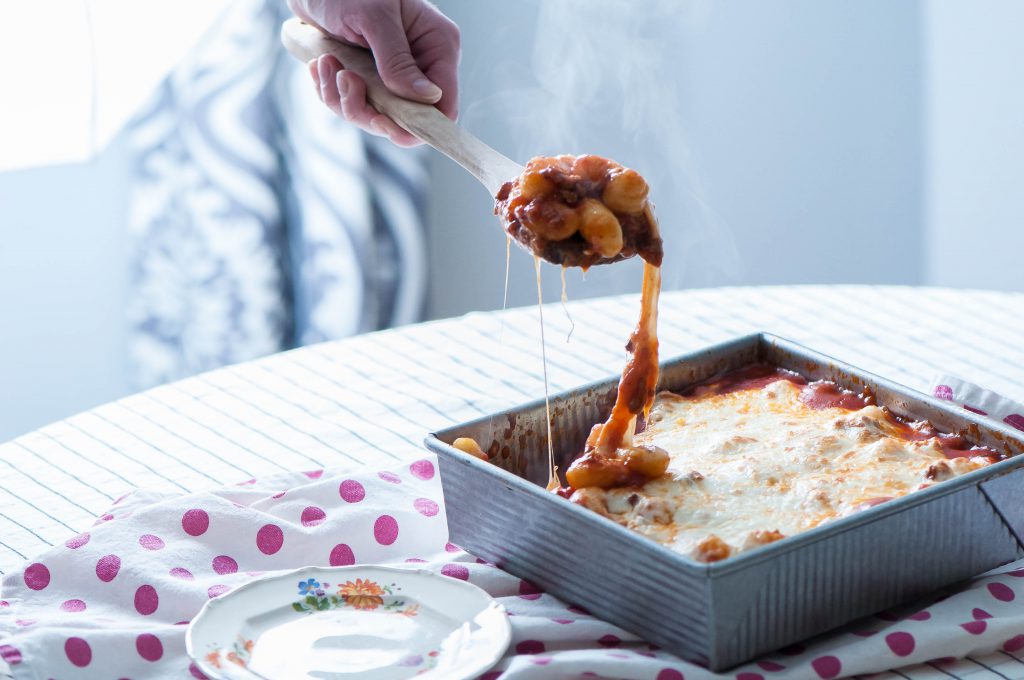 I just got way sidetracked there and all that comet talk has nothing to do with this Baked Gnocchi. Except maybe it will also bring back fond childhood memories. Because who didn't grow up eating and love a good 'ole spaghetti bake. It fit the weeknight dinner trifecta: easy, delicious and everyone will eat it.
But I decided to take the traditional and put a little spin on it by replacing the pasta with soft potato pillows of deliciousness, also known as gnocchi.
You can certainly make homemade gnocchi but it's a bit time consuming for a weeknight dinner so I opted to buy the premade ones found in the pasta section. I purchased mine at Trader Joe's but I've seen them at our local grocery store chains as well so you should be able to find them easily. Starting with store bought gnocchi saves time and hassle (disclosure: making gnocchi isn't my favorite).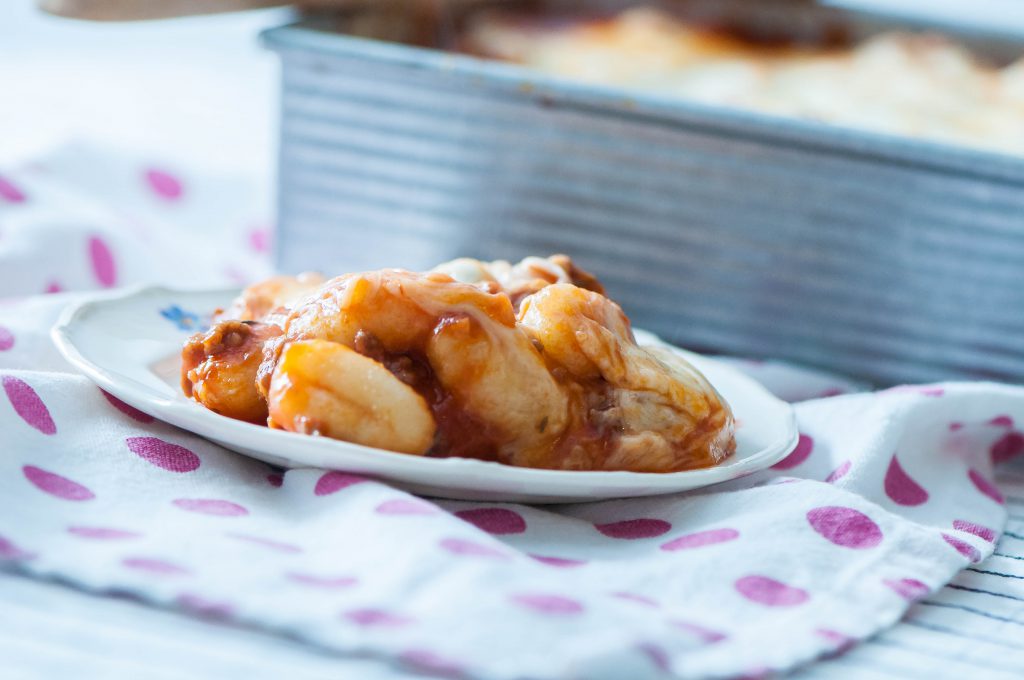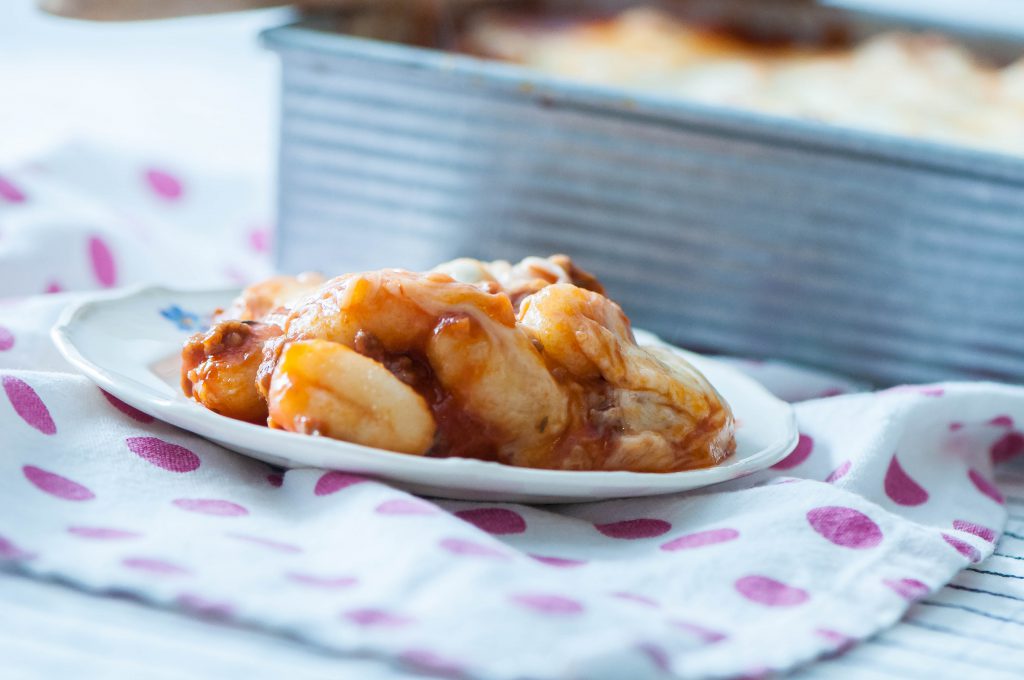 While store bought gnocchi is my jam, jarred spaghetti sauce isn't. If you've found a brand you love feel free to use it (and tell me about it in the comments) but I just prefer my homemade sauce. And a little pro tip for you, make a double batch next time and freeze half of it so all you have to do is thaw and throw together.
To make this more weeknight friendly, I only simmered the sauce for half an hour but if you have the time, simmer it up to 2 and a half hours as the original recipe states. Either way, it's so much tastier than the jarred stuff.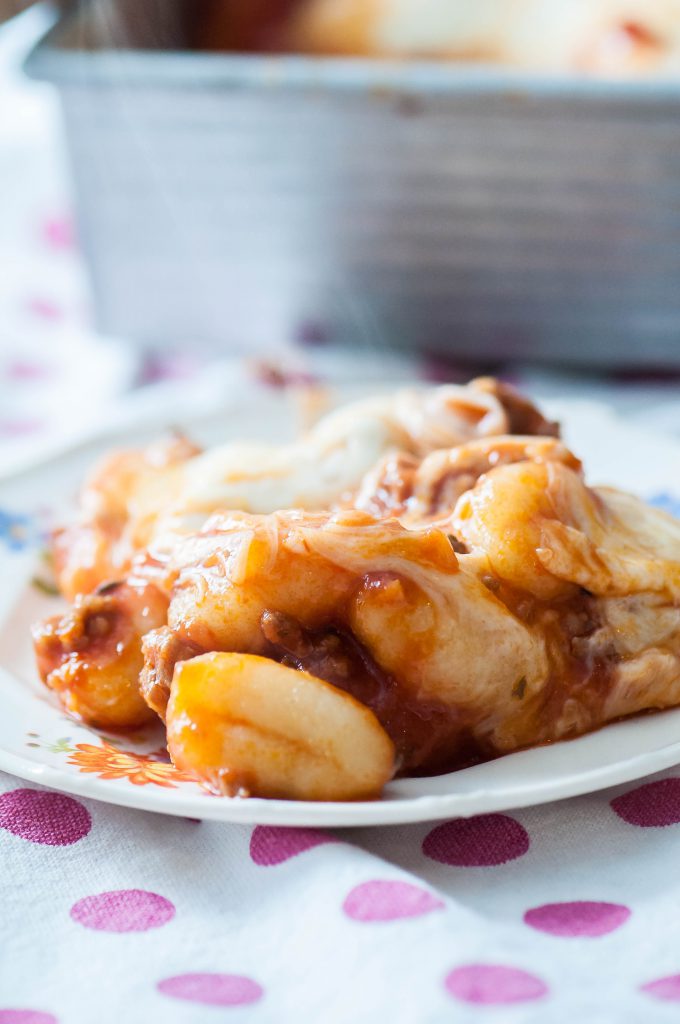 Toss that delicious, meaty sauce with the store bought gnocchi in a baking dish then top it with gobs of mozzarella cheese. The cheese gets broiled to melty, golden perfection and you are ready to eat.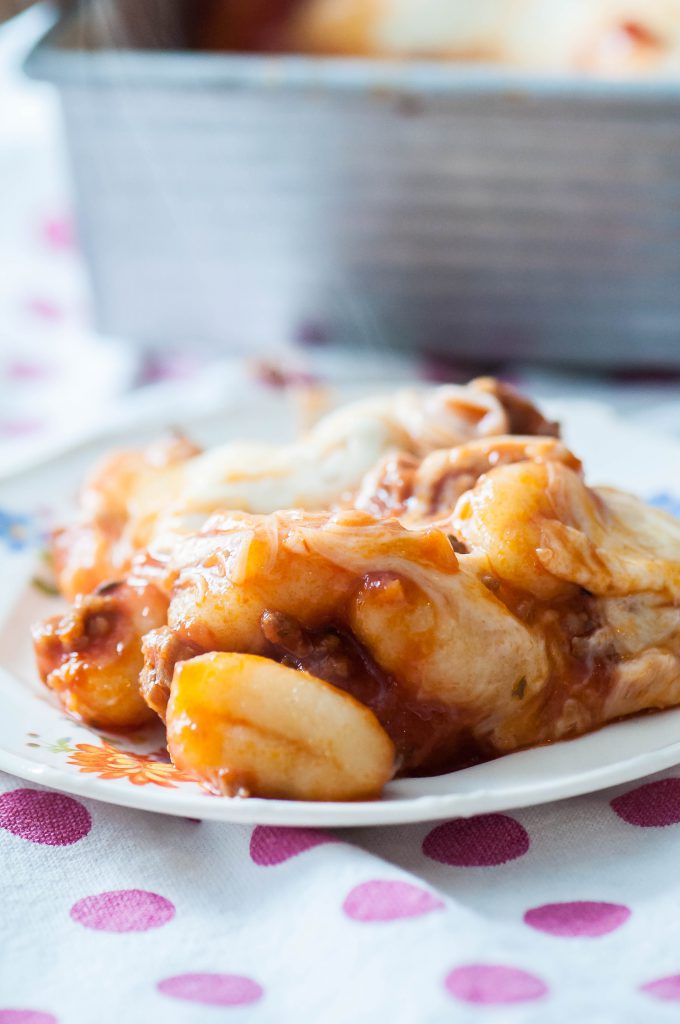 Baked Gnocchi
2017-02-04 13:26:20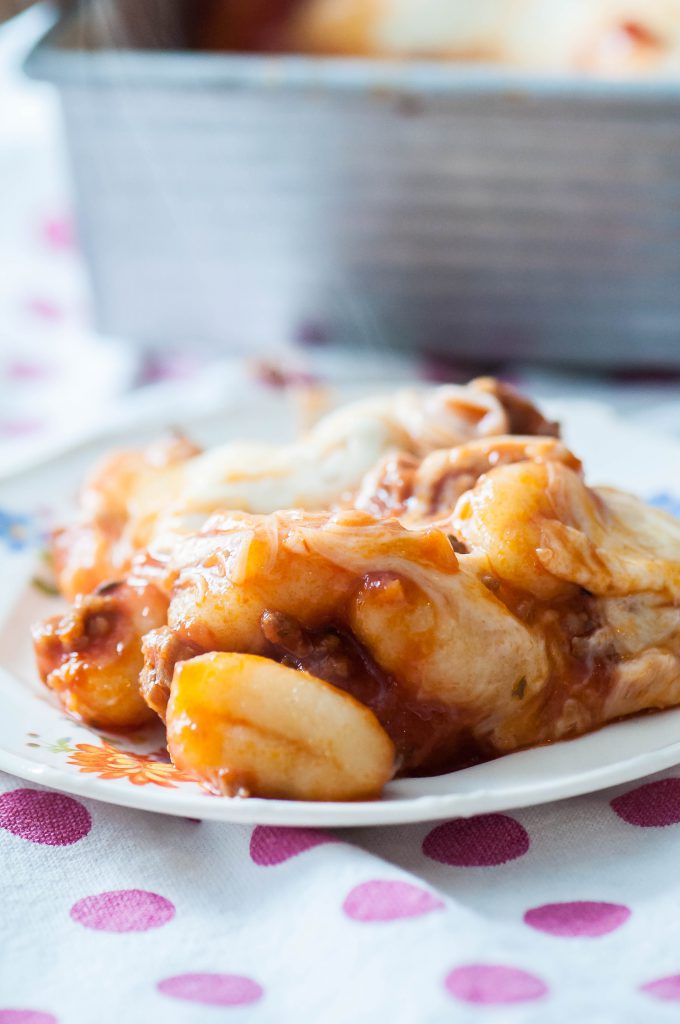 Serves 6
Ingredients
1 Tbsp. olive oil
1/2 large white onion, finely diced
1/4 lb. ground sausage
1/2 lb. ground beef
1/2 tsp. dried parsley
1/2 tsp. dried basil
16 oz. tomato sauce
6 oz. tomato paste
1 1/2 cups water
2 Tbsp. granulated sugar
1/2 tsp. salt
Red pepper flakes
35 oz. gnocchi, cooked according to package directions
8 oz. shredded mozzarella
Instructions
Heat a large saucepan over medium heat. Add olive oil and onions and saute until soft, 3 to 4 minutes. Add sausage and ground beef, cooking until no longer pink. Drain fat from pan. Sprinkle in parsley and basil and cook another minute. Add tomato sauce, tomato paste, water, sugar, salt and red pepper flakes to taste. Stir until combined and no chunks of tomato paste remain. Bring to a simmer and cook for 30 minutes.
Turn on broiler. Dump prepared gnocchi in an 8x8 pan. Pour sauce into the pan and toss until combined. Top with shredded mozzarella then place under the broiler until cheese is bubbly and golden. Watch it carefully as it can burn quickly.
Meg's Everyday Indulgence https://www.megseverydayindulgence.com/