Today I'm bringing my last Valentine's creation. Red wine risotto is creamy in texture and earthy in flavor with a slight red wine zip in the background. It's easy to make but you don't have to let your Valentine know. Impress them with your cooking skills this Valentine's Day.
Today's recipe doesn't scream Valentine's Day but since the day is known for wine consumption and fancy meals I thought I could pass it off as a recipe perfect for the holiday. You good with that? Plus, I'm more of a savory person as you all know so I needed something besides the sweet stuff for the holiday.


I've made a few different risotto recipes throughout the years and they have always used white wine. This one is my favorite (because gouda makes everything better). But when I think of Valentine's Day fancy steak dinners and red wine immediately come to mind but I'd never seen or heard of a risotto using red wine.
Instead of going with tradition, I decided to go rogue and create one that did. I was really hoping it would keep it's reddish purple hue throughout the cooking process but once all the beef stock was added it turned more brown than red. I'm ok with it because it does keep it's red wine flavor and that what really matters, right? Right.
I don't know about you but before making risotto for the first time, it seemed like a really daunting process but in actuality it's quite simple. It takes some time and attention in the form of frequent stirring but it doesn't get any harder than that. But that doesn't mean you have to tell you sweetheart that. I say let them think it was a process that you slaved over just for them. It'll be our little secret.


Risotto starts with sautéed onions and garlic and toasted Arborio rice. Then you stir in wine and let it bubble away until almost evaporated. Then slowly ladle in stock over 20 minutes, stirring often, until the rice is tender. Most are finished off with a sprinkling of parmesan cheese and you are done. See? I told you there wasn't any reason to be afraid.
This red wine version uses red wine, duh, beef stock to enhance the rich, earthy flavors of the wine and at the end a little cream cheese to add some creaminess to the finished dish. If you don't do dairy products you can leave it out and it's still great. I tried it both ways because I love you (and rice).
This Red Wine Risotto paired so nicely with a simple seared steak, roasted asparagus and a glass of wine of course. If that doesn't scream fancy romance I don't know what does.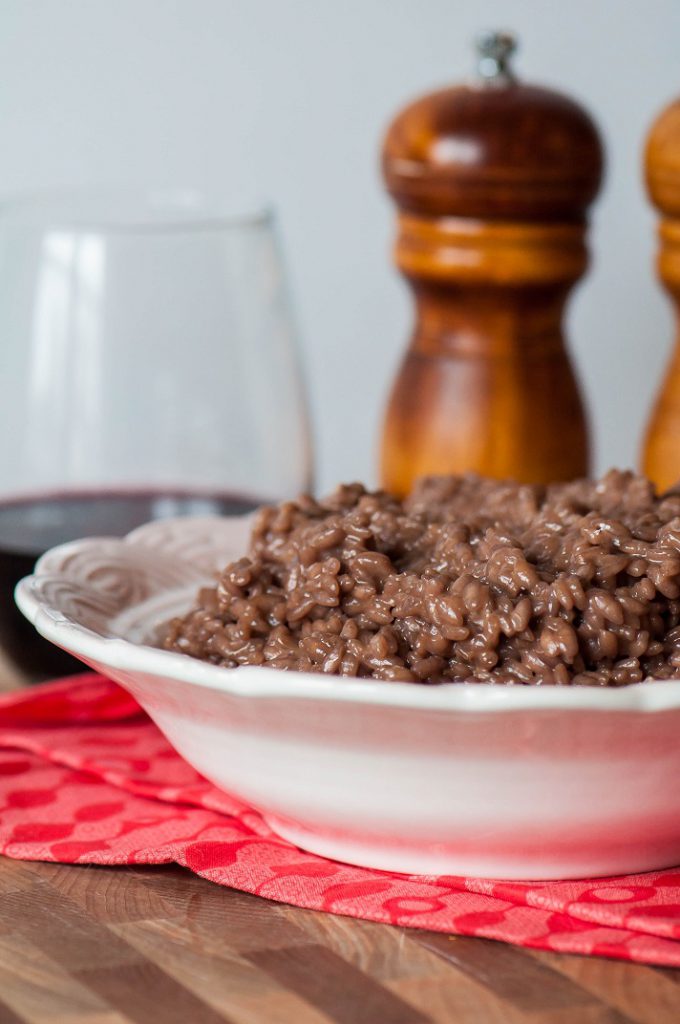 Red Wine Risotto
2017-02-06 16:47:51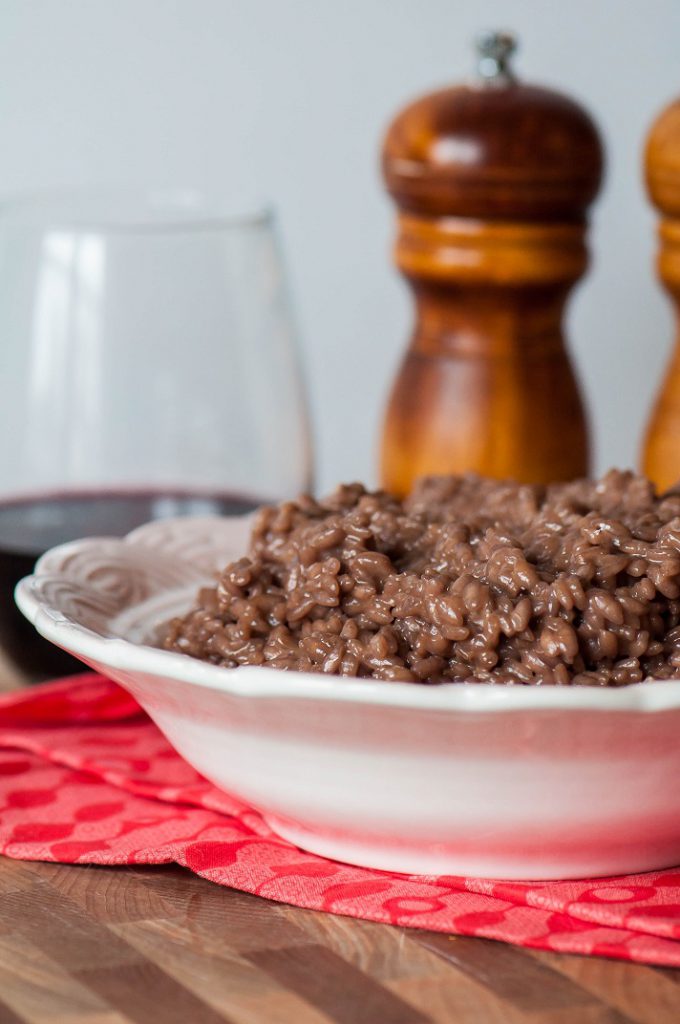 Ingredients
2 Tbsp. olive oil
1/2 cup red onion, finely diced
1 garlic clove, grated on microplane
1/2 tsp. kosher salt
2 cups Arborio rice
1 cup red wine*
4 cups beef stock
2 oz. cream cheese, cubed and at room temperature
Instructions
Heat large skillet over medium heat. Add onion and saute for 2 to 3 minutes, until softened and translucent. Add garlic and salt to pan and cook another minute. Add rice and cook, stirring occasionally until toasted and fragrant, 3 to 4 minutes.
Meanwhile, pour beef stock into a saucepan and bring to a small simmer.
Pour wine into the skillet with the rice and cook until the liquid nearly evaporates. Add beef stock, 1/2 cup at a time, stirring often. Once the liquid is almost absorbed, add another 1/2 cup of stock. Continue this process until the risotto is tender, about 20 minutes.
Remove from heat and stir in the cream cheese until melted and thoroughly combined.
Meg's Everyday Indulgence https://www.megseverydayindulgence.com/