This Simple Shrimp Stir Fry is packed with clean, good for you ingredients that are, as the title implies, simple to throw together. This family pleasing dinner will be on the table in 20 minutes or less making those busy weeknights a little less stressful.
Happy hump day and February friends! I hope it's been a great week so far. I had a great girls night last night filled with this spinach dip, my favorite cake and these blood orange Moscow mules. You can't really be having a bad week when all of that is involved.

I'm starting a 35 day workout challenge today and I'm a little bit scared. I am an avid Jazzercise participant and I know there is a lot of stigma that it's all 80's music, leotards and old ladies but trust me, it's amazing! Top 40 music, fun moves, strength training. If you ever get a chance to try it don't pass it up.
Anyway, they do a challenge every year to go to class 30 days out of 35 and I completed it last year but I was so sore at the end but in a good way. Plus, a free, cute tank is sometimes all the motivation I need. I got today's workout in at 6:30 so only 29 days to go.
I try to make healthy eating choices all year long but I find it's especially important when I'm working out more than usual. You need whole food to fuel your body but I sometimes get a hitch in the plan due to that picky eater of mine.

I recently started a new tactic with that one to see if we can make some improvements in his eating habits. Instead of forcing him to try three bites of whatever the offending food is, I make his plate with everything I prepared making sure there is something that I know he likes then let him eat whatever he wants and he can have seconds of whatever he chooses. But I will not serve anything besides what I made for dinner. And if he doesn't eat, he doesn't eat. The hope is that he'll eventually start to branch out and try the things he says he doesn't like. We'll see how it goes.
Whenever I can though, I try to plan meals with protein, fruits and veggies that I know he will eat. That's where this Simple Shrimp Stir Fry comes in. Both of my kids love shrimp so I try to make it once a week for a complaint free meal.
One of their favorite restaurants is HuHot and although his plate is usually still beige and yellow in color he chooses shrimp, pineapple and baby corn without prompting and for now, I'll take the yellow choices. So this is our at home, super easy and incredibly quick version of one of their favorite meals.
Shrimp is fast cooking which makes it a great protein choice for weeknights. I also used a bag of frozen mixed Asian veggies to cut down on prep time and cost of the meal. This way you have a large variety of vegetable choices without having to buy a ton of produce and only use a small portion of it.
The sauce is a combination of vegetable stock (or you can sub chicken stock), soy sauce, sesame oil, honey, ground ginger and a bit of cornstarch to thicken the sauce so that it coats the stir fry.

Keep frozen, raw shrimp and the Asian veggie mix in your freezer along with all the pantry staples of the sauce to have an easy weeknight dinner on the fly without any shopping or planning necessary.
Both the kids, and Joel, tore this meal up and ate everything on their plate (with the exception of the green for Noah) so I definitely call it a success.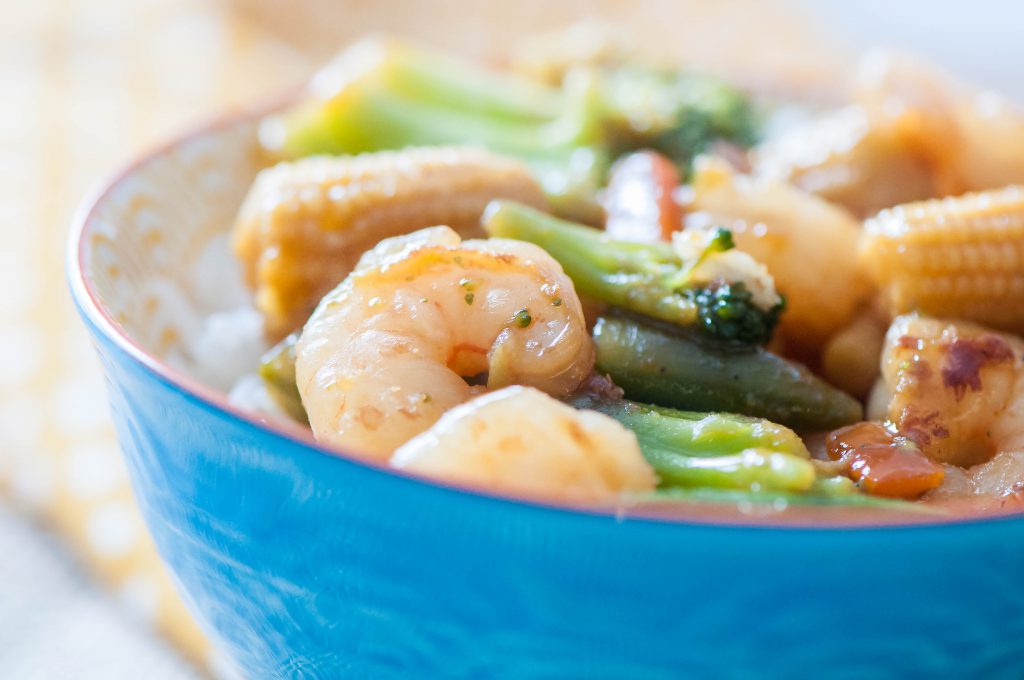 Simple Shrimp Stir Fry
2017-01-30 17:10:57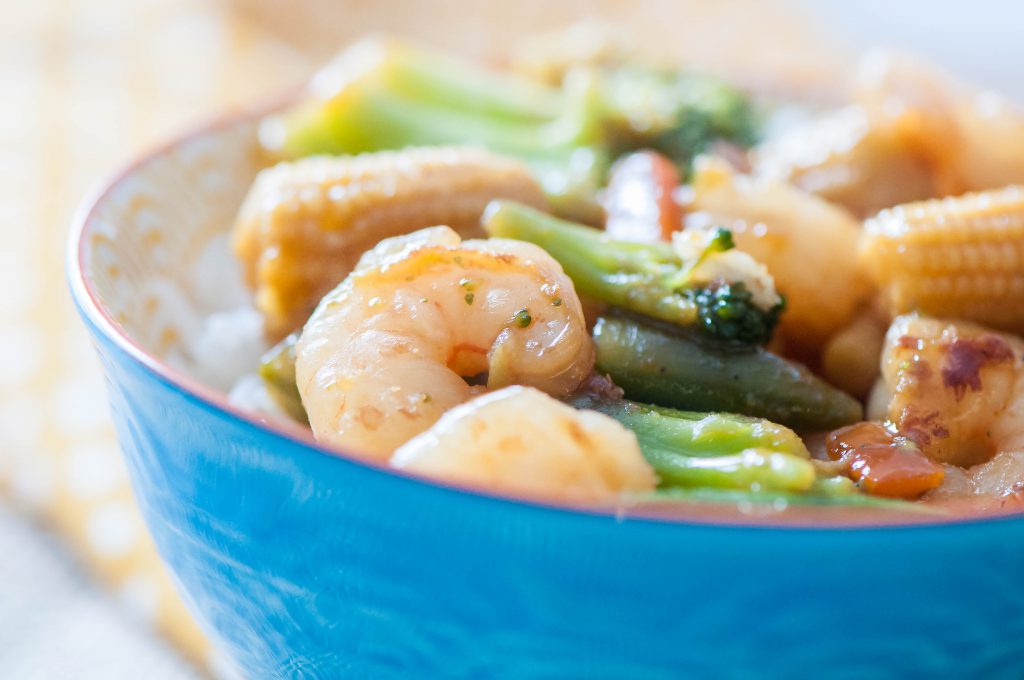 Ingredients
1 cup white rice, uncooked
1 Tbsp. coconut oil
2 garlic cloves
12 oz. raw shrimp
2 (10 oz.) bags frozen Asian veggies
2/3 cup vegetable stock
1/4 cup + 2 Tbsp. soy sauce
1/2 tsp. sesame oil
2 Tbsp. rice vinegar
1/4 cup honey
1/2 tsp. ground ginger
1 Tbsp. cornstarch
Instructions
Bring 2 cups of water to a boil. Add rice, cover and reduce to a simmer. Cook for 15-20 minutes depending on the type of white rice.
Meanwhile, heat a wok or large skillet over medium-high heat. Add the garlic and saute for 30 seconds. Add shrimp and cook until they turn pink, about 3 minutes. Remove from pan and set aside. Add frozen vegetables to pan and cook for 3 to 4 minutes until warmed through.
While the vegetables are cooking, whisk together the vegetable stock, soy sauce, sesame oil, rice vinegar, honey, ginger and cornstarch. Set aside.
Once veggies are warm, add the shrimp back to the pan and pour in the sauce. Reduce heat to medium and simmer, stirring often, until the sauce has thickened and coats the stir fry, about 3 to 4 minutes. Remove from heat and serve over rice.
Meg's Everyday Indulgence https://www.megseverydayindulgence.com/