Chocolate Truffle Cupcakes are a chocolate lovers dream. Chocolate cake mix, store-bought truffles and a super simple chocolate buttercream make these cupcakes a quick treat to pull together that will surely impress. Easy to make, delicious to eat and so customizable.
Are you ready for the chocolate overload coming your way from all your favorite food bloggers? It's a sure sign that Valentine's day is quickly approaching. Do you love all the chocolate that floods your inboxes or are you so over it? You guys are my people and I want to give you what you want.


Those of you that have been reading for some time know chocolate isn't my favorite (gasp) but the two children I have created somehow have an undying love for it. Because of that, I've made more chocolate treats in the last few years than I have the whole rest of my life and it's slowly started to grow on me. Except chocolate ice cream, I can never get behind that.
Last week, I shared a healthy chocolate treat and today, well, it's time for the decadence that usually accompanies Valentine's day. And the cute sprinkles of course.


I'm usually a from scratch kind of girl when it comes to cooking but sometimes convenience and time win out. Is homemade cake better than the boxed version? Yes. But when you doctor up a mix, you can turn it into something magical. And you save some of that precious time. So that's just what I did with these cupcakes.
I chose a devil's food cake mix for it's dense texture and rich chocolate flavor but use your favorite variety of chocolate cake mix. Dark chocolate would be incredible too.
Let's talk truffles next. You'll need 2 (5.1 oz) bags of truffles, or 24 if you are lucky enough to have access to a store that carries them in bulk bins. We have a Lindt store but it's about 30 minutes away so I went with the bag route and chose two different flavors to try.

I chose Orange Dark Chocolate and Sea Salt Milk Chocolate and both were a great choice. I love the combination of orange and chocolate so that was the cupcake that I personally preferred but the kids liked the chocolate on chocolate which didn't add any flavor but chocolate to the chocolate cupcake. I told you they like chocolate.
The texture is like a chocolate lava cake and a poke cake had a love child and the results are this decadent cupcake. The truffle melts into the cake as it bakes, making it a little gooey in the middle in the best way possible. It also makes the cupcake incredibly moist. This is another reason to use a cake mix since the melty truffle aids in the texture and flavor of the finished cupcake.


Let's not forget the frosting my friends. I used this recipe from Barefeet in the Kitchen which only took a few minutes to make using ingredients I always have on hand. It's chocolatey but isn't overly rich which goes nicely with the deep, dark chocolate cupcake. The light, fluffy texture compliments the dense cake beautifully. Plan a few extra minutes when making the buttercream as you have to melt chocolate chips then allow them to cool to room temperature.
Don't skip the cooling step, the frosting will turn into a melty, gooey mess.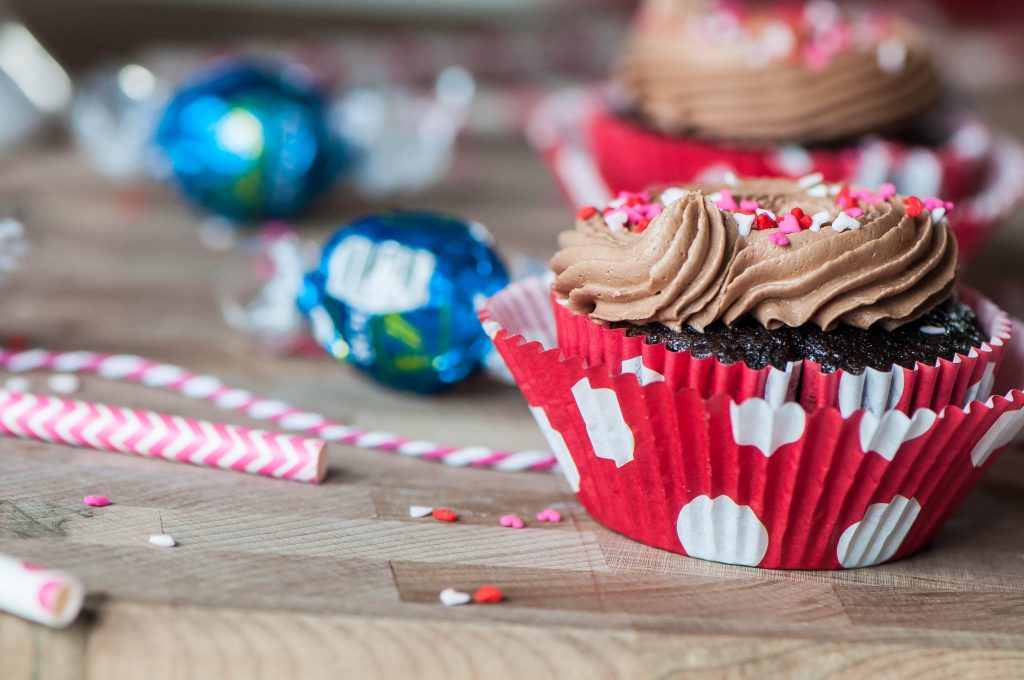 Chocolate Truffle Cupcakes
2017-01-29 13:02:27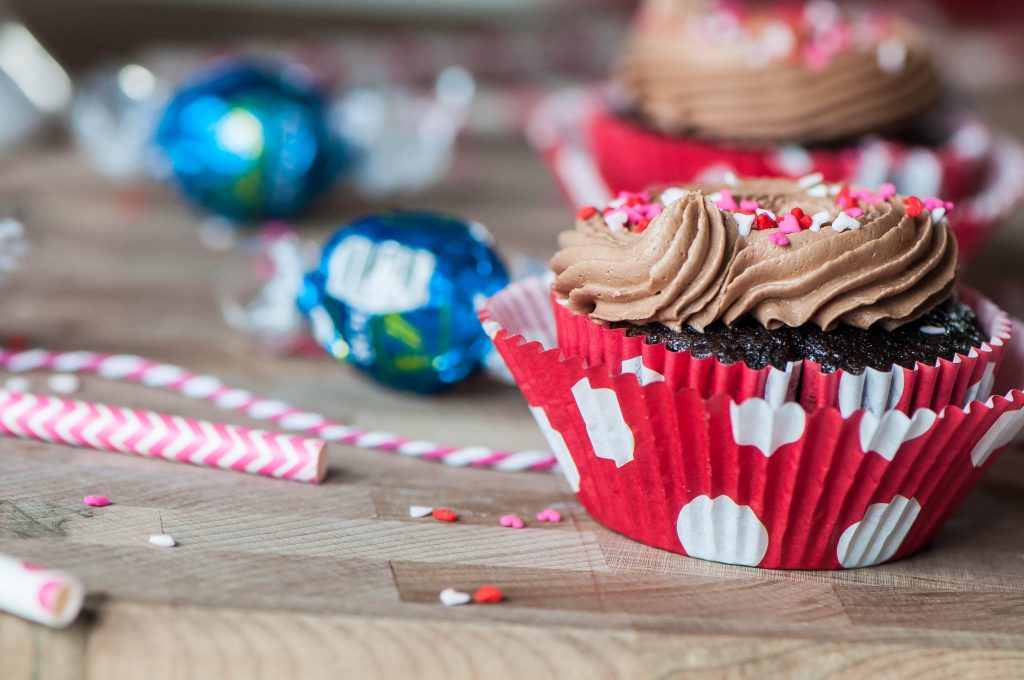 Ingredients
1 chocolate cake mix
Ingredients required for cake mix
2 (5.1 oz.) bags chocolate truffles
Fluffy chocolate buttercream*
Valentine's sprinkles
Instructions
Prepare chocolate cake mix according to the package directions. Line two cupcake pans with paper liners and fill halfway up with batter.
Unwrap truffles. Press 1 truffle into the center of each cupcake. Bake according to the package directions. Check for doneness on the side of the cupcake as the center will be gooey from the truffle. It took 18 minutes for mine.
Remove from oven and let cool in pan for 5 minutes. Remove cupcakes to a rack to cool completely. Meanwhile make the frosting.
Once the cupcakes are cooled, pipe with frosting and decorate with sprinkles.
Notes
*Find the recipe from Barefeet in the Kitchen here: http://bit.ly/2kBfXMr
Meg's Everyday Indulgence https://www.megseverydayindulgence.com/