These Cheesy Sausage Stuffed Shells are an easy, filling weeknight meal that will please the whole family. Make them ahead of time, freeze a batch or bake them right away for cheesy, gooey comfort food perfection.
These past few weeks have been a blur guys. With Thanksgiving, its accompanying travel, illness after illness and little sleep I'm running on empty and I'm just ready for life to get back to normal. Which is funny because Christmas is right around the corner so that's not happening any time soon. I might have to send for help.
So with everything going on around here, the cooking department has really suffered. Like, I haven't really cooked in two weeks (with the exception of Thanksgiving). That also explains my lack of presence here too. Major food blogger fail all around.
I did make these Cheesy Sausage Stuffed Shells recently and they were a huge hit with the whole family. What meal consisting of pasta and cheese isn't, right? That combination will always be a home run in my house.
While we love a traditional stuffed shell, I've been brainstorming a macaroni and cheese style stuffed shell for some time now and I'm kicking myself for waiting so long to create it. These consist of nothing traditional but my goodness are they delicious.
My mind immediately went to shredded chicken for the filling but the dudes in my life voted for sausage and I'm glad I listened to their vote this time (I usually go with my vote, haha). The ground sausage is tossed in a cream cheese, chicken stock sauce situation before being stuffed into the shells.
Then comes the kicker. The selling point. The piece de resistance. They are smothered with a sharp cheddar cheese sauce then sprinkled with duh, more cheese and baked to gooey perfection.
It's pretty much comfort food at its finest and I won't apologize for it. Nothing will help add that extra winter fluff like these guys. But the calories are completely worth it my friends. Trust me, live a little.
And if you're a planner, this dish also makes a great freezer meal option (check out freezer tips that I shared earlier this month here). Make a double batch and freeze the second pan for a busy weeknight or when you're feeling under the weather or tired or forgot you had to adult. There's not much better than pulling out a cheesy comfort dish that can be on the table without any effort. You'll look like a rock star.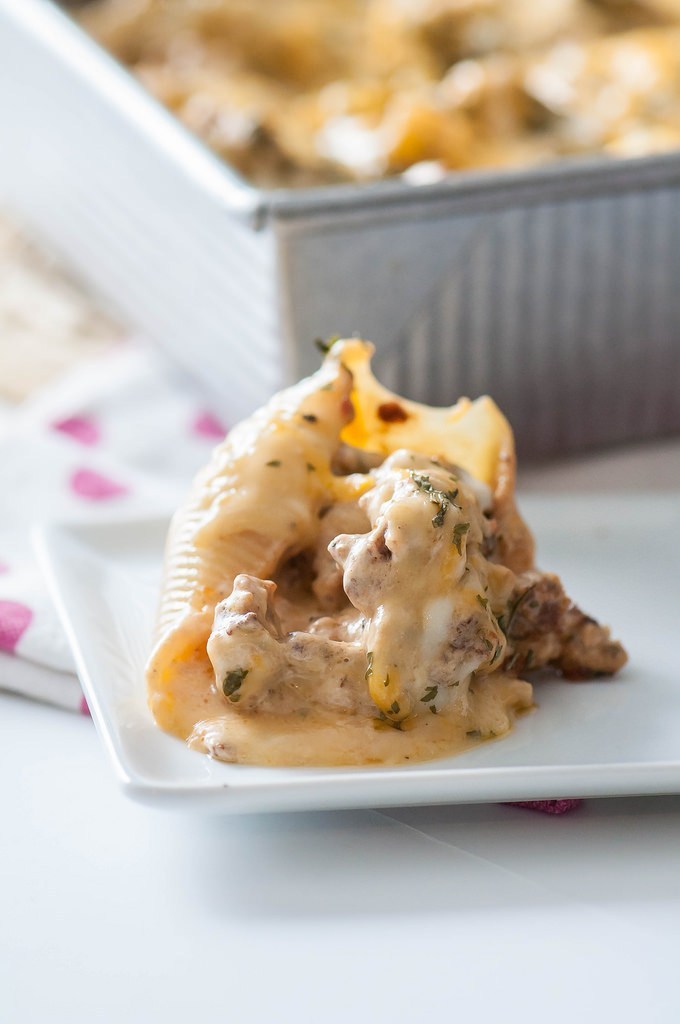 Cheesy Sausage Stuffed Shells
2016-11-30 20:00:39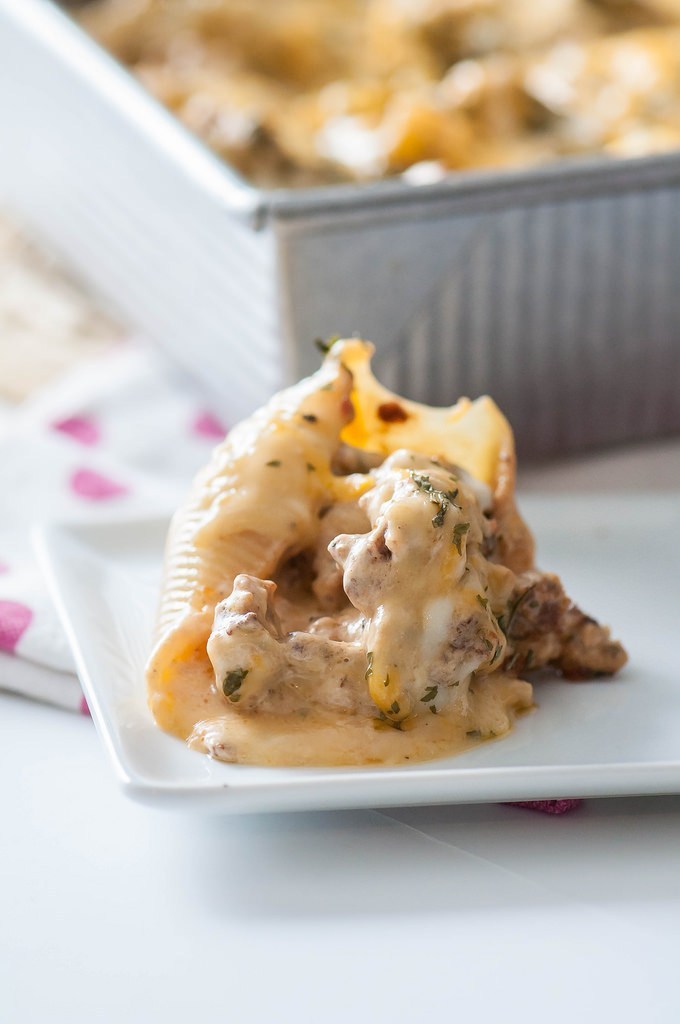 Serves 4
For the shells
12 large pasta shells
Nonstick cooking spray
1 Tbsp. olive oil
1 small white onion, diced
1 garlic clove, minced
1/2 tsp. kosher salt
1/4 tsp. pepper
1 lb. ground sausage
8 oz. cream cheese, cut into pieces
1/2 cup chicken stock
For the cheese sauce
2 Tbsp. butter
2 Tbsp. all-purpose flour
1/4 tsp. kosher salt
1/4 tsp. pepper
1 cup milk
2 oz. mozzarella, shredded
8 oz. sharp cheddar, shredded
Parsley, for garnish
Instructions
Preheat oven to 350 degrees F. Spray a 8x8 pan with nonstick spray and set aside. Bring a large pot of water to a boil. Cook 2 minutes less than package directions.
Meanwhile, heat the olive oil in a large skillet over medium heat. Add diced onion and cook for 2 to 3 minutes or until translucent. Add garlic, salt and pepper and cook 1 minute. Add ground sausage and cook until cooked through. Add cream cheese and stir until smooth and combined. Add chicken stock and stir through.
Divide sausage evenly between the shells and place in the prepared baking dish. Set aside.
For the cheese sauce: melt the butter in a saucepan over medium heat. Sprinkle in the flour and whisk, cooking for 1 to 2 minutes. Add salt and pepper. Add the milk in two additions, whisking well and allowing to thicken between additions. In a bowl, mix together the cheeses. Add all but 1 cup of the cheese to the saucepan and stir until melted through. Pour cheese sauce over the stuffed shells and sprinkle with remaining cheese.
Bake for 20 minutes covered lightly with foil. Remove foil and bake for another 10 minutes. Sprinkle with parsley and serve.
Meg's Everyday Indulgence https://www.megseverydayindulgence.com/