These Pistachio Cherry Chip Brownies are the perfect way to add some festive cheer to your holiday cookie plates. Rich chocolate brownies are studded with salty pistachios and sweet cherry chips to create a delicious spumoni inspired treat.
I totally and completely have holiday baking on my mind. It's one of my very favorite things about the holiday season and I always look forward to planning out all the treats we'll make.
We have a few classics that are always on the list such as thumbprints, butterscotch cornflake cookies, old-fashioned oatmeal and cookie dough bites then we always decide on a few new recipes to try.
I don't usually make fudge but we went to a fudge shop recently so Noah and Joel have made that request this year. Do you guys have any tried and true recipes?
I always like some kind of bar at Christmas to add variety to the spread of cookies and this year it's going to be these Pistachio Cherry Chip Brownies. I mean, look at them, they just scream festive Christmas don't they?
Aaaaand they are ridiculously easy since they start with a box brownie mix. If you want to go with the homemade route you can definitely do that (this is my favorite homemade, one-pot recipe) but I have to admit I love a boxed brownie. Ghirardelli is my favorite out there but any variety will do (not sponsored, I just love them and want you to know they're delicious).


These brownies were inspired by spumoni ice cream. I don't seem to see spumoni very often but we were perusing the ice cream aisle recently and came across it when this idea struck.
The old-fashioned classic starts with the combination of cherry, pistachio and chocolate which, for me, never gets old. And turns out, the combo is even better when the chocolate portion is of the fudgy brownie variety. I happened to buy a bag of cherry chips days before without a plan except that we needed them because they are also hard to find. So, it was pretty much destiny that these brownies come into existence.
I love the sprinkling of red cherry chips and green pistachios throughout these dark, fudgy brownies. They will add the perfect, festive touch to your cookies trays this holiday season.


Now, let's talk about how I baked these brownies. Baking brownies in a cast iron skillet creates the crispy, chewy edges that everyone seems to adore with brownies. Like those brownie pans that everyone rages about. This way though, everyone has the delicious, crispy edge and the fudgy, soft middle. The best of both worlds when it comes to a brownie if you ask me. If you don't have a cast iron skillet (you should – this one is great and cheap) you can use a 9×9 pan instead and just follow the instructions for baking on the box mix.
These rich, dark chocolate fudginess of the brownies combined with the sweet cherry chips and salty, crunchy pistachios will make these a new Christmas favorite. Surprise your friends or neighbors with a pan of these guys and they'll love you forever.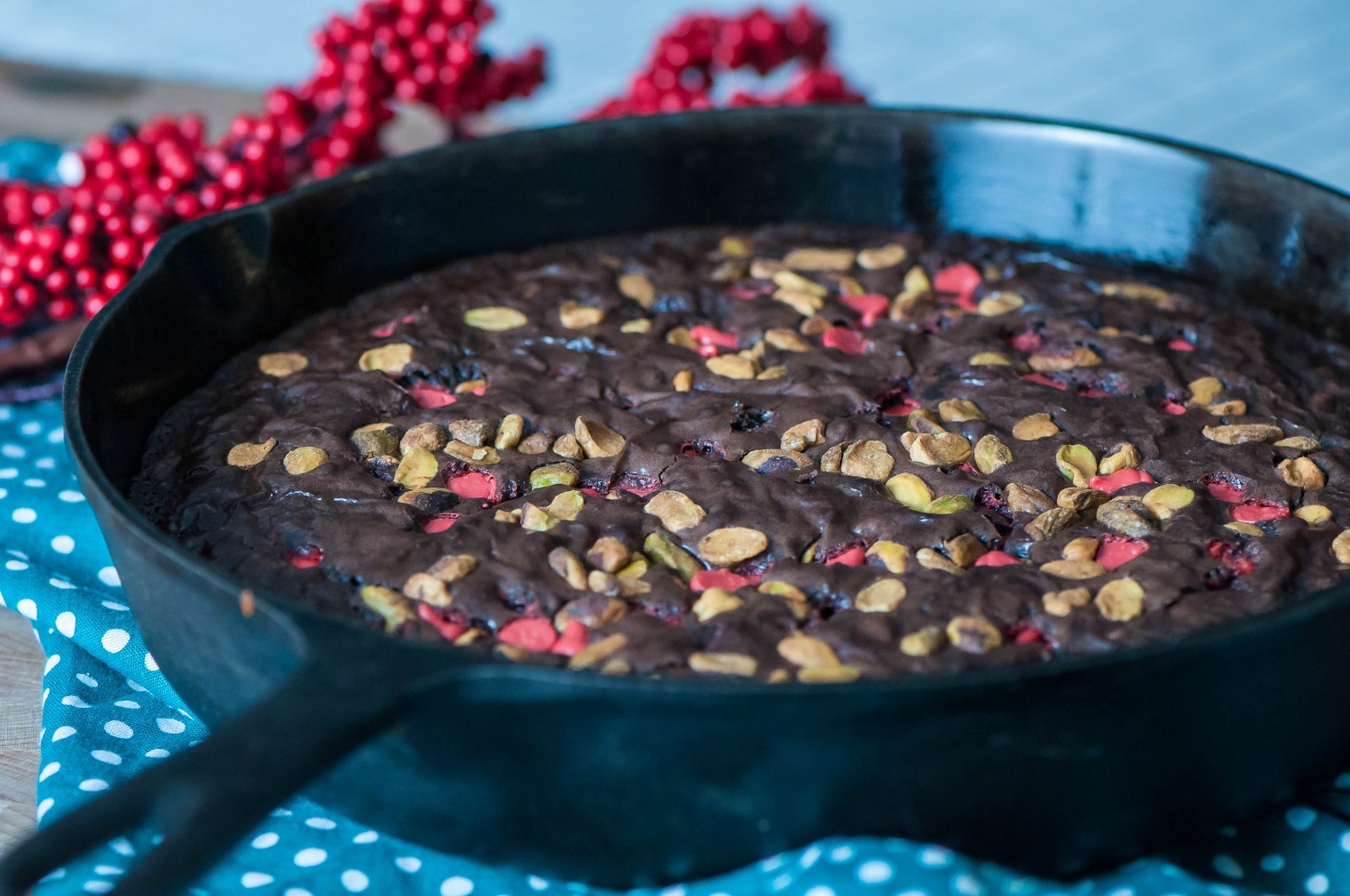 Pistachio Cherry Chip Brownies
2016-12-04 13:27:43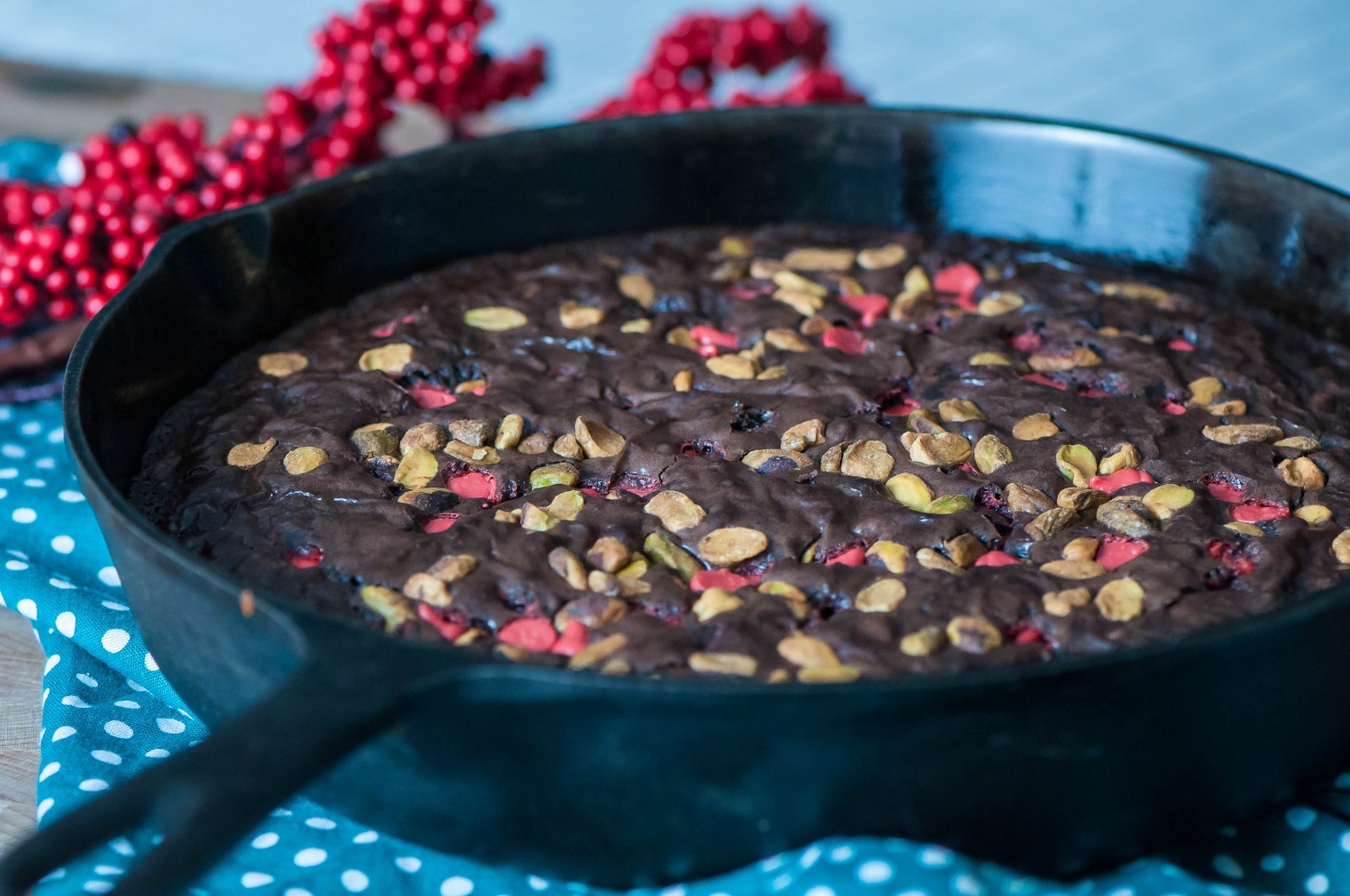 Ingredients
1 family size dark chocolate brownie mix + required ingredients
1 1/4 cup pistachios, divided
1 1/4 cup cherry chips, divided
Instructions
Preheat oven to 350 degrees. Lightly grease a 10.25" cast iron skillet (or 9x9 pan) and set aside.
Meanwhile, prepare the brownie mix according to the directions. Stir in 1 cup pistachios and 1 cup cherry chips. Pour batter into prepare skillet. Sprinkle with remaining 1/4 cup of pistachios and cherry chips.
Bake for 35 to 40 minutes, until a toothpick comes out clean. If you are using a 9x9 pan, cook according the package directions.
Meg's Everyday Indulgence https://www.megseverydayindulgence.com/